Daniel Negreanu Eliminated in 13th Place ($19,272)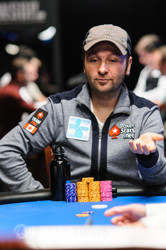 The action folded to Andy Bloch, who moved all in for around 50,000. Bob Bright surrendered his small blind, and Daniel Negreanu, who had previously sunk to 31,500, went into the tank. He said that he wanted to call, but he was going to draw too many cards.
He eventually did call, and drew two. Bloch drew one.
Negreanu:

Bloch:
Negreanu agreed to flip one of his cards, then Bloch would look at his.
"Paint," Negreanu announced, turning over a queen.
Bloch flipped over a king, and Negreanu was still drawing live. He squeezed the card.
"Paint," he said again.
He sighed.
"Queen," he announced. "Effing queens."
He then said that every time he's had a massage this series he's busted, and John Juanda joked that it was the masseuse's fault.
"Let me put my pants back on," Negreanu said, standing up.
His pants weren't off per say, but he had to re-buckle them so they wouldn't fall down. Negreanu then exited, quite unhappy with his finish.
RealKidPoker Daniel Negreanu Busted in 13th place. Needed a 34589T or a Jack but caught a Q. Didn't win any hands down the stretch. Main event next not sure what day yet July 07 2012