Whats Going on in Orange?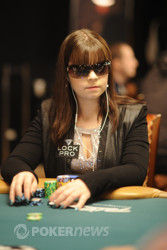 A recent walk-through of the Orange Section has allowed us to gather a handful of chip counts. Including a Annette Obrestad double up.
We don't know exactly how the action went, but we do know Obrestad managed to get all in and at risk against an opponent holding
. Obrestad's opponent possessed
for second best. The board blanked out and Obrestad was awarded her double up. The young Norwegian pro has a long way to go though as her double up only put her at around 16,000.
Player
Chips
Progress

Liutaurus Armavicius

85,000

8,000

67,000

2,000

Randy Lew

51,000

-6,000

Team Online

44,000

800

32,000

-1,000

Sorel Mizzi

31,400

-11,600

30,400

-3,600

27,500

1,100

26,000

7,000

Rupert Elder

25,600

3,000

Donavan Russell

25,000

-3,000

Jonathan Little

22,800

-10,000

Viktor Blom

21,000

-8,500

Team Pro

Annette Obrestad

16,000

-9,299

Scott Clements

15,600

2,800

Matt Savage

13,400

-9,400

David Vamplew

7,900

-10,300

Jimmy Fricke

3,800

-17,200