The Octo-Nine Is Here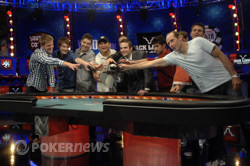 Good afternoon from here in Las Vegas, folks. Today marks the kickoff the of the greatest final table in poker as it belongs to the World Series of Poker Main Event!
Just about three and a half months ago, the nine finalists etched their name in the poker history books by becoming the nine members of the 2012 WSOP Main Event final table. Not only that, but they also became the first group called the "Octo-Nine". Headed by big chip leader Jesse Sylvia, everyone remaining has locked up a minimum of $754,798, and it's the top seven spots that will become millionaires.
Speaking of Sylvia, he'll be looking to achieve what Jonathan Duhamel did when he came into the final table as chip leader, and that's win the title. Other former chip leaders since the delay in action were Dennis Phillips (2008), Darvin Moon (2009) and Martin Staszko (2011), but they all failed to get the job done.
Trailing Sylvia are Andras Koroknai and Greg Merson with just about the same amount of chips. Koroknai could be seen as one of the dark spots of this final table, but to him it doesn't seem to matter how the public views him. There has been some controversy around Koroknai, and he even told Robert Salaburu, "The French girl is mine." upon making it down to the 10-handed final table, speaking of Gaelle Baumann.
Merson, on the other hand, has been to the dark side, but has since worked his way back. Having come into poker and money at a young age, Merson fell into a drug addiction, but has battled against it to get his life back in order. Doing so allowed him to win his first WSOP gold bracelet earlier this year, and can still see him win a second. He could also win the WSOP Player of the Year if he were to claim first place. Right now, Phil Hellmuth is set to take those honors.
Another feel good story alongside Merson's would be if Jake Balsiger won, but he'd have to do it coming from the second shortest stack remaining. Balsiger is just 21 years and 281 days old, and he could become the youngest Main Event champion in history. The 2009 champion, Joe Cada, was 21 years and 356 days old when he won the event.
Here's a look at the final table, and how the players will stack up in seat order:
| Seat | Player | Country | Age | Chip Count |
| --- | --- | --- | --- | --- |
| 1 | Russell Thomas | USA | 24 | 24,800,000 |
| 2 | Jake Balsiger | USA | 21 | 13,115,000 |
| 3 | Jeremy Ausmus | USA | 32 | 9,805,000 |
| 4 | Steven Gee | USA | 57 | 16,860,000 |
| 5 | Greg Merson | USA | 24 | 28,725,000 |
| 6 | Jesse Sylvia | USA | 26 | 43,875,000 |
| 7 | Robert Salaburu | USA | 27 | 15,155,000 |
| 8 | Andras Koroknai | Hungary | 30 | 29,375,000 |
| 9 | Michael Esposito | USA | 43 | 16,260,000 |
The crowd here inside the Penn & Teller Theatre is heating up, and the electricity is in the air. There's going to be plenty of excitement on the way, and you won't want to miss a thing!