Hand #348: Sylvia Takes Big Four-Bet Pot

Level 41 : 800,000-1,600,000, 200,000 ante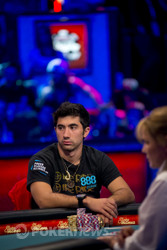 Greg Merson had the button to start this hand. He opened with a raise to 3.2 million, and action moved to Jesse Sylvia in the small blind. He reraised to 7.6 million, and Jake Balsiger folded from the big blind. Merson was back up and took a minute before announcing a raise. He slid out a tall stack of chips totaling 12.1 million. Sylvia took his time with the decision, then just called.
With just about 25 million in the middle, Merson and Sylvia took a flop of
. Sylvia was first and checked. Merson bet 4.6 million. After a minute, Sylvia just called to go to the turn.
Shaun "The Dealer" Harris placed the
out on the turn, and Sylvia checked. Merson checked behind.
The river completed the board with the
to put two cowboys in the middle of the felt. Sylvia checked. Merson looked at Sylvia and sort of laughed before checking behind.
Sylvia tabled the
for two pair, kings and queens, and Merson mucked his hand.