Triple Ship = Triple Up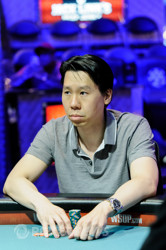 Derrick Huang was the table short stack and started the action by moving all in for 825,000. Ryan Olisar peeked at his cards and announced that he was all in over the top. This brought the action to Amanda Musumeci who looked at her cards, then at her opponents, then back at her cards once again.
"I'm all in," said Musumeci, drawing several gasps from the rail.
The three hands were revealed to the table, only to find that Olisar and Musumeci had the same hand:
Olisar:

Musumeci:

Huang:
With Olisar and Musumeci sharing outs, Huang was hopeful for a triple up this hand. The poker gods must have heard Huang's request, as the flop fell
, pairing Huang's queen. The
gave Olisar and Musumeci outs to make a straight, but the
that rivered did not help them. Huang was able to drag in a key triple up while giving hits to two of his three remaining opponents.
Player
Chips
Progress

Derrick Huang

2,650,000

1,775,000

Ryan Olisar

1,765,000

-1,035,000

Amanda Musumeci

1,725,000

-975,000