A Seven Card Stud: David Sklansky
Level 4 : 300/600, 75 ante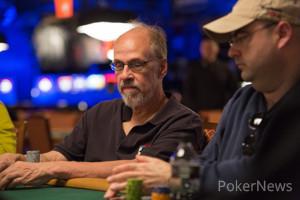 Before the days of online poker training sites, books like The Theory of Poker and Tournament Poker For Advanced Players were the resources for any serious poker player. One of the first players to merge academics and poker, Sklansky's theories are still regarded as the basis of all advanced poker strategy. Go ahead and ask any world-class player--David Sklansky taught the world how to play professional poker.
His books and instructional videos elevated the game to a higher level, accurately detailing strategic concepts that only the top professionals knew at the time, most of them learning through thousands of hands of experience. Sklansky gave the recreational player a poker "tool-box," explaining concepts like pot odds, implied odds and gap theory in terms that they could easily understand. After reading his books, the more studious player could instantly apply his concepts at the table and begin to show a profit.
Sklansky, who plays mostly non-holdem events these days, is a contender in today's field and is going after the 4th bracelet of his career.