The Dragon Pulls Off a Monster Bluff

Level 18 : 2,500/5,000, 500 ante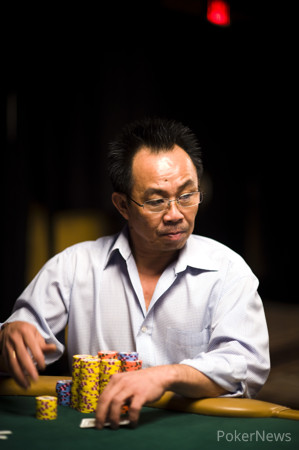 Fabrizio Gonzalez and David Pham are developing a large rivalry here in Event #21. We just saw David Pham pull off the biggest three barrel bluff we've seen all tournament so far.
Just before the break, Gonzalez opened to 10,000 from the cutoff. On the button Pham reraised to 27,000. Action folded back to Gonzalez who made the call.
On the
flop, Gonzalez checked to Pham who bet 30,000. Gonzalez went into the tank, but called after about 30 seconds.
The turn was the
and Gonzalez checked again to Pham who continued his line of agression with a bet of 65,000. Gonzalez tanked again, then made the call.
Gonzalez checked for a third time on the
river.
"How much did you start the hand with," Pham asked Gonzalez. He received no response. Pham grabbed his entire stack of orange T5,000 chips, coupled with a stack of 20, T1,000 chips and bet 120,000, leaving himself with only about 150,000 behind.
Gonzalez went deep into the tank. He stayed there for roughly five minutes trying to think his way through the hand. He grabbing calling chips, then almost mucked his hand and went back to calling chips, back and forth several times. Finally, he found a fold and threw his cards into the muck, leaving him self about 160,000 behind.
Pham looked at his cards, then decided to turn them over. He tabled
for a total airball.
"That took a lot of heart," Matt Berkey said from across the table.
Gonzalez just leaned back in his chair after the hand and tried to take it all in, while Pham was left with a pile of new chips to stack.