Moshin Charania Near the Top with 17 Left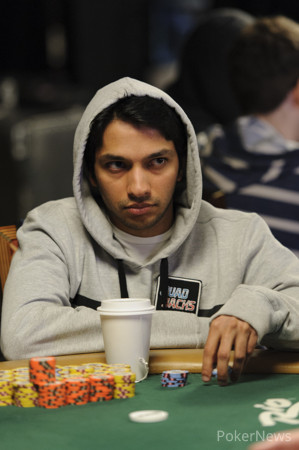 After two full days of poker, 1731 players have been whittled down to just 17. One of those 17 will walk away tonight with a WSOP gold bracelet, and $432,411. The player who has put himself in the best position to do that is Salvatore Dicarlo, who won a huge race on the last hand of Day 2 to take the chip lead . He will come in with 984,000, but he has some close competition at the top.
Paul Splitzberg rode a wave of big pots towards the end of the night on his way to bagging up 957,000. He will be second coming into today. In third is none other than Moshin Charania, who won the EPT Grand Final in 2012. He was one of our biggest stacks the entire yesterday, and comes into play today with 940,000.
These three will be joined by other notables Zimnan Ziyard (461,000), Travell Thomas (254,000), Jacob Schindler (269,000), and nine other players who hope to soon be mentioned in the future as one of the notables after today.
Play will be kicking off at 1 PM. Once we get down to our final nine, we will be providing hand-for-hand updates. Thanks as always for tuning in with us, and don't go anywhere. The excitement is just about to begin!
While we are waiting for this event to start, check out Sarah Grant's update on all the other action at the Rio yesterday!