Event #26: $1,000 Seniors No-Limit Hold'em Championship
Day 1 Completed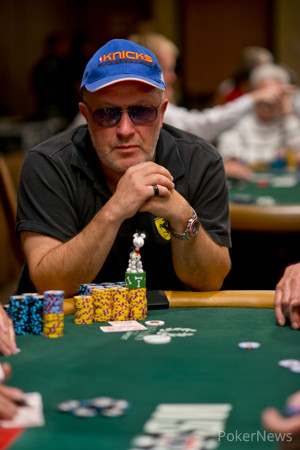 Every year at the World Series of Poker thousands of young guns flock to the poker Mecca to test their mettle against five-bets, flop floats, and flush draws, but the Seniors Championship offers a reprieve from the hyper-aggression that has come to dominate the game. For players of a certain generation, those who can still remember when the third raise always meant aces in the hole, the Seniors event is a tried and true tradition, and the last bastion of A-B-C poker in a world turned on its head by the online style.
Today, a total of 4,407 seniors took their seats bright and early, besting the Seniors Championship record set just last year, and nearly topping the unprecedented number of entrants to play on a single day established by this year's historic "Millionaire Maker" event. With seniors spread throughout the Rio's multiple venues, including the Pavilion, the Brasilia Room, and the Amazon Room, the atmosphere here today has rivaled that of the Main Event, as the crowded halls and throngs of interested onlookers suggest that a major event is being contested.
A number of notable names from the professional ranks were spotted early on in Day 1, with Johnny Chan, Chad Brown, Susie Isaacs, Men Nguyen, and defending champion Allyn Jaffrey Shulman all trying their best to run up a chip stack and make a deep run. Unfortunately for this pack of pros, Day 1 was the end of the line, but plenty of top-flight players managed to bag and tag after eleven full hours of play.
Young Ji (51,800), "Captain" Tom Franklin (48,100) Hoyt Corkins (48,100), Robert Varkonyi (39,900), John Strzemp (32,700), and T.J. Cloutier (29,400) are some of the more notable names still alive after Day 1, and with former Main Event winners and bracelet holders still in the hunt, tomorrow's Day 2 promises to be action packed.
The chip leader after 11 full levels of play appears to be Alex Kunichoff, who built an enormous stack of 151,400 by the time he bagged and tagged, and while there may be somebody with more chips in the field, we certainly didn't spot any. He will be trailed by George Wright, who holds 129,700 entering Day 2, and as far as we can tell nobody else has even topped 100,000 milestone.
Day 2 of the Seniors Championship will resume at 11am PST, so check back with PokerNews throughout the day to follow your favorite golden oldies, as they play their way into the money, and maybe even the final table.
| | | | | | |
| --- | --- | --- | --- | --- | --- |
| Alexander Kunichoff | | | | 151,400 | |
| James Miller | | | | 125,300 | |
| George Wright | | | | 119,700 | -5,300 |
| Gary LaDuca | | | | 101,300 | |
| Kenneth Hunter | | | | 97,100 | |
| Christopher Adlesh | | | | 96,300 | |
| Ricky Crandell | | | | 86,200 | |
| Dale Sinor | | | | 85,100 | 85,100 |
| Randall Rapp | | | | 82,600 | |
| Lyle Richards | | | | 82,500 | |
| James McClendon | | | | 82,000 | -9,700 |
| Kenneth Lind | | | | 81,000 | |
| John Sloat | | | | 80,000 | |
| Gary Margolis | | | | 79,400 | 79,400 |
| Fred Berger | | | | 77,900 | |
| Harvey Shenberg | | | | 76,200 | |
| James Moore | | | | 74,900 | |
| Larry Wright | | | | 74,300 | -3,000 |
| Raymond Purdy | | | | 72,100 | |
| Stephen Lamb | | | | 71,600 | |
| Michel Bouskila | | | | 69,700 | |
| Pablo Estrada | | | | 65,600 | |
| Dana Ott | | | | 65,500 | |
| Richard Langdon | | | | 65,300 | |
| Axel Werner | | | | 64,500 | |
We are dealing seven more hands to conclude play for day one of the The Senior's Championship. We will be back at the conclusion of play with a few preliminary chip stacks from our chip leaders and some other notable players.
With only 20 minutes left in the level, it has turned into social hour in Brasilia. It appears that no one wants to bust just short of bagging their chips for a day two restart. People are up and talking to neighboring tables and the roar of the room is filled with excitement. We are still about 100 off the money but the next milestone appears to be day two and everyone wants to reach it.
Level:

11
Blinds:

500/1,000
Ante:

100
A middle position player called the 600 big blind as did the button. The small blind folded and James McClendon, the big blind, checked his option.
McClendon lead for 2,800 on the
flop. The player in middle position moved all in and the button folded. McClendon made the call with
for a flopped flush and was up against his opponent's
for two pair. The flush held up through the turn and river and McClendon took the pot and eliminated his opponent from the tournament. While it can't be confirmed at this point, it appears McClendon may have the chip lead.
| | | | | | |
| --- | --- | --- | --- | --- | --- |
| James McClendon | | | | 91,700 | 91,700 |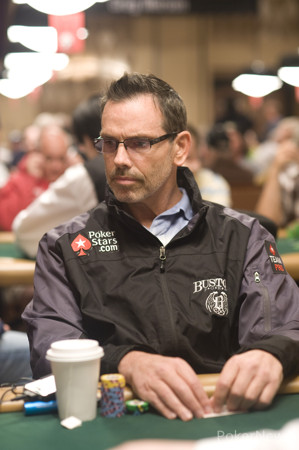 We missed his bustout hand ourselves, but Chad Brown took to Twitter after his recent elimination from the Seniors Championship. Despite making ten final tables at the WSOP during his career, Brown will have to wait another day for a chance to win his first gold bracelet.
Busted in the 1k last level. Flopped aces up. Lose to 3 outer on turn. Back on the horse tomorrow.
Follow @Downtownchad
The buzz inside the walls of the Rio extends beyond just the tournaments on the 2013 World Series of Poker schedule. Online poker in Nevada is a very, very hot topic right now, and WSOP.com is making a lot of noise.
While the site has yet to launch, you can head to the Lambada Room of the Rio or look for one of the beautiful and friendly WSOP.com ladies walking the hallways to sign up for a free, personal WSOP.com online poker account. This is a great way to get a jump on the site's registration, and plenty of people have already taken this opportunity.
What's more is that the WSOP will be hosting daily raffles for everyone that has taken the time to register for WSOP.com at the Rio. What can you win? Plenty of fantastic prizes including 36 WSOP seats!
Players 21 years of age and older who sign up for a WSOP.com account will automatically be entered into the "36-Seat Giveaway" where a randomly-selected winner will win a seat into the next day's first WSOP gold bracelet event. One of the events eligible in this promotion is the $111,111 One Drop High Roller No-Limit Hold'em tournament that is expected to feature a $10,000,000 prize pool and allow you to play poker with the biggest names in the game. In total, $182,333 in WSOP seats, including a seat to the WSOP Main Event, are being given away during this one-of-a-kind WSOP.com promotion.
In addition to the 36-Seat Giveaway, a "Hot Seat" promotion will allow any player who signs up for a WSOP.com online account and wears their WSOP.com patch on their chest at the table while playing an event to be randomly selected to receive 500 bonus dollars deposited directly into their WSOP.com online account once the site has received all regulatory approvals and launches.
With 62 WSOP gold bracelet events and three winners promised for the Main Event, this promotion includes $32,000 worth of value to those participating.
With just 640 runners left holding chip stacks at the moment, and payouts beginning at 441st place, the Seniors Championship is actually miles away from reaching the money bubble, but that fact hasn't stopped several hundred seniors from starting the sweat.
To the untrained eye, it would appear that the television screens displaying a running count of total players, along with the full prizepool information, have been switched to a rerun of Matlock. Every minute or so a new player wanders over to the screen, anxiously staring upward while scanning to see how close they are to that coveted WSOP cash. For the largely amateur field here on Day 1, this is likely the longest many have lasted in a Texas Hold'em tournament, and that inexperience has been evident by these repeated trips to check the monitors.
We expect play to slow down considerably as the surviving seniors try to fold their way to the money, even though we are a couple hundred bustouts from the bubble actually being reached. In this Seniors Championship, which stands in as the Main Event for several thousand amateurs every year, the pre-bubble bubble has become a tradition of sorts, and with so many players on the verge of accomplishing a lifelong dream, we can certainly understand why.