MacPhee Showered

Level 17 : 2,000/4,000, 500 ante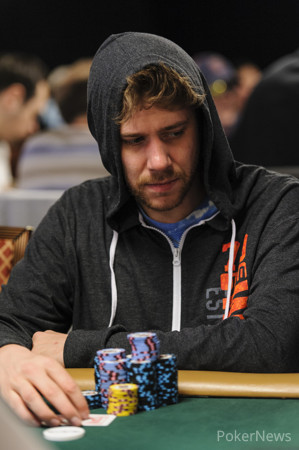 Kevin MacPhee was short for awhile and had to make something happen. Yesterday, on day one, he already successfully made a comeback from 900 chips. Today, however, his quest for a bracelet was halted in 42nd place.
He pushed for 16,500 under-the-gun plus two and was called by the small blind. The big blind was relieved that the small blind called, and folded his cards immediately. MacPhee showed
and the small blind tabled
. The dealer set a new personal record for speed in which she dealt the board. It was so fast we at first didn't even realize MacPhee had picked up some outs on the turn. In the end, it didn't even mather as no one hit and the small blind won:
|
|
.
Kevin MacPhee had asked the dealer to shout "Showered!" if he busted, but at first she did not comply. Later on we heard the Tournament Director call "Showered!", although it wasn't as loud as MacPhee had asked for. MacPhee is on his way to the pay out desk for the fifth time this summer. This time he'll get a card which grants him $6,905.