Moore Takes Lead
Level 28 : 30,000-60,000, 10,000 ante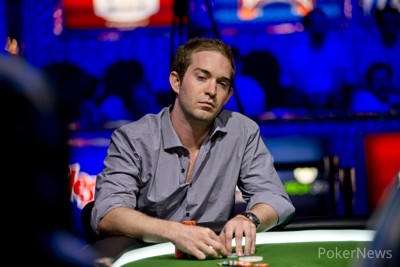 Hand #156
From the button, Chris Dombrowski made it 120,000 to go only to have Mathew Moore three-bet to 325,000 to force a fold from Dombrowski.
Hand #157
Mathew Moore kicked it up with a raise to 120,000 and Chris Dombrowski made the call to see a
flop fall.
Dombrowski checked and Moore tossed in 125,000 to force a swift fold from Dombrowski.
Hand #158
Chris Dombrowski made it 120,000 from the button and Mathew Moore made the call as the dealer spread a
flop.
Moore checked and Dombrowski bet out 120,000 with Moore making the call as the
rolled off on the turn. Moore tapped the table once again before Dombrowski pushed out a 280,000-chip bet to put Moore into the tank.
After a few moments of deliberation Moore made the call before checking the
on the river before Dombrowski slid out a stack of chips amounting to a 655,000-chip bet. Moore immediately called tabling his
to best Dombrowski's
.