Youth is Wasted on the Young
Level 9 : 300/600, 75 ante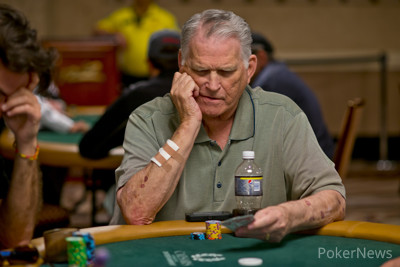 At the age of 73 years young, T.J. Cloutier has been playing poker since before many of the players in this field were even born, and despite the rapid evolution on game theory inspired by the online generation, Cloutier can still tangle when it comes to tournament poker.
We caught up with Cloutier, the holder of six gold WSOP bracelets and two runner-up finishes in the Main Event (1985 & 2000), as he did battle with a player more than 45 years his junior.
On the flop of
, the youngster led out for 3,300 and watched as the wizened veteran raised it up to 9,300, all the while dangling his tipping dollars above his stack.
Cloutier's opponent eventually called the raise, bringing the
to the board on the turn. The young player, shrouded in the hooded sweatshirt that is now a symbol for his generation of poker players as much as the lit cigarette was to Cloutier's, elected to slow down this time and he tapped the table for a check.
A bet of 12,000 later by Cloutier and the hand was over, but not before the legend of poker rolled over the
for a little psychological reinforcement. As the old pro knows better than most, it's always best to leave them thinking you're raises are backed by strength. Makes stealing from them later on that much easier.
Player
Chips
Progress

T.J. Cloutier

62,500

45,000