Event #32: $5,000 No-Limit Hold'em (Six Handed)
Day: 1
Level: 11
Blinds: 500/1,000
Ante: 100

Level 10 : 400/800, 100 ante
Player
Chips
Progress

Jonathan Little

179,700

Daniel Negreanu

168,600

Benjamin Reinhart

160,800

Brian Rast

151,200

Justin Smith

149,800

Rogen Chhabra

141,500

Ryan D'Angelo

135,100

Steve Sung

135,000

69,000

Brock Parker

132,000

Barry Hutter

126,000

Randy Lew

125,400

Kyle White

124,700

Jordan Cristos

124,300

Craig Fishman

121,400

Ryan Eriquezzo

117,000

35,000

Vojtech Ruzicka

114,800

Steve O'Dwyer

108,300

Vasile Buboi

105,100

Raymond Iskander

101,800

Scott Seiver

101,600

Max Steinberg

99,400

51,400

Petr Bartagov

98,900

Amit Makhija

94,900

49,900

Dan O'Brien

93,500

-18,500

Erick Lindgren

92,900

26,900
Event #32: $5,000 No-Limit Hold'em (Six Handed)
Day 1 Completed

Level 10 : 400/800, 100 ante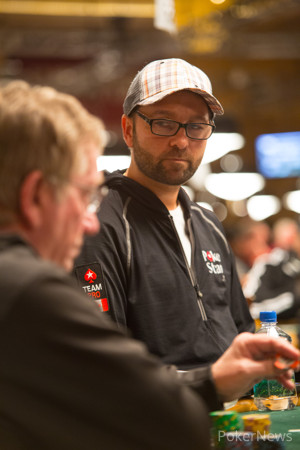 Day 1 of Event #32: $5,000 No-Limit Hold'em (Six Handed) has come and gone. When registration closed, 516 players had ponied up the buy-in for this event and the top prize was set at over $600,000. Finishing the day in the pole position was Jonathan Little with 179,700 in chips. Hot on his heels are a group of tough competitors including Daniel Negreanu (168,600), Brian Rast (151,200) and Justin Smith (149,800).
Many top pros came and went in this event including Jason Mercier, Vanessa Selbst, Phil Hellmuth, Ben Lamb and Joe Hachem, but not all is lost as plenty of big names advanced to Day 2. Some of those moving on are Brock Parker, Steve O'Dwyer, Chris Klodnicki, Allen Bari, Max Steinberg, TJ Cloutier, Matt Waxman and Gavin Smith.
Day 2 will kick off at 1 p.m. with the cards in the air, and it's going to be a great day of poker. On tap will be the money bubble and then the quest for the final table. With around 120 players still left in the hunt, things will be fast and furious from the get go.
Level 10 : 400/800, 100 ante
At the end of 10 levels of six-handed play, here are the players who built some of the biggest stacks by the end of the night.
Player
Chips
Progress

Jonathan Little

179,700

37,700

Daniel Negreanu

168,600

Brain Rast

151,000

151,000

Justin Smith

149,800

19,800

Ryan D'Angelo

135,100

Brock Parker

132,000

92,000

Randy Lew

125,400

Steve O'Dwyer

108,300

-21,700

Scott Seiver

101,600

21,600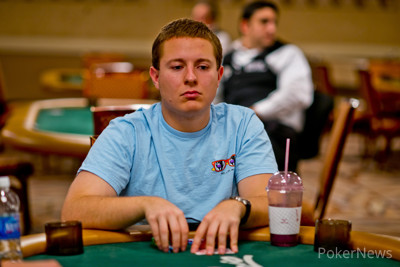 The loudest celebration of the day, aside from that let loose by the Miami Heat bettors in the house this evening, erupted from Matt Marafioti's table, after the flashy young pro spiked a king on the river to survive.
"Yes!!," he screamed, knocking over his chair as he did so. "That's what he gets for calling my 40 big blind shove with sixes!"
Apparently Brian Hastings called Marafioti's all-in bet before the flop with the best hand. His
was a slight favorite against Marafioti's
through the turn on the
board, but the
on the river saved Marafioti, sending him into a frenzy.
"Yeah, sixes are good there," he chided a smiling Hastings. "I've always got the fives there when I shove for 40 bigs."
"I was ahead when I called," reminded Hastings, still smiling despite smarting from the loss. "I was ahead on the flop and fourth street too."

Level 10 : 400/800, 100 ante
The tournament staff has announced that each table will play four more hands before calling it quits for the night and bagging up their chips.

Level 10 : 400/800, 100 ante
After Richard Lyndaker raised, Athanasios Polychronopoulos reraised all in for 22,700 on the button. Jackie Glazier moved all in from the big blind, and Lyndaker folded.
Polychronopoulos:

Glazier:
Polychronopoulos' run good continued as the board ran out
, and he doubled up.
Level 10 : 400/800, 100 ante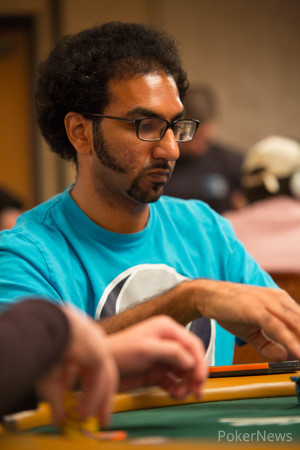 We just saw recent WSOP bracelet winner Athanasios Polychronopoulos take most of his friend Faraz Jaka's chips, and the man affectionately known as "The Toilet" was eliminated shortly after being crippled.
The action was missed, but Polychronopoulos'
was tabled alongside Jaka's
, and the board read
. Although he had flopped top pair with his ace, Jaka ran into Polychronopoulos' nut flush on the turn.
With this infusion of chips before the players bag and tag for the evening, Polychronopoulos is hoping to generate some momentum for another deep WSOP run.
Level 10 : 400/800, 100 ante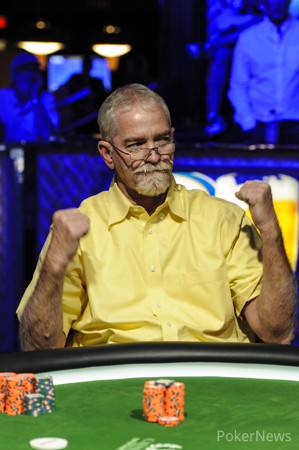 Fresh from his seventh-place finish in Event #26, the $1,000 Seniors Championship, James Miller has parlayed his fattened bankroll into a few more shots at that elusive gold bracelet.
Today he has survived nearly a full day of six-handed action against many of poker's elite, and despite playing alongside Erick Lindgren, Randy Lew, and Tommy Vedes for much of the night, Miller has held his own.
Miller currently sits with a below average stack, but he proved throughout his Seniors Championship run that he can grind the short stack effectivley while waiting for the right spot. While the play here may be a bit more aggressive than in that event, Miller is just one double up away from putting himself in contention yet again this summer.