Catching Up With Madsen on Break
Level 23 : 10,000/20,000, 0 ante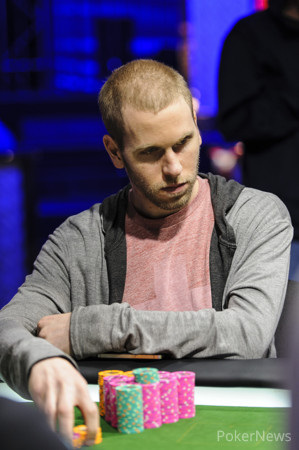 Jeff Madsen is sitting comfortably as chip leader going into the final seven of Event No. 35 $3,000 Pot-Limit Omaha.
Madsen leads with 1,520,000 in chips with Scott Clements trailing behind in second with 845,000.
Madsen, a two-time World Series of Poker bracelet winner, is now looking to earn his third of his career. In 2006 he won a $2,000 No-Limit Hold'em event and a $5,000 No-Limit Hold'em Six-Handed event, earning over $1.3 million between the two. He was also crowned the 2006 WSOP Player of the Year.
During the 20-minute break, we had a chance to talk with Madsen about his hand that busted Phil Hellmuth in this very event, and his strategy against Scott Clements.
Since winning two bracelets in 2006, have you made any adjustments to your game to better yourself as a player?
As you get better you naturally just gain more experience in certain spots. In life and on the poker table, you should always be making adjustments. If you make a mistake then it will only make you better and prepare you for the next situation. Half of poker is away from the table whether it is adjusting, studying, and realizing what you have to do to not make the same mistake twice.
You've played in mixed-game events and have done well in no-limit Hold'em events. Which do you feel stronger or more comfortable playing?

I'm comfortable in general. I started off playing most of the games so there's not really any game that I'm not at least somewhat comfortable with. Obviously I play more no limit Hold'em events than other games but in general I feel comfortable with everything. No limit is different, of course, you can bust in every hand that you play and mixed-games is more relaxed at times because it's limit and doesn't necessarily force you to have your whole stack at risk.
Yesterday you posted on Twitter that you busted Phil Hellmuth. Can you talk about how that hand went down?

It was a multi-way pot and Hellmuth called a raise and I defended from the big hand. It wasn't an amazing hand or anything it was pretty standard. I had
. I flopped bottom two pair and a flush draw. It checked to Hellmuth and he bet. I thought he was strong because he usually is but he was pretty short so I thought that maybe my flush draw or two pair was good so I put him all in. I already had a big stack so it was a standard move. He had top set and I hit a flush. He is more of a no limit player but I think he just doesn't like losing.
Was busting Hellmuth what catapulted you up to the top, maybe mentally?
Not really. I was already up in the chip lead. That pot definitely helped but I was already at like half a million or maybe 700,000 in chips. It's always a confidence booster when you bust a high-profile player though.
Scott Clements is perhaps the most experienced PLO player at the table. Do you have a strategy for how you will play against him?
I am aware that he's the best player at the table. I'm not intimidated but I am aware that he can play tricky in some spots so I will just have to be careful with him and not maybe go after him like I would another player.
Do you like the 2013 WSOP schedule or are there some changes you want to see for next year?
I actually really like it. I think every year someone has a complaint about something like adding more mixed-game events. I like that the schedule changes every year and I think it already has a good mix of events and buy-ins. As long as the WSOP keeps with a good mix of all the games and buy-ins then I'll always be happy.
After the WSOP, what's on your poker schedule?
I haven't thought that far through but I want to play more EPT events. Usually I stick to playing WPT tournaments but I want to extend my options this year.
You posted on Twitter, "gratefulness attracts abundance." Is that your motto for the summer?
It means that if you don't appreciate what you have then you will never have enough. If you appreciate what you have then you'll have everything you want. It's not necessarily my motto for just the series but for everyday life.