Leah Gets His Scoop
Level 21 : 10,000/20,000, 2,000 ante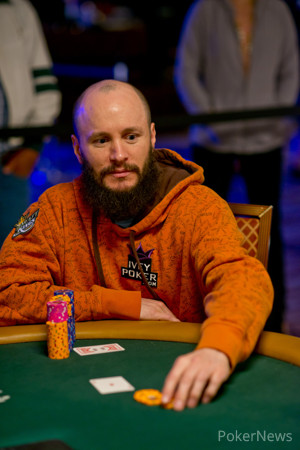 Hand #12:
Mike Leah:
/
/

Tony Gill:
/
(FOLD)
Fei Chu:
/
(FOLD)
Raul Paez:
/
/

Matt Vengrin:
/
/
Gill brought it in, Chu called, Paez completed, Vengrin called, and Leah tank-raised. Everyone called except Chu.
"I got rid of one!" Leah said, grinning.
The action checked to Leah on fourth street, who bet, and the three players called. Leah made a pair on fifth, leading out, and Paez and Vengrin both called.
Paez made a pair of aces on sixth, leading out, and both Vengrin and Leah called. All three players checked on seventh.
Leah:

Paez:

Vengrin:
Vengrin's last card appeared to be paint - he mucked rather quickly - and Leah scooped the whole kit n kaboodle with kings up.
"Yum, yum," he said.