Bardah's Beat Boxing Can't Save Him

Level 23 : 12,000-24,000, 4,000 ante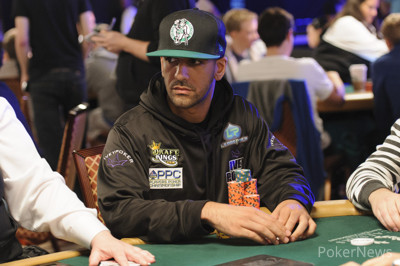 After the dealer pitched out the cards and Ronnie Bardah looked at his hand from the small blind, he began beat boxing — something he is known for being very skilled at.
Action began to fold around the table before a player opened with a raise to 54,000. When this happened, Bardah added a little extra into the beat boxing. Bardah was bobbing his head, and some of the table began clapping their hands and dancing along to the beat. Then, Jorn Walthaus three-bet from the cutoff seat to 133,000. When Walthaus did this, Bardah added another element to the beat, and even more players joined in from the table. Everyone was rocking and enjoyment captured the table.
After the button folded, Bardah double-fisted all of his chips in the middle, emphatically smashing his two towers down on the felt and picking up the beat boxing some more. Everyone at the table smiled, laughed and danced along to the melody. The big blind and original raiser folded, then Walthaus got a quick count.
Bardah was all in for 289,000, and Walthaus quickly made the call when he knew how much it was. He had the
, but Bardah was out in front with the
.
The flop came down
, and Bardah stopped beat boxing because he now had a sweat on his hands. The turn was the
, which gave Walthaus a flush draw to go along with his straight draw. Bardah leaned over and put his head on the dealer's shoulder, pleading with her not to deliver the beat. Although Bardah's good-heartened nature made her smile even more, the dealer slapped the
on the river and gave Walthaus a flush. He won the pot, and Bardah was eliminated.
"It's so crazy how it all evens out," Bardah said after the hand as he walked over to the payout desk. He was citing the hand where he doubled up by hitting a six when he got in pocket sixes against pocket sevens.
At any rate, Bardah was off to the payout desk to collect another cash, his fourth consecutive in the World Series of Poker Main Event. That ties the record held by Chris Bjorin, and Bardah, along with Christian Harder who also cashed this year, will have the chance to break the record in 2014. In 2010, Bardah took 24th for a cash of $317,161 after running into the pockets aces for Filippo Candio. He followed that up with a 453rd-place finish in 2011 for $27,103 and a 540th-place finish in 2012 for $21,707. This year, Bardah added another $50,752 to his pocket after already cashing twice earlier in the Series. One of those cashes was a third-place finish in the $5,000 Limit Hold'em event for $94,793.