GSP Looking to Score Some Knock Outs

Level 1 : 50/100, 0 ante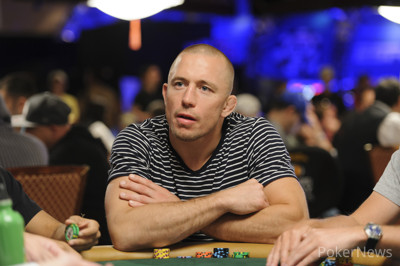 Every year the World Series of Poker Main Event draws celebrities, and one of them in today's field is MMA fighter Georges St-Pierre, also known as "GSP." Considered by many to be one of the greatest welterweight fighters in the world, as well as one of the best pound-for-pound fighters overall, the 32-year-old GSP is looking for a poker title to go with his current Welterweight Championship.
St-Pierre holds an impressive 24-2 record in the Octagon with his only losses coming to Matt Hughes by submission and Matt Serra by TKO. He later went on to avenge both of those losses, defeating Hughes twice and knocking out Serra just one year after their first fight.
"I'm new to the game. It's just a hobby of mine and I recently discovered it," GSP told PokerNews while playing in last year's Main Event, which was his first outing into the big one. "I like it a lot, but I still have a lot to learn."
When speaking of the similarities between fighting and poker, GSP said, "Yeah there are definitely a few similarities, but I think the biggest one for me is controlling your emotions. When you are at the table you have to be calm and leave your ego behind, and it's just like that when you are fighting."
For more on GSP, check out the interview he did with Kristy Arnett during last year's Main Event: