It's Time: Farber vs. Riess for the 2013 WSOP Main Event Title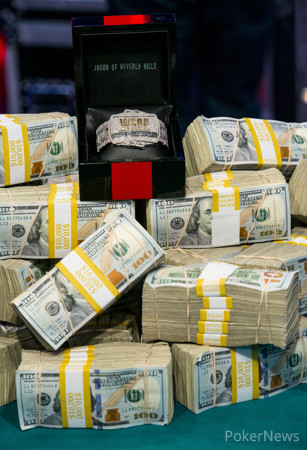 Welcome to the final day of the 2013 World Series of Poker Main Event. Yesterday, the final table resumed after a 111-day hiatus, and action played down from nine players to just two. You can read the recap of play here, but today it's all about the gold and who's going to win $8.3 million.
Ryan Riess and Jay Farber are the two remaining players vying for the greatest title in all of poker. Farber will be the man with the chip lead, starting the heads-up duel with 105 million to Riess' 85.675 million. Last year, heads-up play took 17 hands, but this year things are expected to be a big longer as the shortest stack is over 85 big blinds deep to start.
The atmosphere here inside the Penn & Teller Theatre is electric, and the anticipation for the start of play can be felt flowing through the air. The prize money and the gold bracelet are on the table where Riess and Farber will battle, and it's just a few minutes before announcer Bruce Buffer kicks things off.
PokerNews will once again be providing hand-for-hand coverage of the action, so stay tuned for the kickoff at 6 p.m. Las Vegas time.