Hand #195: Farber Back in Front
Level 39 : 500,000/1,000,000, 150,000 ante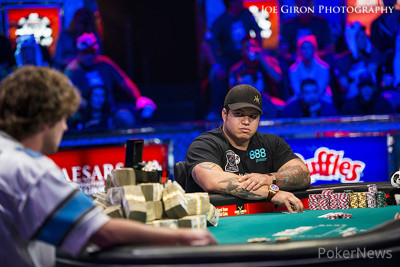 Ryan Riess started the hand with the button, and raised to 2.5 million. Jay Farber called, the flop fell
, and Farber check-called a bet of three million from Riess.
The turn was the
, Farber checked again, and Riess fired out another five million. Farber check-raised, pushing out a large stack of chips worth 13.45 million, and the crowd rose to their feet. Riess sat quietly for a minute or so before calling, and the board completed with the
.
Farber slid out a massive bet of 24.5 million - nearly three quarters of the pot - and Farber's rail got rowdy.
"YOU GOTTA PAY TO SEE THOSE CARDS!!!" someone yelled.
Several other members of the rail shouted while Riess was in the tank, and Jack Effel attempted to tame them. It did nothing. The yells and shouts continued as Riess worked out the hand, and even he started to laugh after a few minutes.
Riess counted out enough chips to call, pulling them aside, but eventually folded.