Larry Wright is the Life of the Party

Level 10 : 600-1,200, 300 ante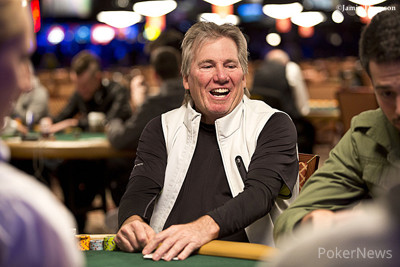 Jason Mercier raised to 2,500 and found calls from Galen Hall in the small blind and Larry Wright in the big blind. All three players took one card at the draw.
Hall checked over to Wright who fired out for 5,000. Mercier let it go and Hall went into the tank, eyeing up Wright's stack in the process.
"Quit lookin' at those pink chips!" boomed Wright. "Don't look at those. He's thinkin' about raising! Don't look at those!"
Wright's voice brought a silence over the room.
"How are you still in?" yelled Jean-Robert Bellande from the next table over. This was met with laughter from the surrounding tables. After the laughter subsided, Hall tossed out a call.
"I've got a seven," deadpanned Wright, which was met with even more laughter from the adjacent tables. He smiled. "What? I always draw perfect!"
Wright showed his
and raked in the chips. The 2012 $1,500 No-Limit 2-7 Single Draw bracelet winner is now sitting on about 118,000 while Hall has dropped to 95,000.