Jamers Getting to Paur
Level 5 : 100/200, 25 ante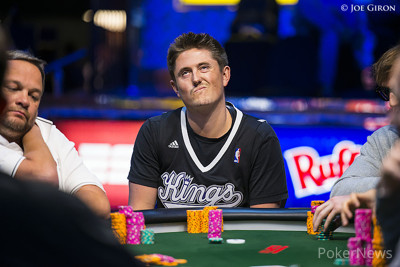 Todd Terry was first to act, and raised to 500. The action folded to Taylor Paur, who announced "reraise" aloud, and tossed out 1,350. Terry called.
The flop fell
.
"Bet," Paur announced, flicking another 1,250 forward.
"He's announcing his bets now," Jamie "pokerjamers" Armstrong said, grinning.
Terry called, the turn was the
, and Paur said, "check."
"Twenty-eight," Terry said.
Paur announced a fold, pushed his cards forward, and Terry dragged the pot.
"I had ace-ten," Armstrong said.
"Me too," Terry responded, showing
. "What did you have? Kings?"
Paur didn't respond.
"Always an ace," Armstrong needled.
Paur, who is good friends with Armstrong, threw his arms up.
"I can't concentrate with Jamie here!" he said.