Event #4: $1,000 No-Limit Hold'em
Days: 1
Event #4: $1,000 No-Limit Hold'em
Day 1 Completed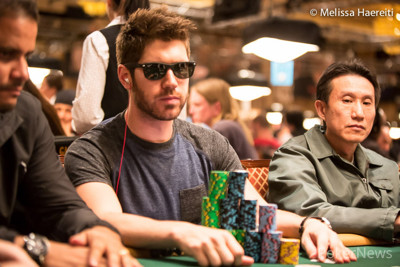 Day 1 of Event #4: $1,000 No-Limit Hold'em started with the players spread across three room at the Rio All-Suite Hotel & Casino due to a massive crowd of 2,224 players buying into it. By the time 11 one-hour levels were completed, that huge crowd had been whittled down to a much more manageable 186.
It looks like Canada's Miguel Proulx is the overnight chip leader, having bagged up an impressive 120,500 chips at the close of play. Proulx won a $2,500 Pot-Limit Omaha event in 2010 and has done his chances of adding a second bracelet to his wrist no harm by putting in an impressive performance in this event.
Other big stacks who punched their ticket through to Day 2 with ease include Brian Bauer (108,400), Cy Williams (100,400), Alan Clunie (96,700), and Scott Baumstein (88,200). However, when play resumes at 1 p.m. local time on Friday it will be Mark Radoja who is in the spotlight.
Radoja finished Day 1 with 102,000 chips and now has a realistic chance of winning his third WSOP bracelet. Not only has Radoja got plenty of chips, he played superb poker throughout the day and led for the majority of it. Combine his big stack with his obvious confidence and the fact he looks to be running good and that equals danger for his opponents on Day 2.
Plenty of notables will take their seats on Day 2, including Phil Collins (69,800), Jamie Kertsetter (69,700), Andrew Lichtenberger (62,700), David Peters (57,800), Olivier Busquet (35,000), Tristan Wade (23,900) and Amanda Musumeci (15,200).
Play resumes at 1 p.m on Friday with the 186 returning players guaranteed at least $1,981 for their efforts so far. PokerNews will be on hand to bring you all the action from Day 2, but until then it is goodnight from us!
The tournament clock has been paused with 10 minutes to go and the dealers instructed to deal four more hands before ending play for the night.
Level 11 : 500-1,000, 100 ante
The money bubble only burst a few minutes ago and already more than 30 players have busted out and are helping themselves to a slice of the $2m+ prize pool. It's a frantic end to a great day of poker.
The tournament didn't even get to the hand-for-hand stage before it was announced that the 243 players with chips in front of them were in the money in Event #4.
There are some micro stacks out there so the most common sound we expect to hear is "Payout on Table X" as the stacks go flying into the middle.
Jeff Gross had a bad last level, losing around 30,000 chips when his pair and flush draw ran into a pair of aces.
Player
Chips
Progress

Scott Baumstein

99,000

66,000

Mark Radoja

87,000

32,000

Jeff Gross

53,000

-31,000

Todd Terry

42,000

-17,000

Olivier Busquet

41,000

18,000

Ylon Schwartz

31,000

25,000

Humberto Brenes

4,200

-1,000
With only five more eliminations needed for the bubble to burst, play has slowed to a standstill with some of the shorter stacks taking between two and three minutes to make their preflop decisions.
The 253 player have been informed that a new chip is being introduced into play, the T5,000 chip.
These are bright orange in color and a stack of them is worth 100,000. Get collecting them, folks!
Level: 11
Blinds: 500/1,000
Ante: 100