Hands #78-82: Drummond Takes Chip Lead
Level 28 : 30,000-60,000, 0 ante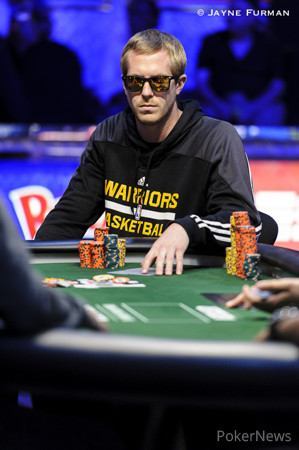 Hand #78: Kory Kilpatrick limped the small blind and Darius Studdard checked to see a
flop fall. Kilpatrick bet out 75,000 and Studdard called as the
landed on the turn.
Kilpatrick led for 180,000 and Studdard folded.
Hand #79: Kory Kilpatrick limped the button and Darius Studdard folded as Michael Drummond checked to see a
flop fall. Kilpatrick bet out 100,000 and Drummond quickly folded.
Hand #80: Darius Studdard raised to 145,000 and both Michael Drummond and Kory Kilpatrick called to see a
flop fall. Studdard continued for 305,000 and only Drummond called as the
landed on the turn. Both players checked as the
completed the board.
Drummond checked and Studdard pushed out a bet of 380,000 and Drummond folded to give Studdard the chip lead with 3.6 million - good for half the chips in play.
Hand #81: Michael Drummond raised to 145,000 from the button only to have Kory Kilpatrick three-bet to 465,000. Drummond quickly released and Kilpatrick was pushed the pot.
Hand #82: Darius Studdard raised to 175,000 from the small blind and Michael Drummond called as the dealer dropped a
flop. Studdard led for 225,000 and Drummond made the call to see the
land on the turn.
Studdard pushed out 555,000 into the middle to put Drummond into the tank before he eventually made the call as the river landed the
and Studdard checked and Drummond moved all in for roughly 700,000 with Studdard opting to kick his cards into the muck.