Abe Mosseri Savors the Sweat on Poker Players' Championship Bubble
Level 17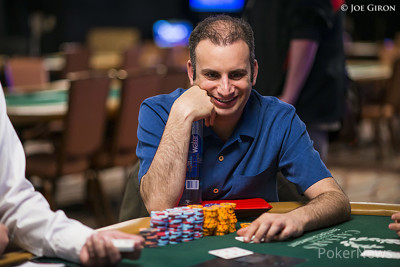 During a recent break in the $50,000 Poker Players' Championship action, as the final 15 players anxiously wait for the money bubble to burst, Abe Mosseri found himself thinking about far more than a min-cash.
Mosseri is well-known among the high-stakes community as a man willing to make a wager when he feels he has found an edge, and after ponying up $50,000 to play a poker tournament, the avid bettor decided to sweeten the pot.
A series of prop bets made with his fellow pros and longtime friends — including Matt Glantz, Doyle and Todd Brunson, and a few others who shall remain nameless — has provided Mosseri with added incentive to run deep against one of the toughest fields in tournament poker.
"I have a bunch of pending bets with a lot of other poker players," Mosseri explained to PokerNews during his break. "Matt Glantz, Todd... I didn't bet with Todd, but I bet with Doyle and he picked Todd. A lot of my bets I do with certain people, and they pick a bunch of guys against me. Basically the way it works is I bet against them making the money, and they're betting against me making the money. Also making the final table, and winning the tournament. Three separate bets, three separate thresholds."
With a first-prize payout of $1,517,767 awaiting the eventual winner, each of the 15 players left in contention is eyeing a massive score, but Mosseri has a little extra on the line. As it currently stands, Mosseri is one elimination away from reaching the first of three milestones that, if the rumored stakes are anywhere near accurate, could be worth nearly a million dollars in supplementary income.
"That's probably true," said the chip-leading Mosseri about the reported $900,000 he stands to earn with a win. "I'm on the first sweat now, and it seems like I'm pretty good to make it."
Asked about the impetus behind such sky-high side action, Mosseri was not shy about revealing his reasons.
"Motivation to play better," he said. "And, you know, you play for higher. Usually, you can win a lot, or lose small. I'm feeling really good, I'm going for the final table. Hopefully it goes fast!"