Event #8: $1,500 Millionaire Maker No-Limit Hold'em
Day: 4
Event #8: $1,500 Millionaire Maker No-Limit Hold'em
Day 4 Completed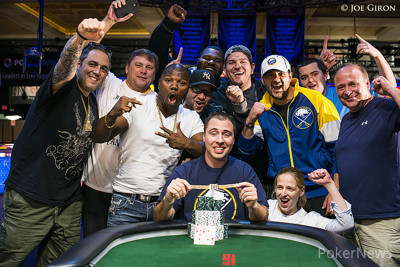 The first millionaire of the 2014 World Series of Poker 2014 has been crowned as Jonathan Dimmig emerged victorious to "bring a championship to Buffalo." In the post-tournament interview with WSOP Media Director Nolan Dalla, Dimmig admitted to having no idea what the future has in store for him. "But I hope it is a sign of good things to come and will play a few more events here at the WSOP," he said.
Dimmig's plan for Day 1 was simply to "get through" and he "had the best day of my life" on Day 2. He considered the final table as a "once in a lifetime experience" and would "never sit back and wait" just to move up in the payouts.
About a year and a half ago Dimmig quit his full-time job to take on poker after realizing that he could make more through poker even as a part time job. Since then and has played "maybe eight or nine" tournaments at the WSOP since moving to Las Vegas. Last year he finished seventh in a daily $325 deep stack after going through a huge field and was disappointed with the final result. He has nothing to be disappointed about tonight after outlasting the second largest live tournament field in poker history.
FINAL RESULTS
| Position | Player | Payout |
| --- | --- | --- |
| 1 | Jonathan Dimmig | $1,319,587 |
| 2 | Jeffrey Coburn | $815,963 |
| 3 | James Duke | $614,368 |
| 4 | Andrew Teng | $465,972 |
| 5 | Bradley Anderson | $355,913 |
| 6 | Stephen Graner | $273,854 |
| 7 | Jason Johnson | $211,394 |
| 8 | Andrew Dick | $164,118 |
| 9 | Maurice Hawkins | $128,150 |
Dimmig wasn't among the chip leaders going into the final table, Stephen Graner held an almost 3-to-1 lead over each of his opponents when level 29 kicked off at blinds 40,000-80,000 with an ante of 10,000.
Graner lost the lead in the third hand of play on after trying to push James Duke out of a pot but the latter called with pocket kings and held up. The first player to hit the rail was Maurice Hawkins in hand #19 after getting it in preflop with
against the
of Graner and the
on the flop immediately shut down all hopes of a double up.
Andrew Dick followed in eight place after he was unable to improve with
against the
of Dimmig in hand #23. Jason Johnson started the final table as shortest stack and managed to climb two payout spots before bowing out in seventh place. The fast paced action continued and shortly after, start-of-the-day chip leader Stephen Graner was eliminated in sixth place. He rivered a straight with
but Jonathan Dimmig had turned the higher straight with
and jumped into the lead.
Down to five players, more than three hours passed without elimination and it was Bradley Anderson, who took fifth place for $355,913. He flopped top pair with
in hand #94 but James Duke spiked middle set with pocket queens and the runner runner miracle never happened. The only non American on the final table, Andrew Teng, finished in fourth place after losing a flip with
against
in hand #139.
Three handed play started very passive and several double ups occurred before Andrew Duke was sent to the rail in third place. He was left short stacked after previous confrontations and flopped top pair after a preflop all in with
in hand #184, but Dimmig turned the higher pair with
. Heads-Up play started with a bang in the first hand as Dimmig doubled up through Jeffrey Coburn and only five hands later the two saw the
flop. Dimmig moved all in with
and Coburn called short stacked with
, the
turn and
river blanked and the record-breaking Millionaire Maker with stunning 7,977 entries had crowned its winner.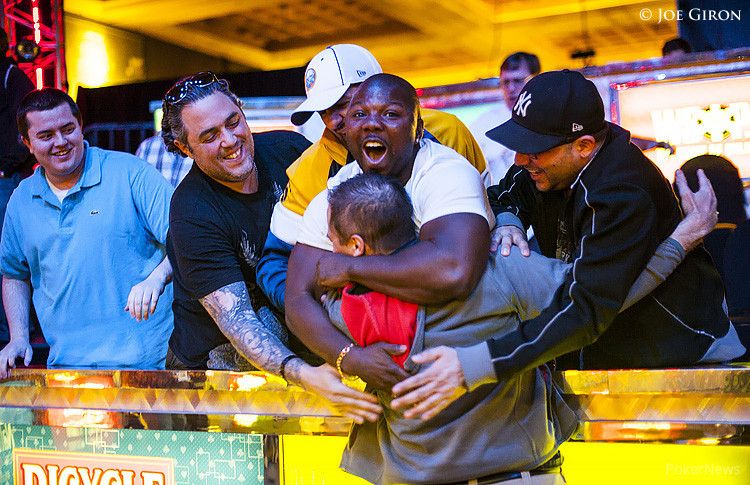 Jonathan Demmig captures the record breaking WSOP "Millionaire Maker" No-Limit Hold'em event and a WSOP gold bracelet and makes Buffalo proud.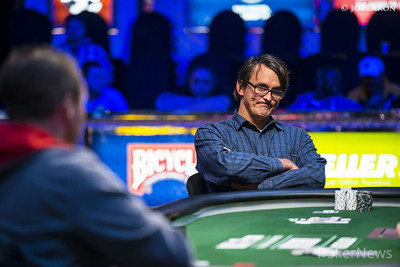 Hand #188: Jonathan Dimmig keeps up the pressure. After a checked through
flop and a bet on the
turn, he moved all in after the
river and enforced a fold from Jeffrey Coburn.
Hand #189: Dimmig moved all in and that won the pot.
Hand #190: Coburn raised to 1.5 million and Dimmig called. They both saw the
flop and Dimmig moved all in once again. Coburn didn't have much left and made the call!
Coburn:

Dimmig:
Dimmig was two card away from becoming the first millionaire at the WSOP 2014 and the
turn was no threat either. One more card to go. And it was the
, putting an end to the tournament and generating a loud cheer from the rail of Jonathan Dimmig. "LET'S GO BUFFALO" is all she said.
Level 37 : 250,000/500,000, 50,000 ante
Hand #186: Jeff Coburn opened for 1.25 million and Jonathan Dimmig moved all in. Coburn folded and Dimmig added to his chip lead.
Hand #187: Dimmig completed the small blind and Coburn checked his option. They both checked the
flop. They did the same on the
turn and the
river. Dimmig had
for a straight and took down the pot.
Hand #185: First hand of heads-up play. Jeffrey Coburn raised to 1.5 million and was called. The
flop saw the continuation bet of Coburn for 1.65 million and Jonathan Dimmig raised it up. Coburn moved all in and was called immediately:
Coburn:

Dimmig:
Top two pair versus top pair and flush draw. The
turn gave some chop odds but the
was a blank and Dimmig doubled up into the lead.
Level 37 : 250,000/500,000, 50,000 ante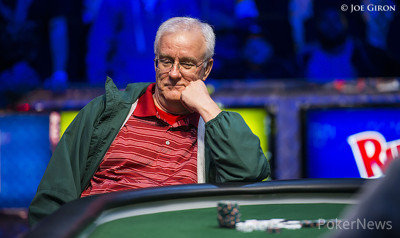 Hand #184: James Duke moved all in first to act and was called by Jonathan Dimmig. It was for a total of 3.1 million and the hands were placed face up in the middle for all to see:
Duke:

Dimmig:
The flop came
and Duke took the lead with a pair of eights. The turn, however, catapulted Dimmig into the lead with the
. The river was the
and Duke was eliminated in 3rd place. Dimmig's rail let out a "let's go Buffalo" chant as he stacked the chips.
Hand #182: James Duke moved all in and took the blinds and antes.
Hand #183: Jeffrey Coburn and Duke saw the
flop that got checked through. On the
turn, Coburn bet 850,000 and was called before firing 1.3 million once the
appeared on the river.
Duke was sent into the think tank and then said "I better have something there," talking to himself and the opponent. He checked the cards again and then folded.
Level 37 : 250,000/500,000, 50,000 ante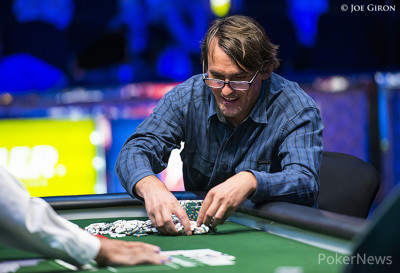 Hand #177: Jonathan Dimmig raised to 1.0 million and James Duke called from the big blind. The flop came
and Duke check-folded to Dimmig's bet.
Hand #178: Dimmig received a walk.
Hand #179: Dimmig completed the small blind and Jeff Coburn popped it up to 1.4 million total. Dimmig called.
The flop came
and Dimmig checked. Coburn bet 1.6 million and Dimmig folded.
Hand #180: Dimmig opened to 1 million from the button. Coburn called from the small blind and Duke joined in as well from the big blind.
The flop came
and Coburn checked. Duke bet 1.5 million and Dimmig called. Coburn folded.
The turn was the
and both players checked. The dealer put out the
on the river and they again checked. Duke showed
and Dimmig
for tens and sixes. Dimmig raked in the pot.
Hand #181: Coburn opened for 1.2 million from the button. Duke called from the small blind and Dimmig also called.
The flop came
. Duke and Dimmig checked and Coburn bet 1.6 million. Duke called and Dimmig folded.
The turn was the
and Duke check-called Coburn's 2 million bet.
The river was the
and Duke checked to Coburn who placed out a 3.3 million bet. Duke moved all in and was snap-called by Coburn who held
for trip kings. Duke could only show
for aces and kings. Coburn had 5.525 million behind and with that pot assumed the chip lead for the first time all night.
Player
Chips
Progress

Jeffrey Coburn

21,000,000

10,725,000

Jonathan Dimmig

11,400,000

3,800,000

James Duke

3,500,000

-14,450,000
Level: 37
Blinds: 250,000/500,000
Ante: 50,000