Ivey's "Not a One-Beer Man"

Level 10 : 600/1,200, 200 ante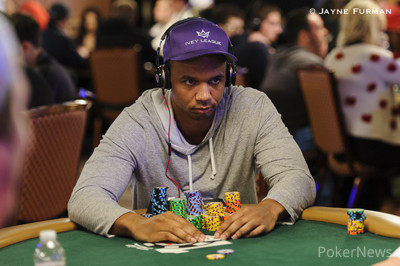 After Danny Johnson started the festivities by ordering "last-level beers" at his table, which includes Phil Ivey, the rest of the table has joined in — including Ivey himself. Then, the following small hand came up, but it wasn't the hand that turned out to be the story, but rather the antics afterwards.
Ivey opened from middle position to 2,600, and Johnson called out of the big blind to see the flop come down
. After Johnson checked, Ivey bet 3,000, and Johnson folded.
"I just can't beat the G.O.A.T.," said Johnson out loud to no one in particular, but referring to Ivey.
Everyone at the table smiled and laughed, while some sipped on their beers. Ivey, though, stacked up the chips from the pot and took the final sip of his beer.
"Looks like you need another," said the player next to Ivey, pointing at Ivey's empty cup that was down to just the lime.
"I drink fast, man," responded Ivey. "This could get bad. I'm ready for like four more!"
The table laughed, but Ivey's face was still serious as if to say he wasn't joking.
"I mean it," he said. "I'm not a one-beer man."
Just as Ivey finished telling the table that he wasn't a one-beer man, Jared Bleznick came over and stood behind him.
"You're even money to make the final table," said Bleznick as he leaned in and hover over Ivey's shoulder. Ivey tried to shake him off as a nonbeliever.
"Even money to make the final table!" Bleznick yelled as he began to walk away from the table.
"You're f***ing crazy!" yelled out Ivey.
"I'm telling you, you're even money!" yelled back Bleznick as he was getting back into his seat a couple tables down the row.
"I'll tell you what, I'll bet against myself," said Ivey. "Bet! $50,000!" he shouted.
Bleznick didn't accept the bet, but did keep yelling back that he still thought Ivey was even money to make the final table. "You've got 600K," he said at one point.
"No, I don't. I've got 500," responded Ivey.
"$50,000 — So are we booked?" finished Ivey, with his hands held out wide in full wingspan.
Bleznick didn't respond, so it's assumed he didn't accept the bet, and both he and Ivey returned to playing the next hand in the tournament. As "last-level beers" continues at the table with about an hour left in the day, we'll surely keep you updated on more of the fun that comes.