Former Main Event Champ Jim Bechtel Wins $10K 2-7 Single-Draw ($253,817)
Level 22 : 20,000/40,000, 60,000 ante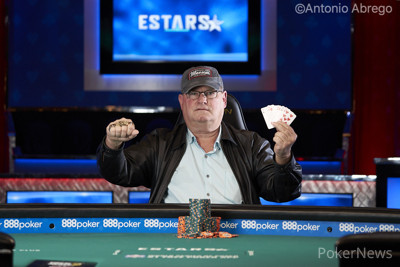 Twenty-six years after he shipped the granddaddy of 'em all, the 1993 Main Event, Jim Bechtel topped a field of 91 for his second piece of WSOP gold, winning Event #21: $10,000 No-Limit 2-7 Lowball Draw Championship for $253,817.
The flash had barely faded from the winner's photos before Bechtel was informed he had set a new record: the longest time between two bracelet wins.
He paused and pondered this new information.
"I don't know if that's a real good record," he finally drawled, chuckling softly. "But, I'm happy to have it, let's put it that way."
Official Final Table Results
| Place | Player | Country | Prize |
| --- | --- | --- | --- |
| 1 | Jim Bechtel | United States | $253,817 |
| 2 | Vince Musso | United States | $156,872 |
| 3 | Darren Elias | United States | $109,738 |
| 4 | Prahlad Friedman | United States | $78,157 |
| 5 | Jean-Robert Bellande | United States | $55,693 |
| 6 | Pedro Bromfman | Brazil | $41,897 |
| 7 | Paul Volpe | United States | $31,556 |
Bechtel said he hardly plays any poker these days. Indeed, his Hendon Mob profile shows just six cashes over the past decade, highlighted by a WSOP Main Event run to 121st place in 2015. Aside from that cash, Bechtel couldn't recall any recent appearances at the Rio All-Suite Hotel & Casino.
If there's one event that lures him to the desert, though, it's a 2-7 single draw tournament. While poker players have dug deep with computer programs and worked out optimal strategies for games like no-limit hold'em and pot-limit Omaha, "deuce," as it's often called, remains a bit of a wild frontier, appearing only in a select few spots outside of the gold bracelet events.
Bechtel called it "the toughest true poker game."
"A lot of the other games...the math comes in so much," he said. "In this game, it's the read of the player and the bluff because it's so difficult to make a hand.
"Most hands somebody's bluffin' or somebody's callin' a bluff. Everybody's movin'. That's what makes it the greatest poker game."
At the final table, certainly, the instincts of some world-class players were on display and it made for a tight competition. The ever-unpredictable Jean-Robert Bellande had his volatility on display as he rose to the chip lead and was in good position with almost 40 percent of the chips five-handed, only to bust in fifth.
Once it got four-handed, the players switched places more often than thoroughbreds on the back stretch of the Kentucky Derby. Bechtel, fellow old school deuce grinder Vince Musso, Darren Elias and Prahlad Friedman each took turns leading and bringing up the rear.
Highlights included Friedman picking off Elias to win with a pair of fours and Musso bluffing all-in against Bechtel and showing a full house.
After almost three hours, Elias finally ended Friedman's run with a pat wheel.
However, Elias was unable to subdue the two WSOP veterans, each of whom counted cashes from as far back as the 1970s on their ledgers. Musso would chop Elias down to size in a hand that didn't get to showdown, then Bechtel finished him by raise-calling a pat jack and watching Elias pair on a nine-draw.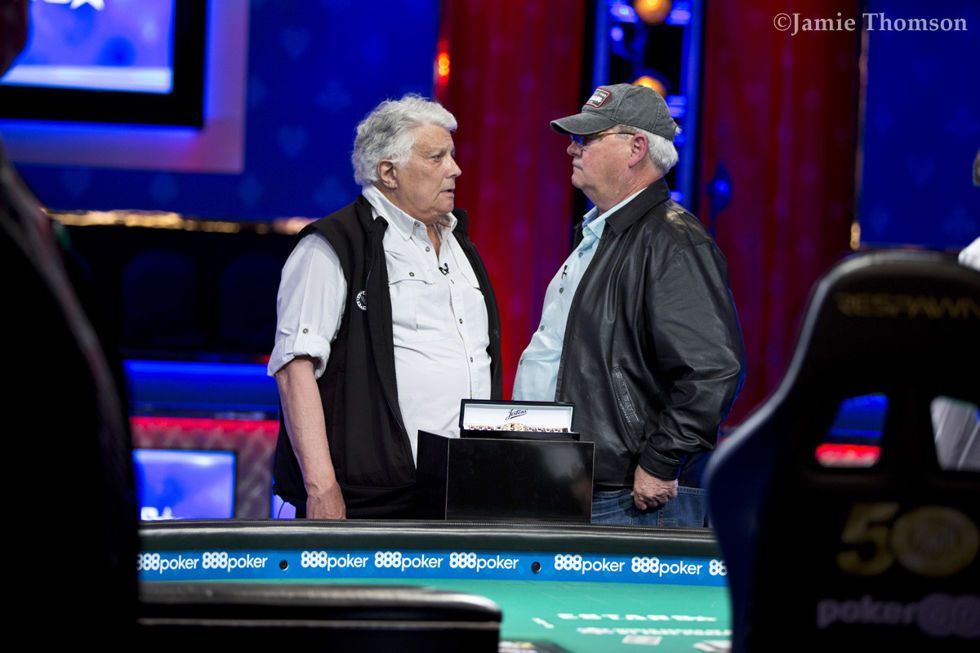 Musso at first grabbed the upper hand, more than tripling Bechtel's chip count at one point.
Bechtel battled back though, and eventually had Musso on the ropes but showing down a pat jack. Bechtel was drawing smooth to beat it with an eight-six and he found a nine to secure the bracelet and his first six-figure cash since taking fourth in the old $50K H.O.R.S.E back in 2006.
"You know, when you get two-handed in these final tables, a lot of things happen," Bechtel said. "You run bad, you're not gonna win 'em. You get a little lucky, you're gonna win it."
He was less modest assessing his deuce skills, which he said he believes are as sharp as anyone's in the world.
But, for the WSOP at least, deuce goes back on the shelf, collecting dust until 2020. Given that, Bechtel admitted he may just go back to being a face on a banner, a former Main Event champ who now owns a unique bit of poker trivia.