Hands #396-400: Koppel Shoves on Korenev

Level 33 : 125,000-250,000, 250,000 ante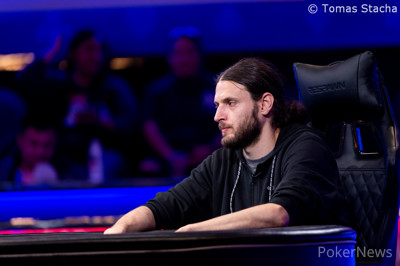 Hand #396: Roman Korenev limped and Jared Koppel checked his option. The board of
saw two checks. Koppel bet 500,000 on the
turn and Korenev called.
The river was the
and Koppel checked this time. Korenev checked behind and won it with
.
Hand #397: Koppel made it 625,000 to go and Korenev wanted to see a flop. The dealer put out
this time and Korenev check-called 500,000 from Koppel.
The
on the turn completed the rainbow and Korenev checked a second time. Koppel kept up the aggression with a bet of 1,300,000 but Korenev stuck around for another street. Koppel waved the white flag after checking the
river behind, allowing Korenev to take it with
.
Hand #398: Korenev once again came in with a limp and Koppel checked. They checked
to the river where Koppel's bet of 500,000 did the trick.
Hand #399: Koppel made it 625.000, Korenev three-bet to 2,130,000, Kopped four-bet all in and Korenev folded.
Hand #400 Korenev raised to 625,000 and Koppel bought a flop. It came
and Korenev's one million chip bet was enough to win it.