Luis Zedan Leads Final Five in Event #30: $1,000 Pot-Limit Omaha
Level 30 : 60,000-120,000, 0 ante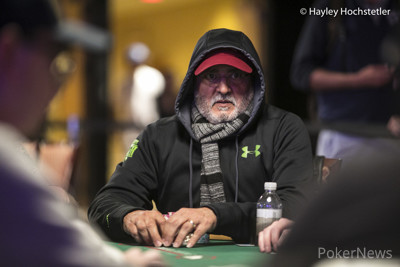 When the third day of Event #30: $1,000 Pot-Limit Omaha began there was a plan of playing down until a new champion was crowned and given a prestigious World Series of Poker bracelet. But the 540 player increase from last years tournament total resulted in a deeper and longer tournament that will require one extra day of play.
The third day started with 58 players and of those players, only six remain. Luis Zedan will be leading the way with his enormous chip lead, that was acquired through playing multiple massive pots. Zedan played with no fear throughout the whole day and never backed down when he thought he had a shot of winning the hand. He will be heading into the final day with a stack of 15,670,000 which is just under half the chips in play.
The day started off with a flurry of eliminations, with the final three table redraw happening before the players even took their second break of the day. Leading at that point was well-known German pro Anton Morgenstern with a substantial amount of chips and he would be just one of many to fall victim to the end of day chip leader Zedan, who took him out with a set of queens versus his straight draw.
Closest behind the chip leader is Thida Lin who was short for almost all of the last two days. Lin ground out her short stack for the better part of the today before finding a couple of key hands, the biggest one being when her aces overtook the aces of Sam Razavi when she improved to a flush on the river. She will start the final day with 6,190,000.
Another notable player to make the final five is Ryan Goindoo who will be starting the day with 2,985,000. Goindoo took 18th place in this exact tournament last year and has already surpassed his previous best, being guaranteed at least a fifth-place finish this year.
Final Five Chip Counts:
| Seat | Player | Country | Chip Count |
| --- | --- | --- | --- |
| 1 | Sam Razavi | United Kingdom | 1,050,000 |
| 2 | Luis Zedan | United States | 15,670,000 |
| 3 | Thida Lin | United States | 6,190,000 |
| 4 | Ryan Goindoo | Trinidad and Tobago | 2,985,000 |
| 5 | Ryan Robinson | United States | 4,675,000 |
The third day started with a stacked field of pros, all of which were hoping to acquire a new bracelet by nights end. Some of which failed to make the final day, but did find some money for their efforts and that list includes Christopher Conrad (7th - $31,130), Matthew Maggard (10th - $14,155), Orlando Romero (13th - $11,151), Anton Morgenstern (14th - $11,151), Kevin Gerhart (23rd - $7,182), Martijn Gerrits (24th - $7,182), and bracelet winner David Halpern (34th - $5,874).
The remaining players will be returning to Level 31 at noon with the blinds at 80,000/160,000. There will be a break after every 15-minutes of play and the tournament will now only end when the tournament has crowned a champion. All players are now guaranteed at least $55,845 for their efforts, with the eventual winner taking home $236,673 in cash, as well as a new WSOP gold bracelet.
The PokerNews live reporting team will be bringing all the updates throughout the final day of the event, so stay tuned as all the action unfolds.