Hands #135-143: Lull then Huge Double for Fontaine
Level 39 : 500,000-1,000,000, 1,000,000 ante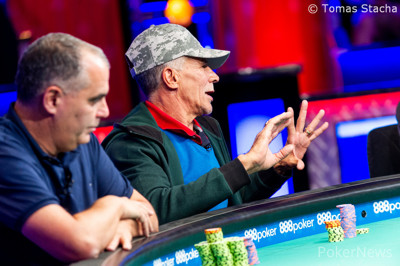 Hand #135: Heads up, the bracelet twinkling between them, Howard Mash and Jean-René Fontaine started their one-on-one battle with a raise from button Mash to 3,000,000, no call.
Hand #136: Fontaine folded his button.
Hand #137: Mash made it 2,500,000 to go from the button and folded to Fontaine's three-bet to 5,500,000.
Hand #138: Fontaine folded his button again.
Hand #139: Mash took the same button-folding option.
Hand #140: Ditto hands #136 and #138.
Hand #141: Another button fold from Mash.
Hand #142: Fontaine raised to 4,000,000 and Mash quickly threw his hand away.
Hand #143: Mash raised to 3,000,000 and Fontaine three-bet 7,500,000. Mash set his opponent all-in for 21,700,000 effective and Fontaine called, in good shape with
vs. Mash's
. The flop and turn had the word "chop" fluttering around the Amazon stage area:
but the
pinged out on the river to keep Fontaine's bracelet hopes very much alive. They're neck and neck now.