Event #32: $1,000 Seniors No-Limit Hold'em Championship
Day: 1
Event #32: $1,000 Seniors No-Limit Hold'em Championship
Day 1 Completed

Level 10 : 600/1,200, 1,200 ante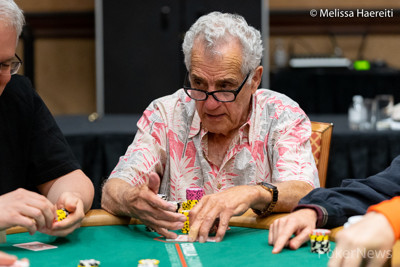 It was huge turnout for Day 1 of Event #32: $1,000 Seniors No-Limit Hold'em Championship, as 5,916 players showed up and came just short of setting an attendance record for this event. The record was set last year at 5,918 players, meaning the 2019 edition of this event came up just two entries short of matching last year's total.
The field whittled down to 1,778 grinders by night's end, and those players will come back to the Rio Friday at 11 a.m. for the Day 2 restart. With 888 money spots up for grabs, the money bubble will most likely burst Friday as the remaining field battles for the $662,594 first prize and the WSOP bracelet!
Albert Halfon (271,700) is one of the big stacks coming back for Day 2, and he ended his night with a bustout he'll probably remember for the rest of his life. The 15-time bracelet winning Phil Hellmuth entered the event late and sat at Halfon's table, but Hellmuth didn't last long as Halfon knocked him out, took his 20,000-chip stack and had his table mates calling him "Moneybags" after eliminating the legendary Hellmuth.
Other large stacks making it through Day 1 include Ron Larsen (289,900), Anthony Martin (273,700), Chisu Danut (264,000), and Michael Mischkot (226,800) all of whom will be looking to add to their piles when the Day 2 restart begins with Level 11, and the blinds at 800/1600.
Notable players making it to Day 2 include Matt Savage, David Einhorn, Barry Greenstein, Cliff Josephy, Layne Flack, Barbara Enright and Joe Hachem (80,000).
In addition to Hellmuth, other notable Day 1 bustouts included Norm MacDonald, who survived to Level 9 but suffered a brutal elimination and had to head for the exit.
This event is scheduled for four days of action, with 10 one-hour levels on the slate for Friday. The tournament will play down to six players Saturday, and the final table will commence on Sunday and play down to a champion!
Follow the PokerNews live reporting team for all things related to Event #32: $1,000 Seniors No-Limit Hold'em Championship!
Level 10 : 600/1,200, 1,200 ante
Player
Chips
Progress

Adilson Moraes

379,200

Albert Halfon

361,700

101,700

Ravinder Bedi

321,800

Ronald Larsen

289,900

Mark Kroon

274,400

134,400

Anthony Martin

273,700

700

Cristobal Romano

267,500

76,500

Yue Du

266,800

Danut Chisu

264,000

Kelly Vande Mheen

257,800

Dennis Mckelvey

250,600

Harvey Blacker

248,900

David Pham

247,700

David Moskalyk

237,400

Anthony Gianfermi

237,200

Gorki Oliveira

229,700

Michael Mischkot

226,800

-700

Andrew Kaplan

223,300

Keith Littlewood

222,200

62,200

Jordan Fishman

221,100

-3,800

Reuben Nixon

215,400

Ismael Cabrera

205,100

Chad Mizner

199,000

David Einhorn

195,200

148,700

Jeffrey Ayars

194,500
Level 10 : 600/1,200, 1,200 ante
In the penultimate hand of the night, five players saw a flop of
. It checked to Albert Halfon, who just moved all in for 260,000 odd, comfortably covering even the next-highest stacked of his opponents (140,000).
"I'm all in," Halfon said, "Take it or leave it."
So close to Day 2, they all left it. He was shown
by the player with 140,000 behind. Halfon showed
.
Level 10 : 600/1,200, 1,200 ante
The clock has been paused, and the last seven hands of Day 1 announced. Then comes the extended bagging procedure, as nearly 2,000 players must be accounted for. Those who bag will unbag again at 11am tomorrow for Day 2.
Level 10 : 600/1,200, 1,200 ante
Wendy Weissman has lost over a third of her steadily-built stack in the closing session of Day 1. She led out for 9,000 on a flop of
, and her in-position opponent min-raised, making it 18,000. She made the call and saw the
on the turn. This street neither player bet. On the
river, Weissman checked and her opponent threw in another 9,000. She made the call to see the other two sevens in her opponent's hand. She flashed her hand to the table but mucked too quickly to note it.
Level 10 : 600/1,200, 1,200 ante
Level 10 : 600/1,200, 1,200 ante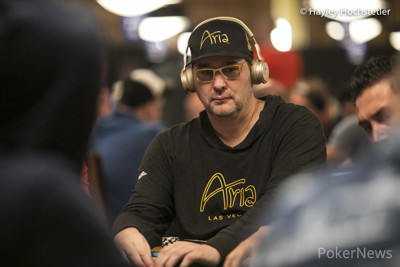 Albert Halfon has busted one of the great bracelet-hunters (and catchers) of all time - Phil Hellmuth. A late registrant, Hellmuth will not be winning his 16th bracelet in the Seniors 2019.
Down to 20,000 or so, Hellmuth's last hand was a three-way pot. An early position player limped for 1,200, Hellmuth made it 6,000 to go and was called by the limper and button Halfon.
Flop:
. Check to Hellmuth who moved all in. Halfon called, and the third player folded.
Halfon:
for top pair.
Hellmuth:
, an overcard, flush draw and straightening potential.
Nothing came to improve Hellmuth's hand on the
turn and river and he was up and off in moments.

Level 10 : 600/1,200, 1,200 ante
It took Michael Mischkot several minutes to stack all of his newly won chips after scoring a huge bustout at the end of Level 9.
Michael Mischkot:

Opponent:
Mischkot was on the button, his opponent in early position, and each player put 30,000 chips in on the flop
. The turn came the
and the early position player went all in for his remaining 47,200, Mischkot thought it over for awhile before putting in the call.
The at-risk player's flop two pair was counterfeited on the turn, giving Mischkot the lead with his
with the queen kicker. The river ran out the
, and Mischkot now has one of the biggest stacks heading into the conclusion of Day 1.
Another player at the table asked Mischkot why he wasn't worried about his opponent having a jack on the paired turn, and Mischkot said the opponent's timing gave it away.
Level: 10
Blinds: 600/1,200
Ante: 1,200