Congratulations to Adam Friedman, Winner of Back-to-Back $10,000 Dealer's Choice Championship ($312,417)!

Level 23 : 60,000/120,000, 0 ante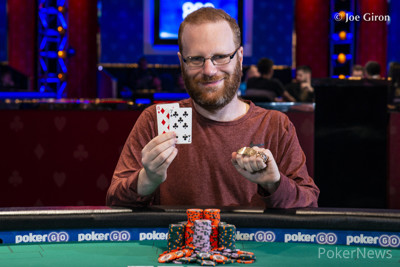 Just 372 days ago, Adam Friedman won his second World Series of Poker gold bracelet in the 2018 WSOP Event #18: $10,000 Dealer's Choice, and now he joins the elusive club of back-to-back winners after he successfully defended his title to win the 2019 WSOP Event #35: $10,000 Dealer's Choice Championship for $312,417 and his third career WSOP bracelet.
"This year definitely means more (than last year). Being able to repeat in what I still believe is the most difficult of the $10k's to play," said Friedman after the win.
"The players who I love playing with in these tournaments are the no-limit big-bet players. Several players, they're phenomenal, but when you get them playing hands in Badeucey and Badacey, they don't know the basics. It's free chips in a lot of situations. Whereas no-limit, they'll have a tiny edge but I don't have to play a pot whatsoever unless I have it, but if you can't help yourself and you don't know what the starting hands are, I'm going to win so much more than you could ever win in a no-limit hand."
Final Table Results
| Place | Player | Country | Prize |
| --- | --- | --- | --- |
| 1st | Adam Friedman | United States | $312,417 |
| 2nd | Shaun Deeb | United States | $193,090 |
| 3rd | Matt Glantz | United States | $139,126 |
| 4th | David Moskowitz | United States | $100,440 |
| 5th | Michael McKenna | United States | $72,653 |
| 6th | Nick Schulman | United States | $52,656 |
Four days ago a total of 122 players took a seat in the fifth installment of the Dealer's Choice Championship to create a prize pool of $1,146,800 that would pay the top 19 spots. Each player would be tested on their all-around skills over a variety of flop, draw, and stud games, and with 20 games to choose from, players needed to apply both their skills to actual gameplay along with game selection as they looked to gain edges over the competition.
With the money being reached during the middle stages on Day 2, WSOP bracelet winners Chris Klodnicki (16th), Max Pescatori (13th), Matthew Schreiber (12th) were all eliminated before play ended. When play resumed on Day 3, Jeff Lisandro (10th), Bryce Yockey (8th), and Phillip Hui (7th) all fell short of the final table.
With players down to the final six and play expected to end for the day, Nick Schulman asked to keep playing because he was short, and he was eliminated the very next hand to leave the final five to play out the level before break. When players returned, WSOP Tournament Supervisor Dennis Jones ruled that play would conclude and the final five would return on Monday to play down to a winner.
Final Day Action
Shaun Deeb led the final five players into the last day of play, and out of the gate, the action was a little spicy as Michael McKenna called clock on Deeb after thinking about a decision for 20 seconds. As Matt Glantz and David Moskowitz saw their chip stacks slowly dwindle, it would be McKenna becoming the first player eliminated. During a pot-limit 2-7 Triple Draw orbit, McKenna three-bet shoved all in after the first draw and ran into Deeb's
. McKenna was drawing live with his
, but after he bricked two draws, failing to find a five or a six, he was eliminated in fifth place.
Moskowitz would be eliminated in fourth place when during his game of choice - Pot-Limit Omaha - he committed what remained of his stack with double-suited tens but ran into Friedman's single-suited kings. Although Moskowitz flopped a straight draw, he was unable to improve and collected $100,440 for his efforts.
With just three players remaining and Glantz the severe short stack, it would be Friedman who began his ascent up the leaderboard in two big no-limit hold'em hands against Deeb. The first saw him bet big on the river to force Deeb to fold the second-nut straight, and the other saw him bet big on the river again and Deeb folded as Friedman climbed over the 4-million-chip mark. Just a few hands later, Glantz would be eliminated in third place during a 2-7 Triple Draw orbit when he was all in pre-draw and couldn't outdraw Deeb, who made a ten-eight on the second draw.
Heads-Up Play Begins
With Friedman holding a slight lead over Deeb, the first hand of heads-up play saw Friedman extend the gap and hold onto it for the majority of the next game selections. Deeb managed to claw back to take the chip lead on a few occasions, but Friedman continually kept snatching it back as he balanced aggression and patience throughout the heads-up match. As players were about to head to break, one final hand of no-limit hold'em was dealt and it would be the last of the tournament.
In a three-bet pot, Deeb continuation-bet an eight-seven-four rainbow flop, only to see Friedman raise. Deeb called, and then check-called a bet when a seven paired the turn. A jack hit the river and after a Deeb check, Friedman moved all in having the four-time WSOP bracelet winner covered. Deeb called off and tabled ace-jack offsuit for jacks-up. Friedman tabled his eight-seven offsuit for a full house, and Deeb was eliminated in second place.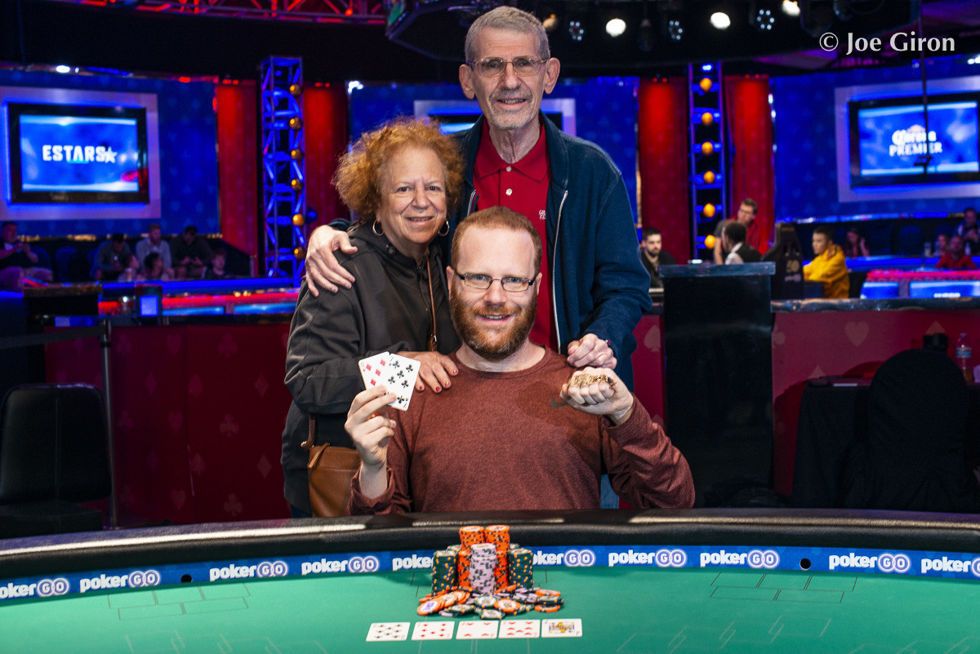 Friedman has now accomplished one of the rarest feats not only at the WSOP but in all of poker history - going back-to-back to defend a title. Friedman topped the 111-player field in 2018, and now the 122-player field in 2019 to join a list that includes the likes of Johnny Moss, Doyle Brunson, Stu Ungar, Johnny Chan, James Moore, Thang Luu, and Phil Hellmuth that have successfully defended a WSOP bracelet.
"In terms of poker accomplishments, this is my second best poker accomplishment I've ever done. It will never touch my number one (never going broke) in terms of poker. Accomplishments are nice, but like I said last year at the end of the day it's just about being able to build a foundation, build enough stake, and being able to take care of myself and if I can keep investing my money along the way, which I do quite frequently, I'm pretty sure old Adam will be taken care of quite well."
At the final table, Friedman chose a wide variety of games in comparison to his opponents. Friedman was also very balanced in game selection in 2018 when he battled Alexey Makarov (3rd) and Stuart Rutter (2nd) before he collected the victory during the Stud Hi-Lo orbit.
"You've got to be able to play all 20 games, and the ones that you aren't experienced in you have to have basic common sense in. You've got to be prepared for anything."
Adam Friedman's Final Table Game Choices
| Pick: | 1 | 2 | 3 | 4 | 5 | 6 | 7 | 8 | 9 | 10 |
| --- | --- | --- | --- | --- | --- | --- | --- | --- | --- | --- |
| | Badeucey | 2-7 TD | Big O | Big O | 2-7 TD | Big O | 2-7 TD | 2-7 TD | 2-7 TD | NL 2-7 SD |
| Pick: | 11 | 12 | 13 | 14 | 15 | 16 | 17 | 18 | 19 | 20 |
| | 2-7 TD | 2-7 TD | 2-7 TD | Badeucey | Big O | Stud | Stud | Badacey | Hold'em | Badacey |
| Pick: | 21 | 22 | 23 | 24 | 25 | 26 | 27 | 28 | | |
| | Stud Hi-Lo | Badeucey | Big O | Stud Hi-Lo | Badacey | Big O | Big O | Badacey | | |
Congratulations to Adam Friedman on winning his third WSOP bracelet and going back-to-back in the Dealer's Choice Championship.
Stay tuned right here to PokerNews.com as we continue to provide live coverage of all the events from the 2019 World Series of Poker.