Table Behaviour at the $25k PLO Final Table

Level 31 : 150,000/300,000, 0 ante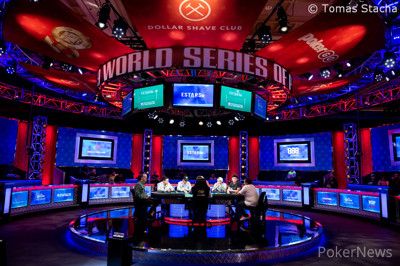 It's always interesting to observe players' actions at final tables when they are not involved in hands. The $25,000 PLO High Roller is down to five players and here we take a look at the way they're behaving while at the table.
James Chen who came into the day fifth in chips but consolidated his position after an early three-bet pot against Alex Epstein and has now moved into the overall chip lead. He's been one of the more studious players at the table, especially during hands.
He's been observed on numerous occasions studying not just the bet he's facing, but the stacks of the short stacks around the table. In fact, Chen is rarely out of his seat.
Moving clockwise around the remaining five players we come to Robert Mizrachi. The Mizrachi rail isn't out in force like it was for his brother just yet, but should he remain in contention – he is currently fourth in chips – then no doubt the Amazon room will get a lot louder.
Stephen Chidwick is perhaps the quietest player at the final table, even less so than Chen. Possibly the tallest player, he is situated in the middle of the remaining five players. Whilst Chen shuffles chips, Chidwick does nothing until its his turn to act. However, similarly to Chen he rarely gets out of his seat.
The same cannot be said for Matthew Gonzales who is up and down trampoline. This was especially notable during the hand where he quadrupled up. He was sat there stewing as the big stacks either side of him continued to battle it out.
One of those big stacks was Chidwick, the other is Alex Epstein. Already a bracelet winner in 2019, Epstein spoke in his interview after his $10,000 Short Deck victory about how other pros might not realize how experienced he is.
"When [professionals] see me and the way that I table talk and set myself up," said Epstein. "They think they have a post-flop edge in a game where they definitely don't have a post-flop edge."
Epstein may have been referring to Short Deck at the time, but from his experience playing PLO cash, the same might be able to be said about this game as well.
Whatever happens, and however these players act one of them is going to walk away with $1,618,417 and a WSOP gold bracelet.