Hands #7-11: The Melogno and Hoffman Show
Level 26 : 25,000/50,000, 50,000 ante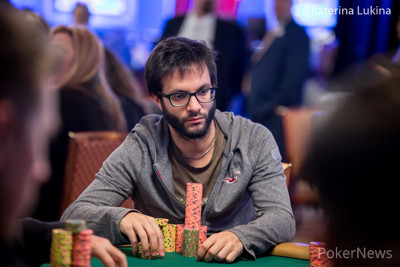 Hand #7: It folded to small blind Pablo Melogno, who was considering his options when the fire alarm sounded and a loud recorded message said that they were looking into it. He waited until that was over (although the white lights are still pulsing after hand 11) and raised to 110,000, picking up Truyen Nguyen's big blind.
Hand #8: Melogno raised to 80,000 on the button, and took more blinds.
Hand #9: Wilbern Hoffman opened for 110,000 from early position, was three-bet by cutoff Melogno to 190,000, and made the call. Hoffman led out for 300,000 on the
. Melogno raised to 735,000 and received a swift fold and the pot.
Hand #10: Hoffman limped in under the gun, and saw a
flop with Ben Keeline and David Baker in the blinds. Hoffman bet 150,000 when it was checked to him, and that won him the pot.
Hand #11: Melogno raised preflop once again, this time to 115,000, picking up Hoffman in the big blind as a caller. He bet the
flop when Hoffman checked and won it right there.