Hands #111-115: Logen Doubles Through Foresman

Level 40 : 600,000/1,200,000, 1,200,000 ante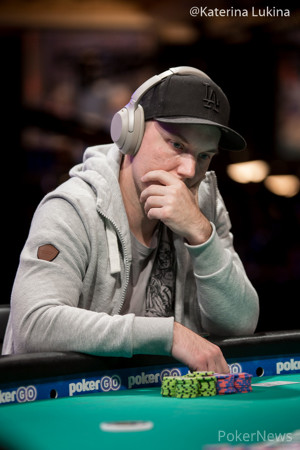 Hand #111: Will Givens was not back in his seat yet and Steffen Logen received a walk.
Hand #112: Logen jammed out of the small blind for 19,700,000 and Joe Foresman called from the big blind.
Steffen Logen:

Joe Foresman:
Both paired their kicker on the
flop and Logen held up on the
turn and
river to secure the double up.
Hand #113: Logen raised to 2,500,000 on the button and Foresman came along from the small blind. They checked the
flop and the
followed on the turn. Foresman bet 5,800,000 and Logen called to see the
on the river. Foresman check-called a bet of 5,300,000 with the
for a flush, Logen had
for rivered trips tens.
"I thought you might have a higher flush," Foresman mentioned in table chat.
Hand #114: Foresman raised to 2,600,000 on the button and Logen called. There was no betting action on the
board and Logen won the pot with
.
Hand #115: Givens raised the button to 2,500,000 and Foresman defended the big blind. They checked the
flop and Foresman released his cards on the
turn when facing a delayed continuation bet of 2,300,000 by Givens.
Player
Chips
Progress

Joe Foresman

114,700,000

-12,800,000

Will Givens

37,500,000

-200,000

Steffen Logen

29,300,000

10,200,000