Anthony Zinno Wins Event #60: $1,500 Pot-Limit Omaha Hi-Lo 8 or Better for Second Career Bracelet

Level 38 : 400,000-800,000, 0 ante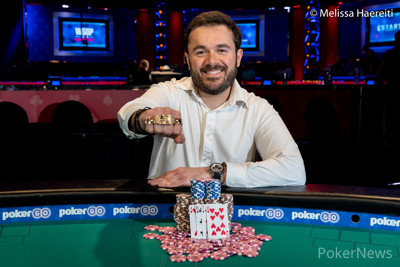 In a tournament that featured 1,117 entrants and required almost a full extra day to complete, it was Anthony Zinno who ultimately emerged as the winner in the 2019 World Series of Poker (WSOP) Event #60: $1,500 Pot-Limit Omaha Hi-Lo 8 or Better to add a second gold bracelet to his poker career and the first-place prize of $279,920.
"The first bracelet is the one that obviously is the life-changing one for any poker player. I wish I could say I feel the same way, but there is no way to feel that same bliss that the first one brings," Zinno said in his winner interview. "But this one I am very proud of because I have been practicing specifically Omaha hi-lo for the past two years, so I was actually really excited to play this specific event going into the WSOP. So it's pretty cool when you work really hard on one particular game that you love and then it works."
Zinno went on to discuss how hard he has worked this World Series, the hardest working summer of his poker career.
"I have grinded each day all day. My biggest grind of my career by far and I have been grinding the series since 2007."
Event #60: $1,500 Pot-Limit Omaha Hi-Lo 8 or Better Final Results
| Place | Player | Country | Prize (USD) |
| --- | --- | --- | --- |
| 1 | Anthony Zinno | United States | $279,920 |
| 2 | Rodney Burt | Canada | $172,932 |
| 3 | Thomas Schropfer | Germany | $122,555 |
| 4 | Jon Turner | United States | $87,967 |
| 5 | Scott Abrams | United States | $63,961 |
| 6 | Jordan Spurlin | United States | $47,118 |
| 7 | Connor Drinan | United States | $35,173 |
| 8 | Kyle Miaso | United States | $26,611 |
| 9 | Erik Seidel | United States | $20,410 |
The well-known poker pro from Boston has made his hard work pay off this summer. Culminating in the bracelet win after having close calls earlier this series with a third-place finish in Event #57: $1,000 Tag Team No-Limit Hold'em and a second-place finish in Event #20: $1,500 Seven Card Stud.
"This one coming in I did feel like I was going to win," said Zinno. "A lot of people say that but I knew I was going to focus and I can confidently say that I made very few mistakes and that's something I couldn't have said five years ago because I wouldn't have known what I was talking about. This is truly a culmination of work, I feel very proud overall, I feel amazing".
Zinno gave plenty of credit to the second-place finisher Rodney Burt of Vancouver who he beat heads up.
"PLO-8 is a very intricate heads-up game because there is a lot of stack leveraging and you don't want to put in too much preflop, not really knowing where you are at and it's a lot of small ball. Rodney was a really nice guy and knew what he was doing. His game was on point, he clearly plays a lot of PLO8."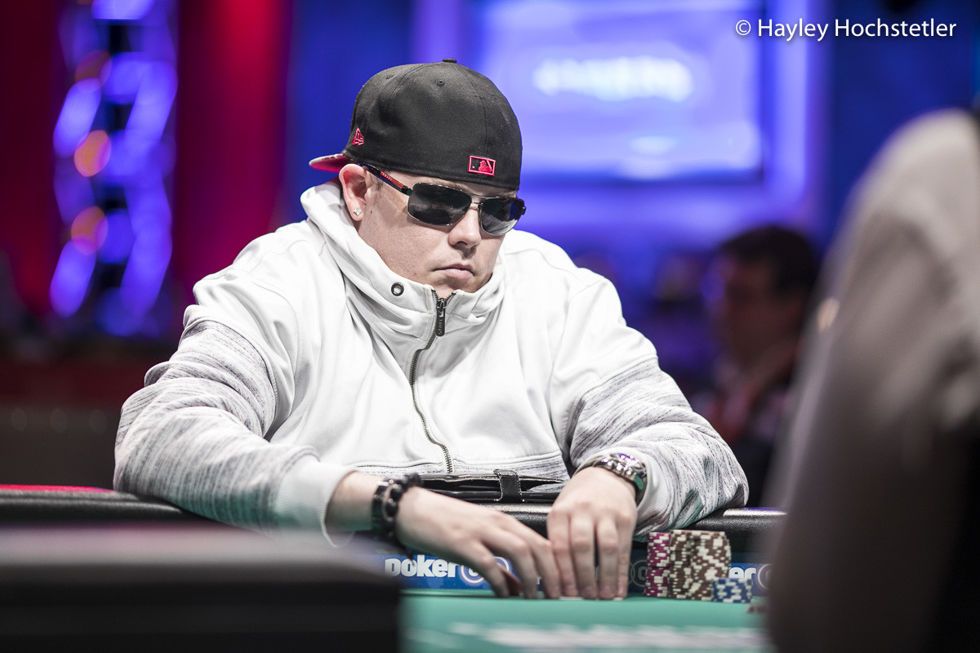 Zinno's hard work in this WSOP is not over by any means as he plans to continue his grind and take a shot at WSOP Player of the Year, which he has put himself in contention for with the bracelet win.
"Tonight I would love to go out and have drinks but I have to play the $10k PLO8 (in reference to Event #65: $10,000 Pot-Limit Omaha Hi-Lo 8 or Better Championship). So I will be pursuing Player of the Year. I don't know where I stand and what I need to do to have a chance but you never know."
Zinno had a lot to say about his poker "legacy" and what it means to him.
"Respect is what I look for. I like when people tell me that they like playing with me or that I respect your work ethic or that you were really nice to my friend. That means more to me than anything else. There are plenty of very good poker players, players way better than me but respect is always something I strive for and pride myself on. I treat every player the same whether if they don't know how many big blinds they have or if they are the best in the world. I want my legacy to be someone that welcomed people into the poker world and helped them gain respect for the game, more so than accolades."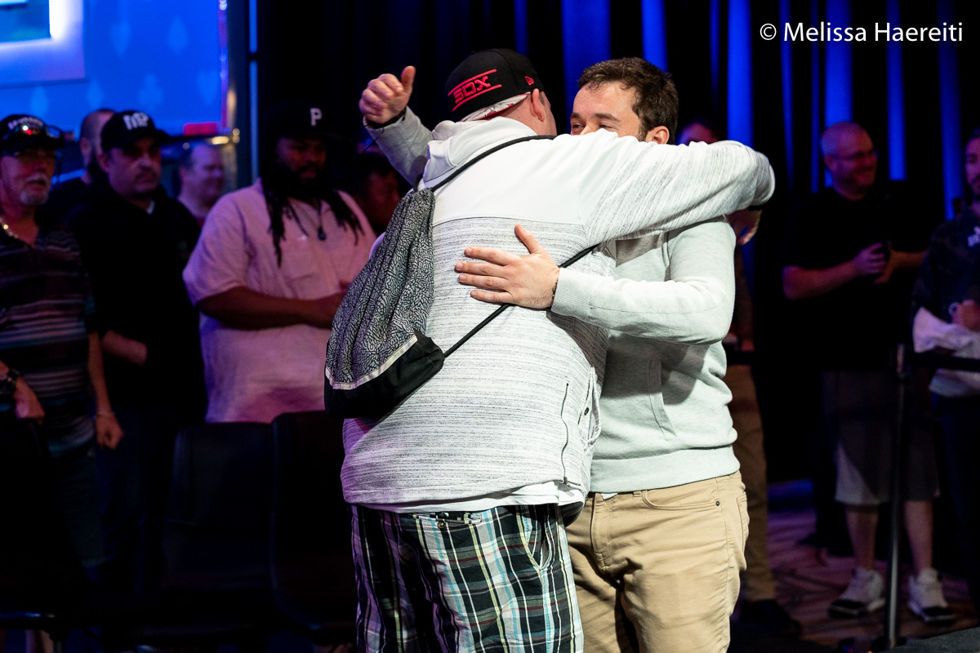 Final Table Action
The final table would play out in a series of clusters of fast action and more tentative play. The first elimination came just 15 minutes into play as Erik Seidel's attempt to win his ninth bracelet was ended before it gained any momentum when he was vanquished in ninth place. Just two hands and six minutes later, Kyle Miaso was ousted in eighth place. And on the very next hand, Connor Drinan was eliminated in seventh place to wrap up the first cluster of rapid-fire elimination action.
The next elimination would not come for almost three hours as the remaining six settled into more deliberate rounds of hands, where the most significant hand was when Zinno took what was nearly a 2-million chip pot from Scott Abrams with both the nut high and the nut low.
The next two eliminations would be courtesy of Burt as he took out Jordan Spurlin in sixth place and Abrams in fifth within five minutes of one another to catapult him into the chip lead. Just like before, a third elimination would occur in quick succession as Jon Turner was taken out in fourth place about ten minutes later.
Three-handed play would last for over two hours before Thomas Schropfer fell. This was Schropfer's first ever cash in the United States. The native of Germany had quite the impressive result in what he said was his very first WSOP tournament.
Heads-up play between Zinno and Burt began at a slow and laboring pace with many limped pots, raise and take-its and pots that were checked down to the river. Not much changed after over two hours of battle with Zinno holding roughly a 60/40 chip advantage for the majority the time.
Finally, a huge pot sprung out of nowhere when Zinno called Burt's raise preflop and then pot bet the river which Burt instantly called. Zinno scooped the pot of over eight million as he had the best high and the one pip better low. The huge hand left Burt's stack on fumes and he would eventually be reduced to no chips a few hands later and Zinno emerged as champion after an eight-hour final day.