Hands #59-63: Kornuth Back in the Lead
Level 19 : 0-0, 12,000 ante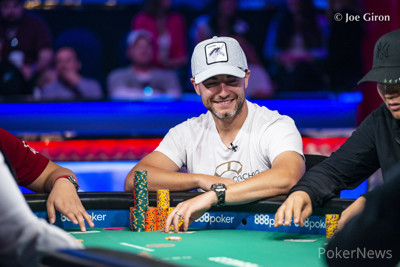 Hand #59: Alex Epstein called from middle position and Anson Tsang and Thai Ha called as well. Chance Kornuth sat on the button and he opted to check.
The flop was dealt
and it checked around. The turn was the
and Epstein checked. Tsang bet 60,000 and Ha immediately folded. Kornuth called and Epstein got out of the way.
The two saw the
on the river and Tsang checked to Kornuth. Kornuth bet 300,000 which was more than pot-size and Tsang called. Kornuth showed
Tsang mucked his hand.
Hand #60: Thai Ha moved his last 450,000 in the middle and all others folded.
Hand #61: Kornuth raised from the hijack to 80,000 and Yong Wang pushed 619,000 to the middle after he used a time bank card. Kornuth folded and the pot was pushed to Wang.
Hand #62: Kornuth called from middle position and hijack Wang and cutoff Rene van Krevelen did the same. Epstein raised to 125,000 and that was enough to make everybody fold.
Hand #63: Van Krevelen bet 589,000 which was everything he had left from the hijack and the other players folded.
Player
Chips
Progress

Chance Kornuth

2,000,000

332,000

Alex Epstein

1,900,000

64,000

Anson Tsang

1,100,000

-424,000

Yong Wang

723,000

68,000

Rene van Krevelen

661,000

Thai Ha

496,000

12,000