The Ice-Cream Man Randall Emmett

Level 3 : 200/400, 400 ante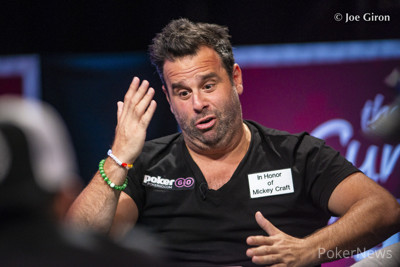 Randall Emmett isn't one to run away from the spotlight. Whether it be in Hollywood or on the poker tables.
The Hollywood producer is known for movies such as End of Watch and Lone Survivor, and he's currently hyping up what may be the next box office smash with The Irishman starring the likes of Robert De Niro, Al Pacino, Joe Pesci, and Harvey Keitel.
On the poker felt, Emmett is out there having fun and enjoying the game. Earlier at the WSOP, Emmett finished in tenth-place in the Event #11: $5,000 No-Limit Hold'em for $ 21,812 to see his lifetime tournament earnings creep towards $300,000.
Today Emmett can be found under the bright lights of the secondary feature table in the Amazon Room, and is continually trying to entertain his table.
"I'm professional!" bellowed Emmett as he limped the cutoff for 400.
The player on the button sat there emotionless and composed.
"I am a robot," joked Emmett in a robotic voice as he moved his arms back-and-forth in still gestures.
"GTO bot," Emmett added as the cutoff and the blinds saw a
flop.
Emmett saw his cards hit the muck after a bet and raise, and when the button folded, Emmett added, "I am ruining the robot!"
In 2018, Emmett made a grand entrance into the Main Event that included a marching band and flamingo dancers. Emmett's flamingo dancers then handed out ice-cream to the players in the field.
For 2019, Emmett decided against the marching band and the grand entrance, but the flamingo dancers and ice-cream returned. Just recently, a bevy of flamingo dancers handed out ice-cream all across the Amazon Room as Vice President of the WSOP Jack Effel announced to the players that the ice-cream was courtesy of Emmett.