Within three consecutive hands, Stoyan Madanzhiev attempted to knock out a player and instead, his stack was knocked down by a lot as Joao Santos, Thomas Ward and Craig Timmis all doubled up.
Santos raised to 5,600,000 with 1,108,817 behind and then called all-in when Madanzhiev raised out of the big blind.
Joao Santos:

Stoyan Madanzhiev:
On a board of
, Santos hit an ace on the flop and river to put a first dent into Madanzhiev's stack.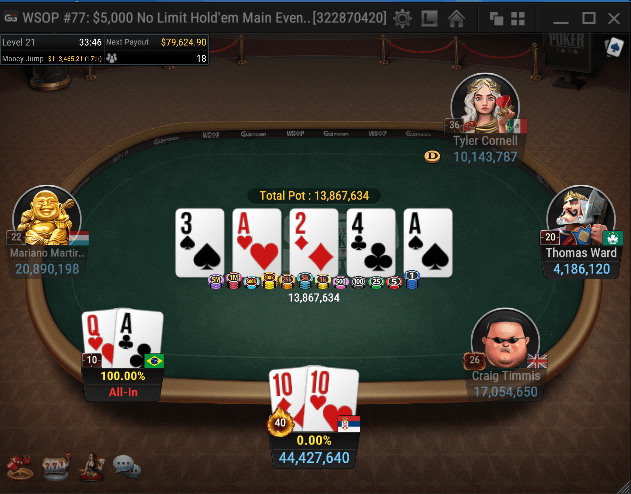 Up next, Thomas Ward raised to 4 million in the cutoff and Madanzhiev called in the small blind, then min-bet the
flop and Ward called all-in for the last 136,120.
Thomas Ward:

Stoyan Madanzhiev:
Neither the
turn nor
river changed anything as Ward was next to double.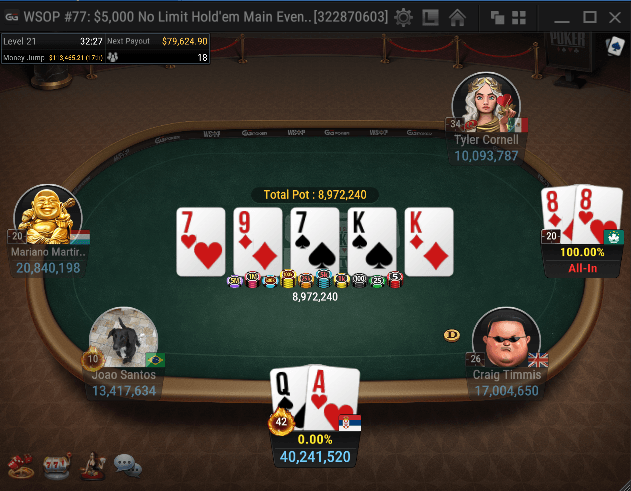 Last but not least, Craig Timmis raised to 800,000 in the cutoff and was called by Madanzhiev on the button and Mariano Martiradonna in the big blind. Timmis bet the
flop for 1.6 million and Madanzhiev was the only caller.
After the
turn, Timmis check-shoved for 11,504,650 and Madanzhiev called after he had invested 3.05 million.
Craig Timmis:

Stoyan Madanzhiev:
A blank
followed on the river as Timmis doubled into the lead.