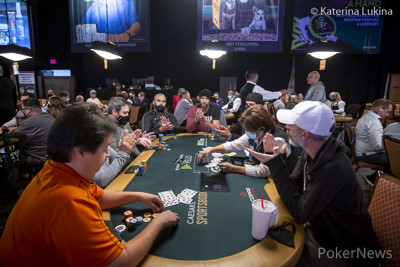 Brandon Shack-Harris always brings a fun and unique atmosphere to any table he plays at, and today that includes "30 Minutes of Happiness".
For the current dealer down, any pot won by a player at his table postflop in flop games, or after fourth street in stud games, also receives a cordial round of applause from the rest of the table.
Recently, Joe Hachem and Nick Guagenti won pots and a round of applause, with Guagenti saying "I played my hand for the clap equity".
Shack-Harris also wanted to let it be known that "Peetie Sweetie" was the first winner in "30 Minutes of Happiness".
PokerNews will keep you posted if this evolves to 60, 90, or even more "Minutes of Happiness" here in the Amazon room.
Player
Chips
Progress

Brandon Shack-Harris

70,000

11,000

Joe Hachem

49,500

-10,500

Nick Guagenti

19,500

19,500