Day 2 of Event #5: $1,500 Omaha-Hi/Lo 8 or Better Set to Begin at 2 p.m.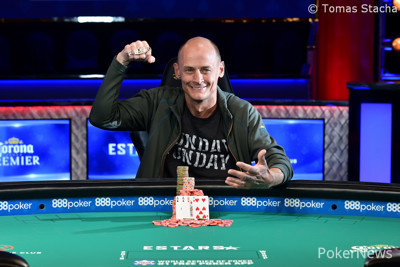 Later today, the survivors of Day 1 of Event #5: $1,500 Omaha-Hi/Lo 8 or Better will reconvene and battle it out on the green felt in pursuit of a 2021 World Series of Poker gold bracelet.
Of the 607 players that entered on Day 1, just 230 remain. Of those, 92 players will be guaranteed some sugar, with a min-cash being worth $2,400. Should a player survive until the Day 3 finale – they will have a chance to compete for the top prize of $163,252 in addition to a coveted gold bracelet.
The top stacks going into Day 2 include overall chip leader Christopher Stephen (206,500), Joe Dean (198,500), John Goyette (179,000), Dan Heimiller (177,000), and Robert Mizrachi (173,500).
Other notables still in contention include Bart Hanson, John Racener, James Woods, Dan Zack, JJ Liu, Frankie O'Dell and defending champion from 2019 Derek McMaster.
Play is set to begin at 2 p.m. local time and will start at level 16 with 4,000/8,000 limits. Levels are 60 minutes long throughout Day 2 and players will get a 15-minute break after every two levels. A 60-minute dinner break occurs after level 21 (approximately 8:30 p.m.) Play will continue until either 11 levels have been played or just eight players remain — whichever comes first.
Continue to follow PokerNews as we bring you the action leading up to the finale of this series first Omaha Hi/Lo 8 or Better event!