Ferraro Pulls Ahead With Two Hands

Level 37 : 400,000/800,000, 800,000 ante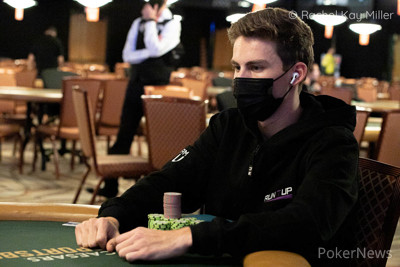 The first hand played out as so. Sami Rustom limped the button and Cole Ferraro raised to 2,000,000 and Rustom called.
The flop came out
and Ferraro led out 1,500,000 which Rustom called.
The turn came out a
and Ferraro checked to Rustom who bet out 3,000,000. Ferraro called and the two of them took a river.
The river came out the
and the action checked through with Ferraro tabling
which was good for the pot.
The second hand started with Ferraro raising to 1,200,000 and Rustom re-raising to 3,600,000, which Ferraro called.
The flop came down
and Ferraro called the 2,000,000 bet from Rustom.
The turn of
was checked through to the river where Rustom checked once more. Ferraro led out 6,000,000 and Rustom went into the tank before tossing in the call. Ferraro turned over
for a rivered broadway straight and Rustom tossed his hand into the muck, saying he had two kings.