Event #68: $1,111 Little One for One Drop
Day: 4
Event #68: $1,111 Little One for One Drop
Day 4 Completed

Level 39 : 600,000/1,200,000, 1,200,000 ante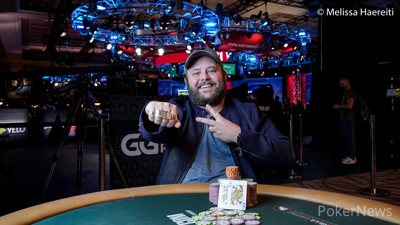 Only 26 players returned today for their shot at World Series of Poker glory and the $396,445 grand prize that awaited the winner in Event #68 $1,111 Little One for One Drop. In the end, it was Scott Ball taking home his second career bracelet as he won his first just a few weeks in Event #25: $5,000 6-Handed No-Limit Hold 'em .
For Ball, winning two bracelets in rapid succession was almost unreal.
"I told my friends that are here that before the start, I feel like this isn't the real-life," said Ball. "It's like a simulation to be heads-up again for a bracelet in like two weeks. I've just worked so hard to get better at No-Limit this past year, so when it peeled off and I won another one, it just didn't feel like reality. It feels like I'm dreaming, and I'm going to wake up tomorrow and be like, dang, I can't wait to live that one day."
Despite the rapid pace of play throughout this multi-day tournament, Ball said he was calm and focused because he had done it before.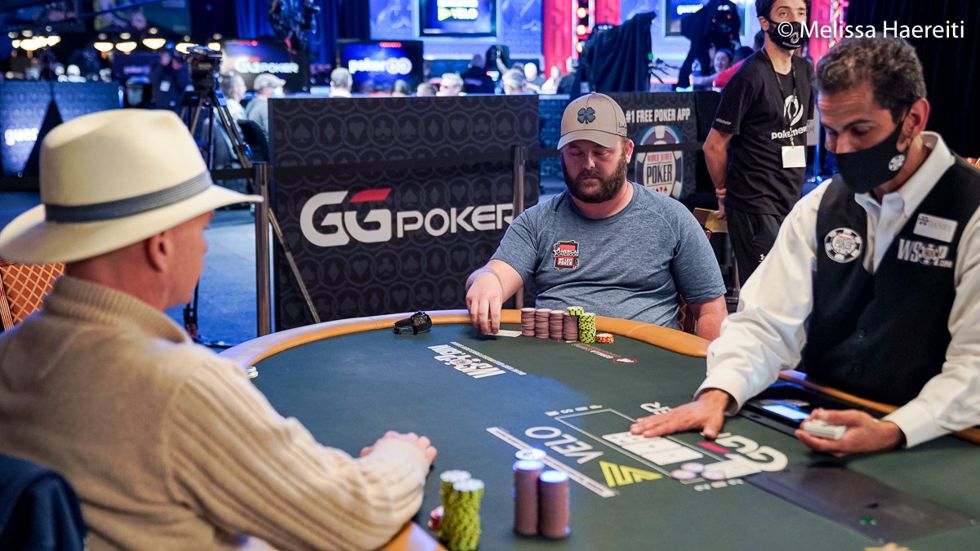 "Honestly, they were pretty chill," said Ball. "This tournament is just so much different from the $5,000 six-max. Having won the six-max, it just kind of took my energy levels from being kind of anxious, excited, and eager, to like, we've already done that, so we can do it again. Just do your best and give it time, and it'll happen again. Last night I went home and slept like a baby. So they weren't really a blur; it was actually pretty calm and peaceful, to be honest."
Ball acknowledged that he likely wouldn't win the overall WSOP Player of the Year, but he thinks he has a real shot of winning for the No-Limit category.
"I've really had my sights set on the No-Limit Player of The Year," said Ball. "I think it's really hard for any No-Limit player to just play No-Limit events and no mixed events like I do, to try and get as many points as someone in the other events. Not that they are easier, the people who cash those consistently are just so much more consistent because I think the average player isn't as good as the average No-Limit player. So I'm really glad the WSOP has separated those two things, and I'm pretty sure this will put me into the lead for No-Limit player of the year, and I would really like to hold on to that. That would be really special to me. That never goes away; that's a legacy thing."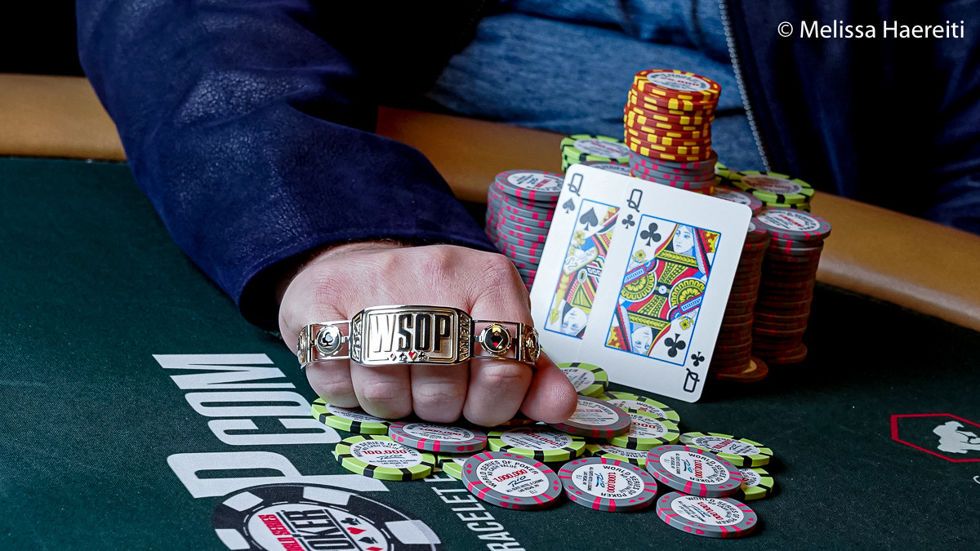 Ball has come a long way on his first days of playing poker, from being an athlete growing up to playing small cash games in casinos.
"I actually started playing poker way after Black Friday," he said. "The first time I went to a casino, I went and played in an unbeatable raked game at a small casino in southern California. I bought in for $40, which was the cap, and got stacked literally by deuce-seven with aces and went back to my car with my head down because I lost like 40 of the 90 dollars to my name because I thought I was a crusher. Then I just got really into the game; I love the game. Phil Laak, Phil Hellmuth, and Patrick Antonius are my favorite players to watch."
It took just three and half hours to reach the unofficial final table of 10. A few of the players to fall before that were Lewis Murray (19th - $14,979), Ori Hasson (18th - $18,178), and GGPoker qualifiers Oscar Alache (17th - $18,178) and Gyuhoon Kang ($22,221). Jose Latorre (10th - $33,939) fell just short of the official final table when his ace-king could not hold against the king-six of Sorel Mizzi.
The last time Ball won, he was up on the PokerGo main stage, but this time his victory was off to the side because of the Main Event.
"This was a very different lineup for a final table," said Ball. "Jonathan Jaffe, Galen, and all the players in the $5,000 six-max were all quite good and aggressive and applied a lot of pressure and did a lot of really cool things. This final table was a bit different. It was a lot less experienced. I would have actually preferred to be up there on the featured area because I've done a lot of things in life that kind of put you in the spotlight. So I feel like I thrive under pressure, and I actually didn't like this because I wanted them to feel pressure because I do better at it than most other people I feel like."
2021 WSOP Event #68 Final Table Results
| Place | Player | Country | Prize |
| --- | --- | --- | --- |
| 1 | Scott Ball | United States | $396,445 |
| 2 | Michael Shanahan | United States | $245,068 |
| 3 | Sorel Mizzi | Canada | $186,824 |
| 4 | Sebastian Medina | Colombia | $143,399 |
| 5 | David Jackson | United States | $110,827 |
| 6 | Ronnie Ballantyne | United Kingdom | $86,249 |
| 7 | Petro Zakusilov | Ukranie | $67,592 |
| 8 | Seth Fischer | United States | $53,343 |
| 9 | Frank Marasco | United States | $42,389 |
Final Table Action
Michael Shanahan entered with nearly a quarter of the chips in play, but there was a lot of competition to beat with three bracelet winners in Ball, David Jackson, and Seth Fischer. Mizzi also had many eyes on him, as the Canadian pro sought his first WSOP bracelet to add to his illustrious career.
Frank Marasco was the first to fall when he shoved the small blind with jack-ten right into the king-ten of Sebastian Medina. The king kicker played, and Marasco exited in ninth.
Next to go was bracelet winner Seth Fischer, he was out in front with king-queen against the king-five of David Jackson, but Jackson paired his five on the flop, and Fischer was eliminated in eighth.
Shortly after the dinner break Petro Zakusilov busted his short stack in seventh and Ronnie Ballantyne followed him out a few minutes later in sixth. Jackson was next to go in fifth when his pocket sixes could not hold against the ace-ten of Mizzi.
The chips were evenly spread out for four-handed, and each player took their turn atop the leaderboard. Sebastian Medina eventually found himself getting low on chips and shoved the small blind with king-jack right into the ace-six of Shanahan to finish fourth.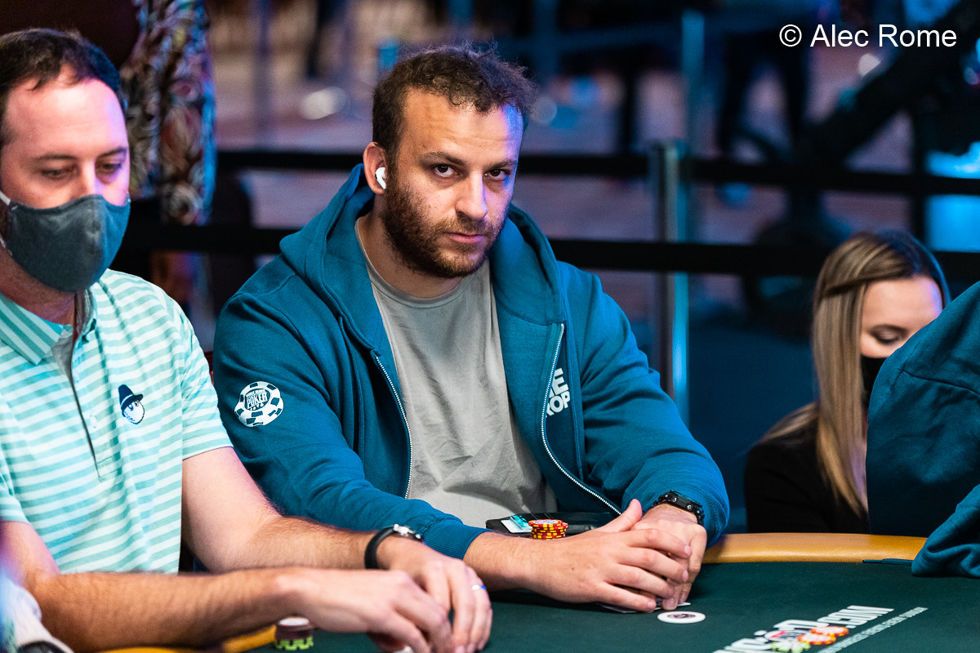 Mizzi bowed out in third after his pocket threes ran into the pocket jacks of Ball. Mizzi had lost the majority of his chips a few minutes earlier when Ball rivered a flush in a bloated pot. That left Ball and Michael Shanahan to battle it out for the bracelet.
Heads up play didn't last very long. Ball and Shanahan traded a couple of blows, but Ball ultimately took a 3-1 chip lead. The tournament ended when Shanahan four-bet shoved ace-eight in the pocket queens of Ball, and Shanahan would have to settle for second.
Ball said he was very happy with how his hard work has paid off this series.
"I'm just really proud to be able to come out here and show people in a live environment that I am who I am, and I'm capable of playing this game at the level I'm playing now. And I'm not going to stop, I'm going to keep doing this. I've been through a lot the past couple of years and had a lot of frustrations, and something one of my mentors taught me was success is the best revenge, and use this to motivate the heck out of you, and it really has. So anyone who wants to say stuff and be like that like, keep it coming because it's just going to inspire me to win even more."
Congratulations to Ball for winning his second bracelet in Event #68 $1,111 Little One for One Drop.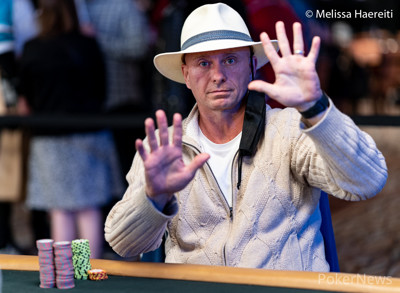 From the button Michael Shanahan raised to 2,600,000. Scott Ball quickly three-bet and he was quickly four-bet all in which he snap-called.
Michael Shanahan:

Scott Ball:
The flop came
. The turn was the
and the river the
to hold for the queens and Ball was the champion as Shanahan finished runner-up.
Hand #1: Michael Shanahan limped from the button, Scott Ball raised from the big and Shanahan called.
The flop came
. Ball bet 3,000,000 and was called. The turn was the
. Ball bet 10,000,000 which was enough to fold out Shanahan.
Hand #2: Ball raised from the button, Shanahan called.
The flop came down
. Both players checked. The turn was the
to put four to a straight on board. Ball bet 5,200,000, Shanahan called.
The river was the
. Shanahan led for 10,000,000 and Ball called instantly.
Shanahan had the
while Ball tabled the winner with the

Level 39 : 600,000/1,200,000, 1,200,000 ante
Michael Shanahan limped in, Scott Ball made it 2,000,000 more to go, and Shanahan called.
The flop was
, and Shanahan called a bet of 3,000,000 from Ball.
Shanahan check-called again on the
turn, this time 8,500,000 from Ball.
Both players checked the river
, and Ball tabled
for aces up to win the pot.
"I was trapping you big time," said Shanahan.
Level: 39
Blinds: 600,000/1,200,000
Ante: 1,200,000
The pot was a mere 11,000,000 on the river as a bet and call was made on the flop and it was checked on the turn. The river card was dealt to complete the board to read
.
Scott Ball bet 15,000,000. Michael Shanahan slid a large stack and half out for a raise to to 40,000,000. Ball folded quickly and Shanahan took over the chip lead as the players then headed on to a 15-minute break.

Level 38 : 500,000/1,000,000, 1,000,000 ante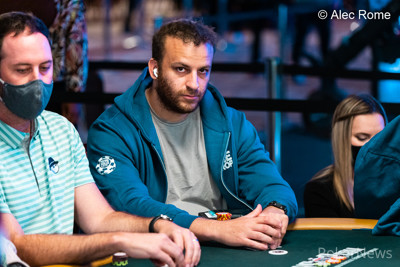 Sorel Mizzi raised to 2,000,000 and both Scott Ball and Michael Shanahan called.
Ball led for 3,000,000 on the flop
and both Mizzi and Shanahan called.
Ball sized up to 12,000,000 on the turn
and only Mizzi called. The river was the
and both players checked. Ball revealed
for a heart flush and Mizzi mucked.
Two hands later Ball raised to 2,000,000, Mizzi shoved for about 18,000,000 and Ball snap-called.
Sorel Mizzi:

Scott Ball:
Mizzi found no help on the
runout and his quest for his first bracelet would come to an end.
With tepid action until the river the board was completed to read
. Michael Shanahan bet 9,000,000 into a pot of about 10,000,000. Scott Ball called after a second.
Shanahan confidently tabled the
, and Ball showed the
.
"Oh my god. I thought I had ace-jack," said Shanahan. "I honestly thought I had ace-jack, misclick. You could've gotten all my chips".
Player
Chips
Progress

Scott Ball

64,000,000

14,500,000

Michael Shanahan

54,300,000

-8,100,000

Sorel Mizzi

32,800,000

-5,000,000

Level 38 : 500,000/1,000,000, 1,000,000 ante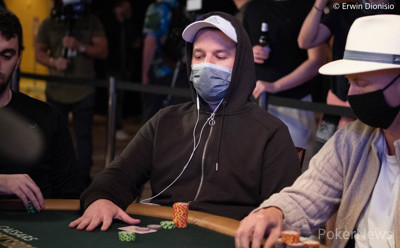 Sebastian Medina shoved the small blind for about 13,000,000, and Michael Shanahan called from the big blind.
Sebastian Medina:

Michael Shanahan:
Medina's rail shouted for a king but the flop came
to pair Shanahan. The turn
and river
brought no help to Medina and he was eliminated in fourth. The Colombian takes home more than $140,000 for his efforts.