Players Implement Covid Contract During WSOP $250K Super High Roller

Level 13 : 25,000-50,000, 50,000 ante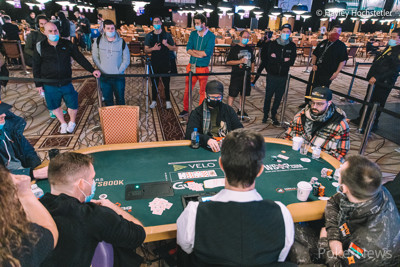 Most players in the 2021 World Series of Poker (WSOP) Event #82: $250,000 Super High Roller agreed to sign a contract permitting any player in the tournament who tests positive for COVID-19 to be refunded the six-figure buy-in.
Christoph Vogelsang drew up a contract on a piece of paper and most signed it, although one player wanted nothing to do with it while another would only agree verbally. The contract was not officially sanctioned by the WSOP, but rather an agreement amongst the high roller contigent.
Vogelsang came up with the idea for the COVID-19 positive test payback after Chris Brewer, whom many of the Super High Roller players recently competed against in cash games at Aria, informed the poker world he tested positive for the virus.
Most likely no 250k for me today, tested positive on rapid test this morning. I have no symptoms so getting a PCR t… https://t.co/TYTTcTPcee

— Chris Brewer (@Chris_D_Brewer)
Brewer is vaccinated and appears to have only experienced mild symptoms, most notably a loss of taste. On Friday, he joked about now being able to eat all the healthy food he dislikes.
Coronavirus Tests Required to Play
Behind the three Super High Roller tables inside the Amazon room, dozens of self-use COVID-19 tests were placed on an empty table for players to use. The players asked that everyone test for the virus prior to the start of play on Day 2 (Friday).
Most of the 26 unique players in the $250,000 buy-in bracelet event appeared to be on board with the protocols. PokerNews caught up with Seth Davies, who is in the tournament, on a break. He confirmed that Vogelsang drew up a contract and that all players were required to test negative prior to competing.
"I think it was a good idea because it's the WSOP official policy," Davies said of the COVID-19 contract, meaning the policy that anyone who tested positive would be required to leave the tournament. "Say you came in today with 4 million chips and tested positive, it would save you."
Davies said that everyone who cashed and agreed to the contract would "pay out proportional."
As he explained, the money would be reimbursed to a player who tests positive via the prize pool. He also said, however, it's unlikely anyone will test positive for COVID-19, and there were no positive tests on Day 2.
For now, the COVID contract is a mere safety net for players, and only time will tell if it comes into play.