Event #40: $10,000 Seven Card Stud Hi-Lo 8 or Better Championship
Day: 4
Event #40: $10,000 Seven Card Stud Hi-Lo 8 or Better Championship
Day 4 Completed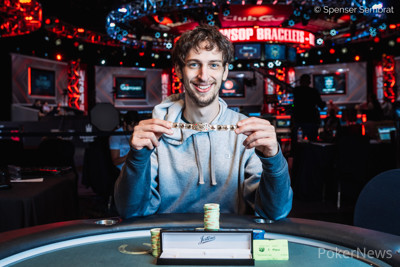 Just weeks after playing a seven hour heads up match to win his second WSOP bracelet, Daniel Zack, after a grueling eight-hour heads-up battle, won his third WSOP bracelet in Event #40: $10,000 Seven Card Stud Hi-Lo 8 or Better Championship for $324,174 at Ballys and Paris Las Vegas here at the 2022 World Series of Poker.
"I'm really happy, much happier and I feel more energetic than the last bracelet," an elated Zack said. With this victory, Zack has put himself in first place on the WSOP Player of the Year standings. The poker pro has captured the third bracelet of his career and his second bracelet of this series, each coming in different formats.
Zack attributes much of his success and level-headedness in these long stretch heads-up matches to his long nights at cash games. "I've had a lot of marathon matches heads-up," says Zack "You just learn through experience to take it one hand at a time and do your best." He has been gunning for WSOP Player of the Year for the past few years, and with five cashes, three final tables, and two wins, he now leads the race this year.
Event #40: $10,000 Seven Card Stud Hi-Lo 8 or Better Championship Final Table Results
| Place | Player | Country | Prize |
| --- | --- | --- | --- |
| 1st | Daniel Zack | United States | $324,174 |
| 2nd | David Funkhouser | United States | $200,356 |
| 3rd | Ziya Rahim | United States | $147,800 |
| 4th | Eric Kurtzman | United States | $110,379 |
| 5th | Shaun Deeb | United States | $83,465 |
| 6th | Chad Eveslage | United States | $63,914 |
| 7th | Brian Hastings | United States | $49,571 |
Final Day Action
The day began at 3:00 p.m. local time with three players returning from the previous day's action. It took just under an hour for Ziya Rahim to exit the tournament in third place for $147,800. Rahim lost most of his chips when he ran into the full house of Zack, then was eliminated one hand later when he was all in for his remaining ante and David Funkhouser made a straight to eliminate him.
Heads Up Play
What followed was a lengthy heads up match in which each player held the chip lead for significant periods of time.
Initially, it was Funkhouser holding a large chip lead over his opponent and heads-up play began with hands going his way, with Funkhouser making a wheel and leaving Zack with a deficit of nearly seven-to-one. After the first break however, Zack found himself with a little momentum on his side as he made a full house to even out their stacks and then shortly after, his pair of queens were good to take the chip lead.
The battle went into full force with Zack's chip lead fluctuating between two-to-one and nearly dead even. Funkhouser would not go quietly into the night, however, as he fought and clawed back some pots to put him closer to Zack's lead. It was a pot hours later, in which Funkhouser had kings showing that Zack folded to a river bet, that gave Funkhouser a slight lead.
After that, the momentum shifted in Funkhouser's direction and after a few key pots, including one where he showed a set of threes, Funkhouser had built a three-to-one chip lead over Zack. Eventually, the chips were all in the middle with Zack holding a pair of queens against the pair of nines for Funkhouser. Seventh street further improved Zack to queens-up and left Funkhouser with no improvement and Zack found himself a few hands later in the chip lead once more.
Within about 20 minutes, Funkhouser was down more than seven-to-one, but one massive seventh street to chop and survive, and one double saw him and Zack back to even. Later in the night, Funkhouser pulled ahead again, but shortly afterward he would lose a massive pot when Funkhouser's open kings ran into an eight-high straight and he would be left with just over one big bet. Soon after, they got it all in for Funkhouser's remaining chips. Aces and twos for Zack would be the winning hand that bested Funkhouser's aces and Funkhouser ended the tournament in second for $200,365.
Congratulations to Daniel Zack on winning his third WSOP bracelet in Event #40: $10,000 Seven Card Stud Hi-Lo 8 or Better Championship for $324,174. Thanks to all of those who played and thank you for reading along with the updates. Stay tuned to PokerNews for all updates on all future WSOP events.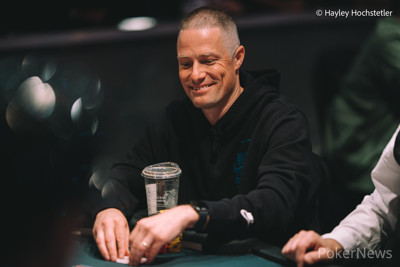 David Funkhouser completed, Daniel Zack put him all in for his remaining 75,000, and Funkhouser called.
David Funkhouser:

Daniel Zack:
Both players ended up with a pair of aces, but Zack also made deuces for two pair to eliminate Funkhouser in second place and bring the eight-hour heads-up match to a conclusion with his third WSOP bracelet.
Funkhouser completed with a
and Zack called with his
bring in.
David Funkhouser:
/
/

Daniel Zack:
/
/
Funkhouser check-called a bet from Zack on fourth street.
On fifth street, Funkhouser led with his pair of kings and Zack raised only to get called by Funkhouser.
On sixth and seventh street, Funkhouser check-called bets from Zack. "Straight," declared Zack as he turned over
for a straight to an eight and a seven-six low to scoop a monster pot and leave Funkhouser with very little chips.
Funkhouser completed with a
and Zack defended his
bring in.
Daniel Zack:
/
/

David Funkhouser:
/
/
Funkhouser bet on fourth, fifth, and sixth street and Zack called each time.
On seventh street the action checked through and Funkhouser showed
for a pair of fives. Zack frustratingly mucked his cards as Funkhouser regained the chip lead.
Daniel Zack:
/

David Funkhouser:
/
- folded
David Funkhouser completed and Daniel Zack called. Zack made a pair of sixes on fourth street and led out with a bet.
Funkhouser, his head propped up on his hand, went into the tank for about a minute before giving up his hand.
Funkhouser folded on third street the next two hands as Zack has once again assumed the chip lead.
Level: 30
Ante - 75,000
Bring In -100,000
Limits - 300,000-600,000
Daniel Zack and David Funkhouser have elected to take a short break as the heads-up match enters its seventh hour.
David Funkhouser posted the bring in with a
up and Daniel Zack called with a
up.
Daniel Zack:
/
/

David Funkhouser:
/
/
Zack led out on fourth and fifth street and Funkhouser called both times.
On sixth street, both players checked through to seventh and Zack bet out. Funkhouser looked at his hand and nodded before tossing in the call. Zack turned over
for three tens, which was good for he pot and Zack narrowed the gap between himself and Funkhouser.