Event #14: $10,000 Seven Card Stud Championship
Day: 3
Event #14: $10,000 Seven Card Stud Championship
Day 3 Completed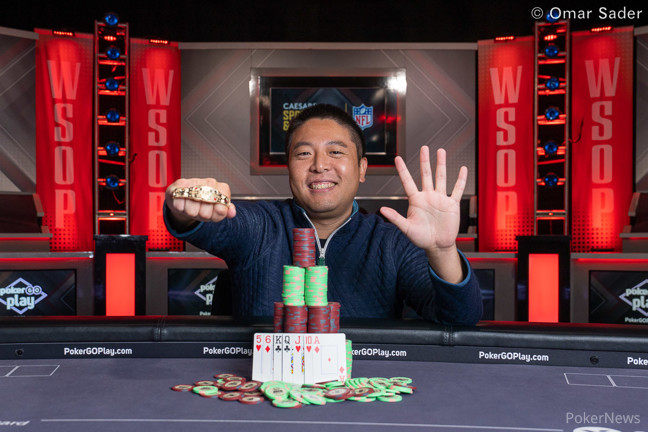 After a grueling day that went into the poker equivalent of overtime, Brian Yoon defeated Dan Shak heads-up to claim the title in World Series of Poker Event #14: $10,000 Seven Card Stud Championship at the Horseshoe and Paris Las Vegas.
For his victory over the 131-entry field, Yoon earns the champion's share of $311,433 from the $1,209,000 prize pool.
More historically, though, Yoon becomes just the 33rd player in WSOP history to earn five bracelets, joining the likes of Hall of Famers Eli Elezra and John Juanda, perennial WSOP Player of the Year contender Shaun Deeb, and one of the most recent additions to the five-timers club, Adam Friedman, who got his fifth last year.
Yoon was humble about the achievement when asked about it after his victory.
"Honestly, I don't try to bracelet hunt or anything like that, I'm just trying to play the tournaments and enjoy playing the games. It feels great, obviously, to be the 33rd to get number five, so I'll take it and see what happens in the future."
Of Yoon's five bracelets, this is his second in a mixed game, having won the $1,500 2-7 Triple Draw event last year, a game he said is maybe his best. The well-rounded Yoon acknowledged that this bracelet was special because of the game that it came in.
"Stud, I've been working on this game a little bit, so it feels nice to break through in a game where you weren't sure where you stacked up, and then you're able to win. It feels good."
As for Shak, while a runner-up finish with a chance for his first-ever WSOP bracelet is surely disappointing, he can take solace not just in the $192,479 second prize but the fact that along with his seventh place finish in the $1,000 Mystery Millions event earlier in the series, he's well in the early mix for WSOP Player of the Year.
$10,000 Seven Card Stud Final Table Results
| Rank | Player | Country | Prize |
| --- | --- | --- | --- |
| 1 | Brian Yoon | United States | $311,433 |
| 2 | Dan Shak | United States | $192,479 |
| 3 | Maxx Coleman | United States | $140,081 |
| 4 | Ben Yu | United States | $103,645 |
| 5 | George Alexander | United States | $77,985 |
| 6 | Ben Diebold | United States | $59,688 |
| 7 | Leonard August | United States | $46,484 |
| 8 | Max Hoffman | United States | $36,847 |
The Day's Action
The 13 returning players were thinned to the unofficial final table within the first couple of levels of the day, starting with Julien Martini's elimination in 13th, followed by maybe a somewhat surprising elimination of Chad Eveslage in 12th, considering he's already won two bracelets this summer.
Following the quick back-to-back eliminations of David "Bakes" Baker in 11th and Alex Livingston in 10th, the final nine were moved to the mothership to continue to a winner.
Johannes Becker, who fought back from fumes earlier in the day managed to ladder up to ninth, and from there, it took over two hours before Day 2 chip leader Max Hoffman was the next elimination in eighth place, with Leonard August following him out shortly after in seventh.
At this point of the final table, the two top stacks, Maxx Coleman and Yoon began to pull away from the rest of the field, with short stacks Ben Diebold and Ben Yu playfully needling each other about who would be the next to bust.
It turned out to be Diebold, who fell in sixth place just before dinner.
After the final five returned from their 60-minute break, Yu managed to ladder up as George Alexander was eliminated in fifth place. Yu battled back to a seven-figure stack, but his comeback was short-lived as Coleman finally took him out in fourth place.
Shak was the notable short stack at this point, but things took a turn three-handed as Coleman ran very cold, losing several key pots to Yoon that gave him a solid chip lead.
Things got even worse for Coleman as Shak passed him in the leaderboard, and before long, Coleman became the penultimate elimination of the day, leaving Yoon and Shak to battle for the bracelet, a matchup that Yoon even admitted he wasn't expecting.
"Honestly, I expected to get heads-up against Maxx because me and Maxx kind of had all the chips through the whole (final table). I respect Maxx's game a lot, I think he's a very good player, so I was kind of prepping myself to play him. Then we got three-handed, and I just coolered Maxx over and over and over, and he lost all of his chips."
Over the duration of their nearly two-hour-long heads-up battle that needed to go to an extra level to determine a winner, Shak fought back from the brink of elimination several times, at one point nearly overtaking Yoon.
But in the end, it was a Broadway straight for Yoon versus two pair for Shak that finally clinched victory for Yoon.
This concludes PokerNews' coverage of the WSOP $10,000 Seven Card Stud Championship. Stay with us for continued coverage of every WSOP event throughout the summer from Horseshoe and Paris Las Vegas.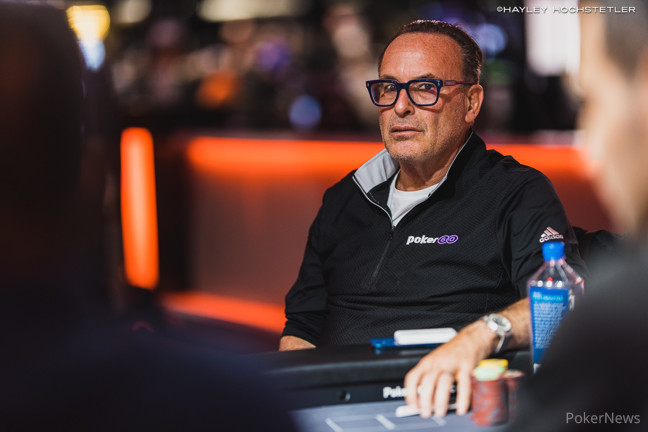 Dan Shak: 9♠8♠/9♥8♣2♣A♥/4♥
Brian Yoon: A♦6♦/K♣Q♣J♥10♥/5♥
Brian Yoon completed and Dan Shak defended his bring-in. Yoon bet fourth and fifth streets with Shak calling on fourth and then raising on fifth.
Yoon called to see sixth street and what would turn out to be his gin card.
Shak picked up what looked like a good card in the A♥ and bet his last 200,000. Yoon made the call, having hit what he needed as he already held an ace.
Yoon showed his Broadway straight and Shak revealed his two pair, nines and eights. Shak peeled his seventh street card, but the 4♥ wasn't what he was looking for, leaving him as the runner-up and crowing Yoon the champion.
Dan Shak: XxXxXx/J♥9♠4♦9♥
Brian Yoon: XxXxXx8♥7♥10♦A♣
Dan Shak completed, and Brian Yoon defended his bring-in.
On both fourth and fifth street, Shak checked and then called a bet from Yoon.
Shak took the betting lead on sixth and bet. Yoon made the call.
Shak bet again on seventh, and it was enough to force his opponent to relinquish his cards and allow Shak to once again regain some ground in this fiercely contested heads-up battle.
Level: 25
Ante: 20,000, Bring-in, 30,000, Complete, 100,000.
Limits 100,000/200,000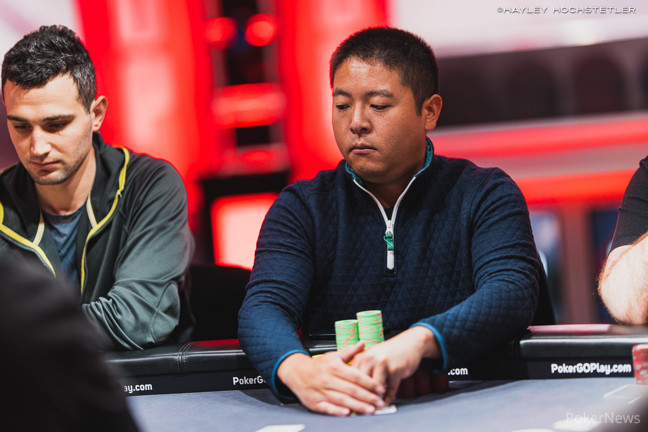 Brian Yoon: K♠10♣9♦/Q♥10♠5♥K♦
Dan Shak: J♣8♣7♥/J♦3♣6♥8♦
Brian Yoon completed Dan Shak's bring-in, and Shak defended as has been a normal occurrence.
Yoon then bet every street, getting calls right until the end from Shak.
Yoon showed two pair, kings and tens, while Shak frustratedly showed his inferior two pair of jacks and eights to send a pot to Yoon that leaves Shak with just under five big bets.
Brian Yoon: XxXx/2♣6♣8♣5♥
Dan Shak: XxXx/Q♥9♣7♥8♥
Brian Yoon completed from the bring in with a two and Dan Shak made the call with a queen.
Both players checked fourth street. On fifth Shak checked and called a bet from Yoon.
On sixth street Shak again checked and was faced with a bet from his opponent. Shak commented that the hand was weird given that Brian Yoon had completed from the bring in and folded his hand.
Yoon told Shak afterwards that him completing from the bring in was accidental, but also that he had a monster hand and Shak had made a good fold.
Brian Yoon: XxXx/J♥Q♠4♥A♦/Xx
Dan Shak: XxXx/Q♥J♣7♥7♦/Xx
Brian Yoon had Dan Shak back under a million chips recently, but a big hand for Shak has him back in the mix.
After Shak completed Yoon's bring-in, Yoon came back to make it two bets to go. Shak made it three and Yoon called.
The players then checked fourth street, but on fifth, Shak began betting with the lead. Yoon called, and then called again on sixth after Shak paired his jack.
On seventh, Shak bet once more and Yoon elected to fold.
Brian Yoon: 7♥7♣/7♦9♣Q♦8♦/6♠
Dan Shak: 10♦10♥/J♦6♥J♠6♦/2♣
Dan Shak completed with a Jack and Brian Yoon made it two bets with a seven. Shak made the call.
Shak check-called a bet from Yoon on fourth street.
On fifth Yoon slowed down with a check and called when Shak bet.
Shak bet again on sixth and Yoon called. Both players checked seventh.
Shak had two pair with Jacks and Tens but Yoon had rolled up sevens to take the pot down with trips and extend his lead significantly, leaving Shak with a little under one million in chips.
Dan Shak:K♦K♣/9♥J♥6♠5♦/Xx
Brian Yoon: XxXx/A♥3♦7♦9♠/Xx
The next hand Shak called with a nine when Yoon completed with an ace. Shak then bet and was called from fourth street to sixth street,
Shak bet again on seventh. Yoon sighed and said "take my money" and made the call. Shak showed two kings which was enough to take the pot.
Brian Yoon: A♦7♦5♦/7♣9♣6♥9♦
Dan Shak: J♠XxXx/J♣2♥K♠5♣
Brian Yoon completed and then made it two bets to go after Dan Shak completed. Shak called and then checked fourth street with the betting lead.
Yoon bet and Shak called, and then Shak check-called another bet on fifth street.
On sixth, Yoon paired his nine and bet with the lead. Shak called and then both players checked the river.
"Jacks," declared Shak.
"Jacks no good," replied Yoon who showed two pair, nines and sevens to take a healthy pot from Shak.