Event #28: $1,500 No-Limit Hold'em Freezeout
Day: 3
Event #28: $1,500 No-Limit Hold'em Freezeout
Day 3 Completed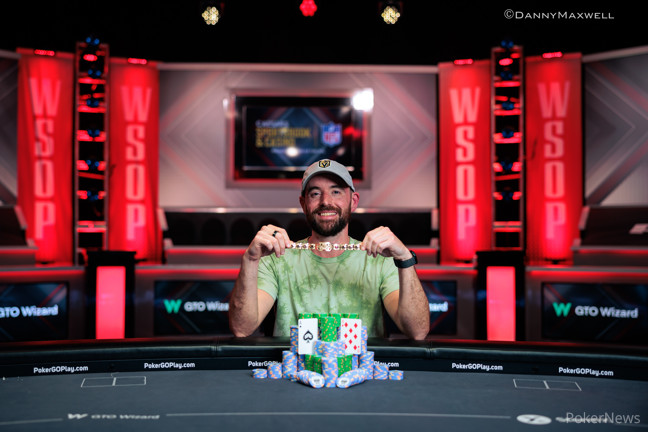 Benjamin Ector is now a first-time bracelet winner after taking down Event #28: $1,500 No-Limit Hold'em Freezeout at the 2023 World Series of Poker for $406,403 following a brief heads-up battle with runner-up Adam Swan ($251,158).
The Freezeout event drew a field of 2,046 unique entries for a prize pool of $2,731,410 and saw 17 players returning for Day 3, including third-place finisher Nick Palma ($184,730) and Germany's Dietrich Fast (8th - $45,895), the only bracelet winner at the nine-handed final table.
Start-of-day chip leader Matthew Hunt was looking to close out on a maiden bracelet but lost two massive flips to Ector to give up the chip lead and eventually fall in seventh place for $59,468. Ector then used the chip lead to steamroll the remaining final table eliminating every player along the way.
2023 WSOP Event #28 Final Table Results
| | PLACE | PLAYER | COUNTRY | PRIZE (IN USD) |
| --- | --- | --- | --- | --- |
| | 1 | Benjamin Ector | United States | $406,403 |
| | 2 | Adam Swan | United States | $251,158 |
| | 3 | Nick Palma | United States | $184,730 |
| | 4 | Jean Lhuillier | France | $137,159 |
| | 5 | Divyam Satyarthi | United States | $102,814 |
| | 6 | Santiago Plante | Canada | $77,814 |
| | 7 | Matthew Hunt | United Kingdom | $59,468 |
| | 8 | Dietrich Fast | Germany | $45,895 |
| | 9 | Dean Hutchison | United Kingdom | $35,773 |
Winner's Reaction
Ector was ecstatic to have won his first gold bracelet after having a long successful career playing online, he moved to Mexico to play when Black Friday hit.
He also had a deep run in the $1,500 No Limit Hold'em Monster Stack Event at the 2019 WSOP. Ector recalled starting the final table with the chip lead and ending up in fifth place which was a real disappointment at the time. He moved back to Mexico to relax and take some time away from poker and just recently started playing live again.
Ector has played at many final tables and had a solid aggressive strategy heading into the final table despite not starting as the chip leader this time. He remained patient and waited for the right opportunities to make his moves.
A turning point for Ector was where his ace-king won a race against Hunt's pocket eights and from there, Ector started to run away with the tournament.
Once he gained a substantial chip lead, he systematically knocked out each player from eighth to second place and in between, used his aggression to win small pots, and continued building his stack.
In most of the eliminations Ector showed the dominating hand except against Santiago Plante where Plante had Big Slick suited, and Ector had five-four off but called due to the pot odds, ultimately hitting a straight.
His rail was chanting, "Smelling salts, smelling salts," as Ector had been using them to stay alert and sharing them with other players.
Ector was texting his mom in Atlanta and his sister in Salt Lake City to relay the good news that he had won.
He plans to play more events during this summer's WSOP and make some more final tables.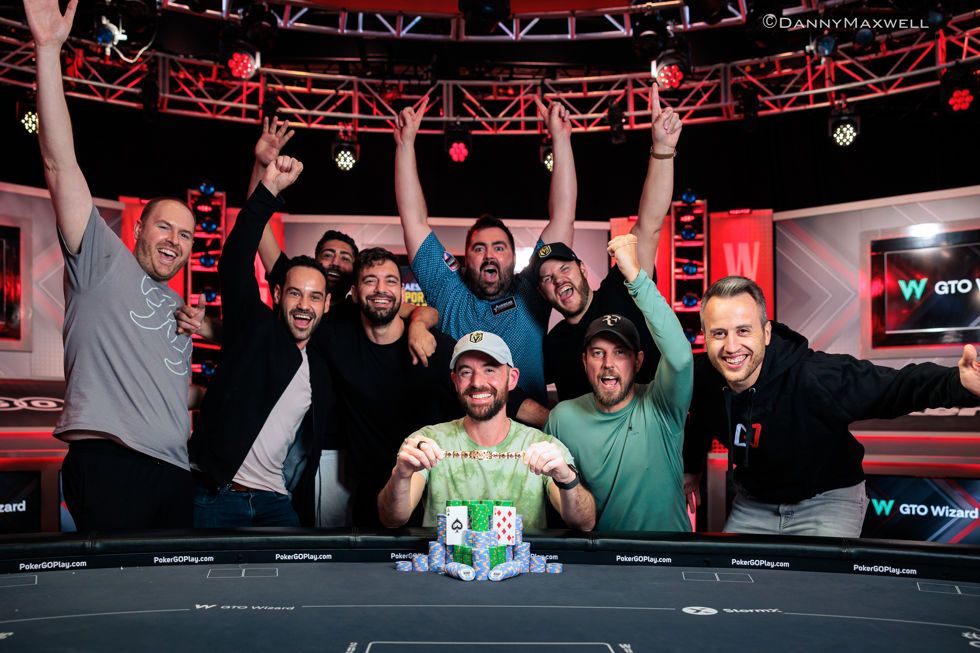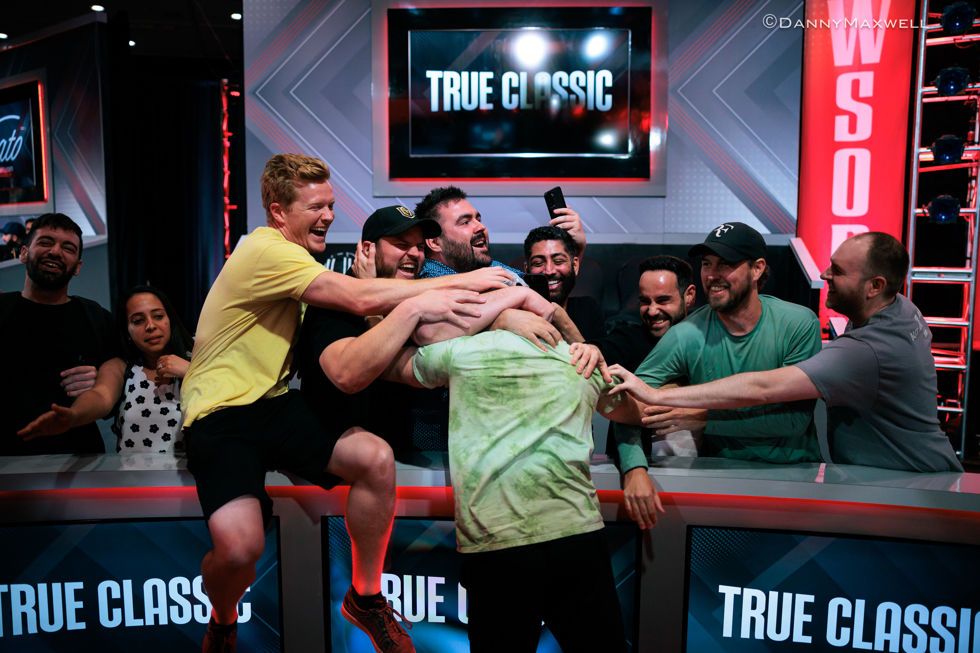 Day 3 Action
Day 3 kicked off with 17 players at two tables with Hunt as the chip leader. The tables played for about five hours and finally whittled down in players when Rene Lazaro was the last person eliminated before the final table redraw.
The unofficial final table consisted of ten players which included bracelet winner Dietrich Fast who was eliminated in eighth place and Day 2 chip leader Hunt went out in seventh place.
Swan and Palma were in the final three and attempted to overcome the chip leader's reign and doubled up a few times but couldn't keep up any momentum to surpass Ector.
Palma went out in third place when his jack-ten failed to complete a flush against Ector's dominating ace-ten.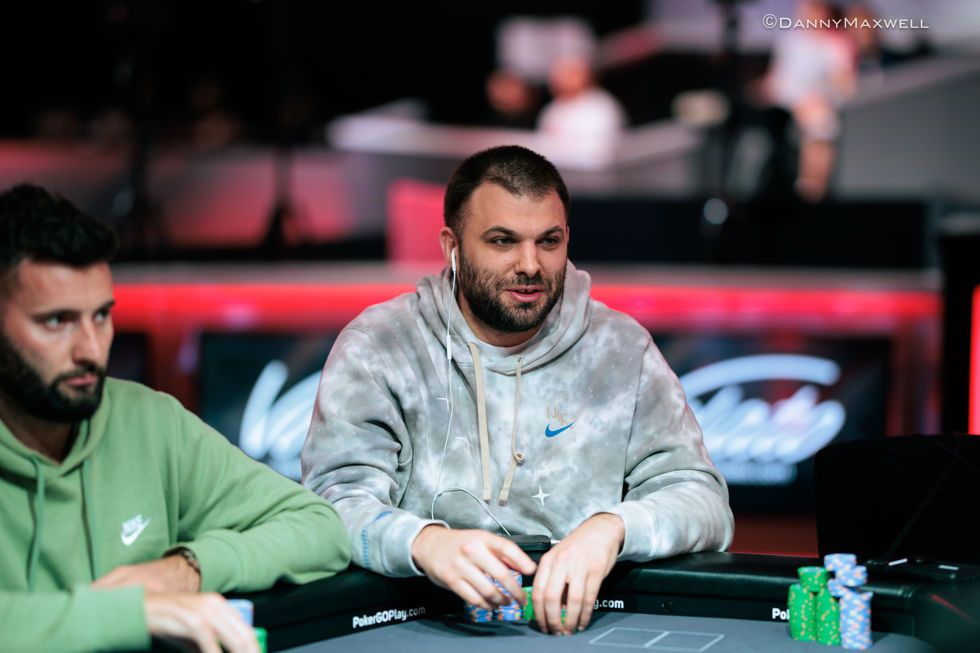 The heads-up match between Swan and Ector did not last long and ended after Swan was betting third pair strongly and Ector made a big call with second pair.
The very next hand, Swan moved his short stack in with ten-nine suited and Ector called with the Deadman's hand. Swan didn't hit his outs and finished runner-up.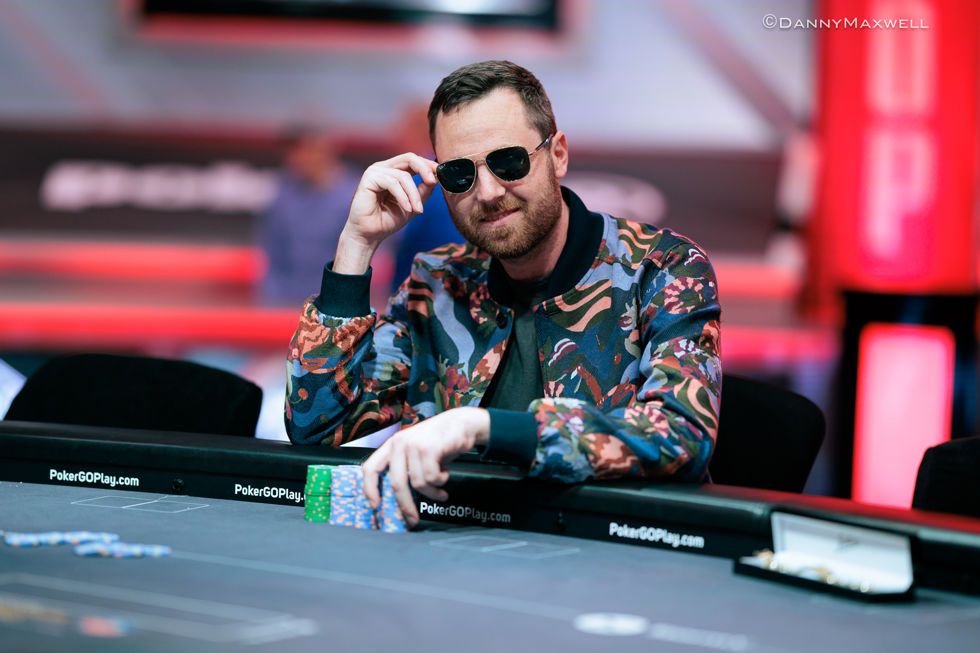 Be sure to keep it with the PokerNews team throughout the 2023 WSOP for live updates from the floor at Horseshoe and Paris Las Vegas.
Adam Swan opened to 1,000,000 on the button and Benjamin Ector defended in the big blind.
Ector checked on the flop of Q♥A♣10♦ and Swan continued for 600,000. Ector called. Ector check-called again on the 4♦ turn when Swan sized up to 1,850,000.
Both players checked on the 5♦ river and Ector showed the winner with Q♦8♣ for second pair.
"Great turn call!" someone screamed from his rail.
The next hand, Ector open-jammed and Swan called off in the big blind with around 6,700,000.
Adam Swan: 10♣9♣
Benjamin Ector: A♠8♦
The flop landed 4♥J♠2♥ to keep Ector's ace-high ahead and his rail erupted in celebration as the A♣ on the turn had Swan drawing dead to bring Ector his first bracelet.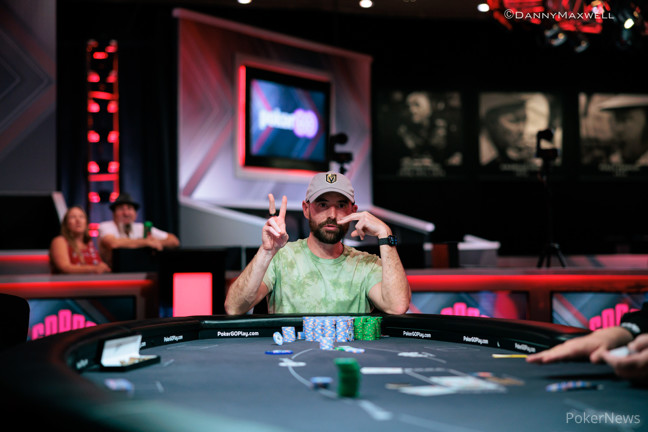 Benjamin Ector raised enough to put Adam Swan all in and Swan called on the big blind.
Adam Swan: A♦4♦
Benjamin Ector: A♠3♦
The rail yelled, "four in the window", as the board ran out J♣5♥4♣3♣8♦ and Swan doubled his stack.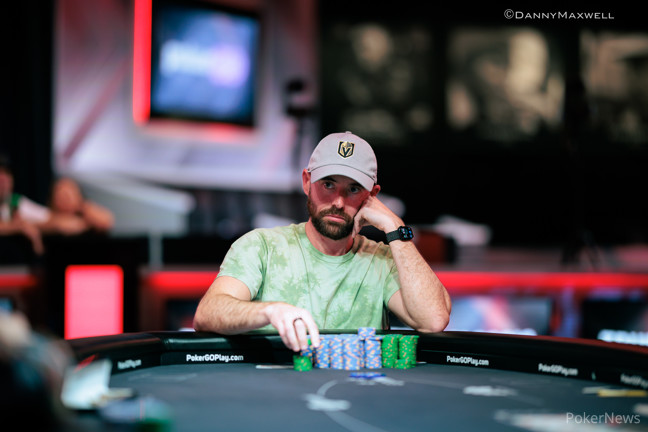 Benjamin Ector opened on the button and Adam Swan defended to see a flop of Q♦5♠J♥. Swan checked and Ector bet 600,000. Swan called.
Swan checked again on the 3♠ turn and Ector checked back. Swan checked once more on the 6♥ river and Ector bet 1,700,000. Swan check-raised to 4,500,000 and Ector went deep in the tank as he drank from his water bottle. Eventually, he called.
"Good call," Swan said as he tabled A♠6♦ for bottom pair to lose to the second pair of Ector with J♠9♦.
"Let's f***ing go!" someone screamed from Ector's rail.
"He's a god!" screamed someone else.
"I thought it was a good bluff," Swan told his rail.
Level: 35
Blinds: 250,000/500,000
Ante: 500,000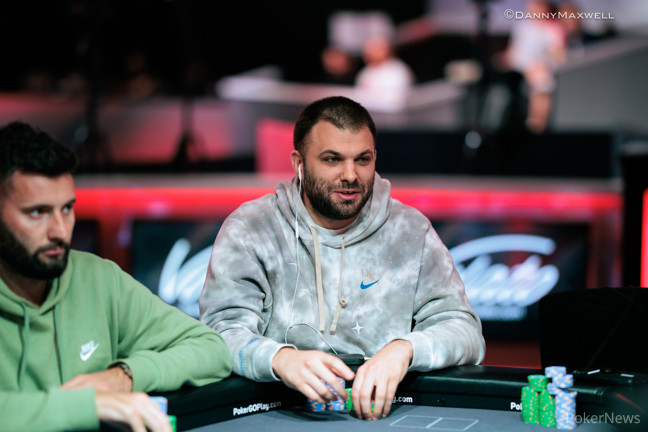 Benjamin Ector continued with his aggressive play and announced, "all in" in the small blind and Nick Palma in the big blind called.
Nick Palma: J♠10♦
Benjamin Ector: A♦10♥
The rail yelled for a spade as the board played out Q♠2♠4♠9♣2♣ but the spade did not come and Ector won Palma's chips.
Player
Chips
Progress

Benjamin Ector

25,000,000

3,000,000

Adam Swan

20,000,000

3,500,000

Nick Palma

6,000,000

600,000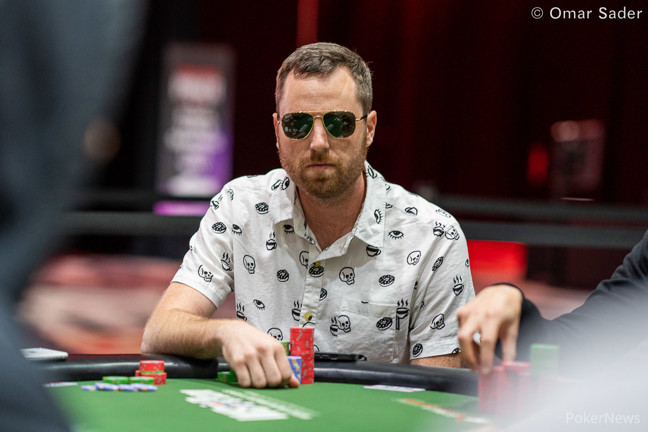 Benjamin Ector open-jammed on the button and Adam Swan went in the tank in the big blind.
"How much do you have?" Swan asked Nick Palma.
"I mean, I'm going to win the tournament, so I wouldn't worry about me," Palma replied before Swan called off for 8,300,000.
Adam Swan: A♥Q♠
Benjamin Ector: J♦10♦
Ector took a big lead as the flop landed 5♠2♥J♥ and the 2♠ turn didn't change anything. However, the dealer then put the Q♥ out on the river and Swan doubled up to stay alive.
Player
Chips
Progress

Benjamin Ector

22,000,000

12,000,000

Adam Swan

16,500,000

12,500,000

Nick Palma

5,400,000

-600,000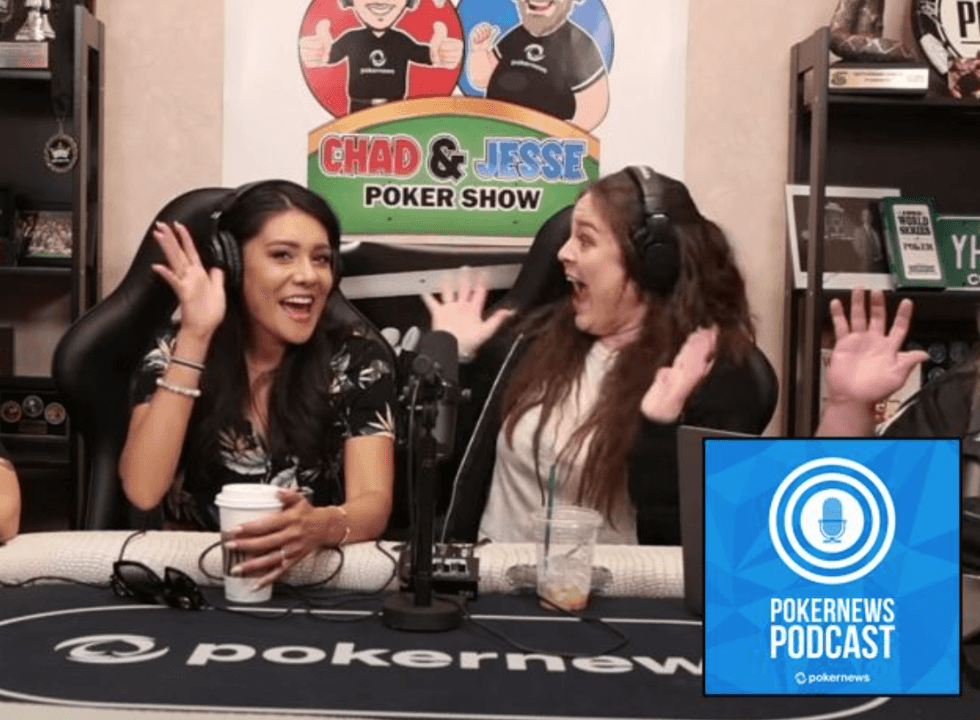 On the latest PokerNews Podcast episode, Chad Holloway and Jesse Fullen continue The Chad & Jesse Poker Show straight from the 2023 World Series of Poker (WSOP).
This week, they are joined by Acesholes Podcast hosts Caitlin Comeskey and Nikki Limo, who discuss their respective backgrounds in both entertainment and poker. The competitive duo, who are only separated by a few thousand in career earnings, then played a fun game of "Who Said It - Phil Hellmuth or Kanye West?"
Chad and Jesse then do a new "Calling the Clock" segment in which they offer quick two-minute dialogues for topics on "The Board."