Event #32: $3,000 No-Limit Hold'em (6-Handed)
Day: 2
Event #32: $3,000 No-Limit Hold'em (6-Handed)
Day 2 Completed

Level 36 : Blinds 400,000/800,000, 800,000 ante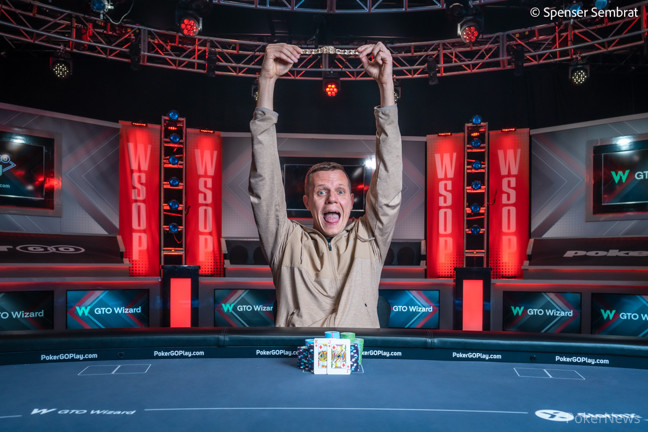 Two days of play saw a total of 1,241 players sit down in Event #32: $3,000 No-Limit Hold'em 6-Max. The prize pool swelled to $3,313,470, and the lion's share to play for was left to the 58 players who made the second day of this tournament.
In the end, it was Mark Ioli who was crowned champion, winning his first WSOP bracelet and a career-best score of $558,266. "It was a long two days, but it was worth it," the newly crowned champion said, beaming. "The two previous times I got heads up for a bracelet, I was a card away from winning," he said, referring to his two second places in WSOP online events. "So it feels good to finally win. It's the one accolade in poker you want no matter what."
When talking about the competition in this tournament, he said, "the first eight hours of play, there wasn't a single recreational player at my table, it was all pros. I played pretty patiently throughout and obviously ran good in a few spots to win."
The former Magic player turned to poker in his college years and moved to Canada to play after Black Friday. "Nowadays I play live cash, some tournaments, and some other business ventures."
When asked whether he would play the rest of the series, he said, "For sure. Initially, the plan was to play cash mostly and then a few tournaments, but I got a cash the other day, and I really want to get back in there. It's crazy how quickly plans change."
Final Table Results
| Place | Player | Country | Prize |
| --- | --- | --- | --- |
| 1 | Mark Ioli | United States | $558,266 |
| 2 | Johann Ibanez | Colombia | $345,034 |
| 3 | Wing Liu | United Kingdom | $241,767 |
| 4 | Eshaan Bhalla | United States | $171,874 |
| 5 | Julien Sitbon | France | $123,992 |
| 6 | Samy Boujmala | France | $90,791 |
Day 2 Action
Day 2 action began in a fast and furious way. Many notable players went out the door early including Alex Foxen (48th - $9,621), who busted memorably when start of day chip leader Chris Hunichen called him with six-three suited, John Dolan (33rd - $15,857), Martin Jacobson (28th - $19,382) Benjamin Diebold (19th - $24,087), Maria Ho (17th - $30,429), Asher Conniff (16th - $30,429), and Noah Schwartz (9th - $50,948).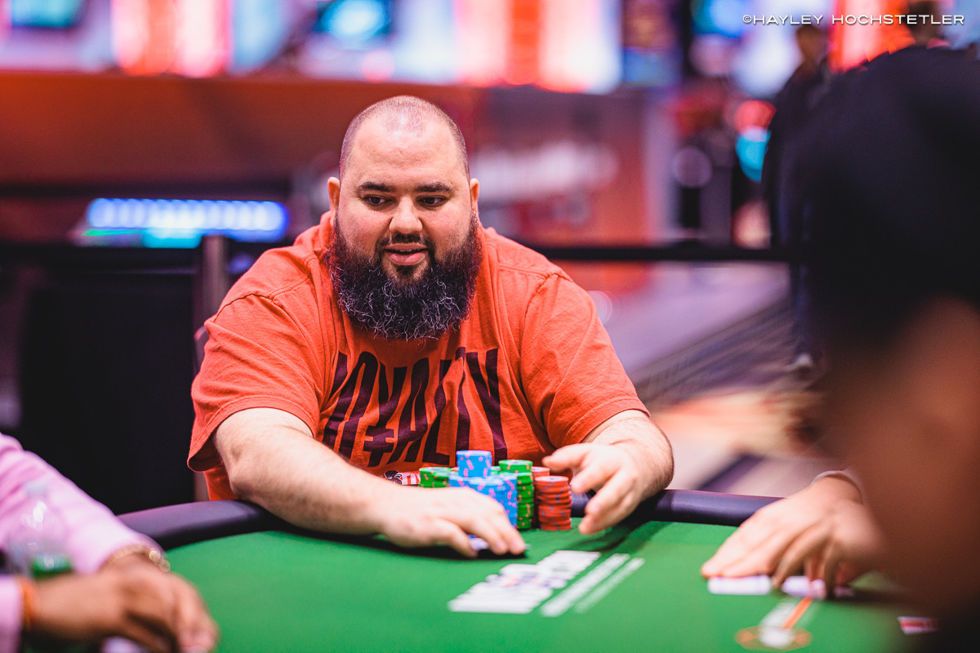 The unofficial seven-handed final table was reached when the start of day chip leader Chris Hunichen got in his short stack in the middle with ace-nine against Johann Ibanez's pocket eights. An ace-high flop came out that also contained an eight, and no improvement on the turn meant that Hunichen would exit the tournament in eighth place for $50,948.
Final Table Action
The very first hand of the unofficial final table saw the first elimination. Todd Ivens moved in his short stack to the middle with ace-ten, which saw Julien Sitbon from one seat over move in with pocket nines and everyone else folded. The flop came out ace-high, but the river nine gave the Frenchman a set of nines, and he took down the pot while Ivens exited the tournament in seventh place for $67,492, bringing the table to the official final table.
Samy Boujmala was the first casualty of the official final table after a swingy day. He rose to the chip leader with two tables left, but several clashes with his countryman Sitbon had left him as a shorter stack. He raised most of his stack in the hijack with ace-seven suited, and Eshaan Bhalla moved all in for more with pocket kings, and Boujmala called. The board ran out as no favor to the ace-seven, and Boujmala exited the tournament in sixth place for $90,791.
Sitbon would be out the door soon after. He lost a race to Ioli to fall to the short stack but was able to double up once after that. His run of fortune was short-lived as he moved in his final chips in with pocket threes only to see Ibanez wake up with pocket aces in the big blind. The aces held to eliminate Sitbon in fifth place for $123,992.
Bhalla got tangled in a pot in the small blind with ten-eight against Ibanez in the big blind who held queen-ten. On a ten-high board, Bhalla check-jammed the turn which Ibanez called, and he held on the river to take an overwhelming chip lead and leave Bhalla to exit the tournament in fourth place for $171,874.
In third place came Wing Liu shortly after Bhalla's bust out. Liu was never able to gain much traction at the final table, and that saw him dwindle down to just a few big blinds. In the end, he moved in after defending the big blind on a four-four-deuce flop with king-five, only for Ibanez to call him with aces. The aces held up, and Liu collected $241,767 for his deep run.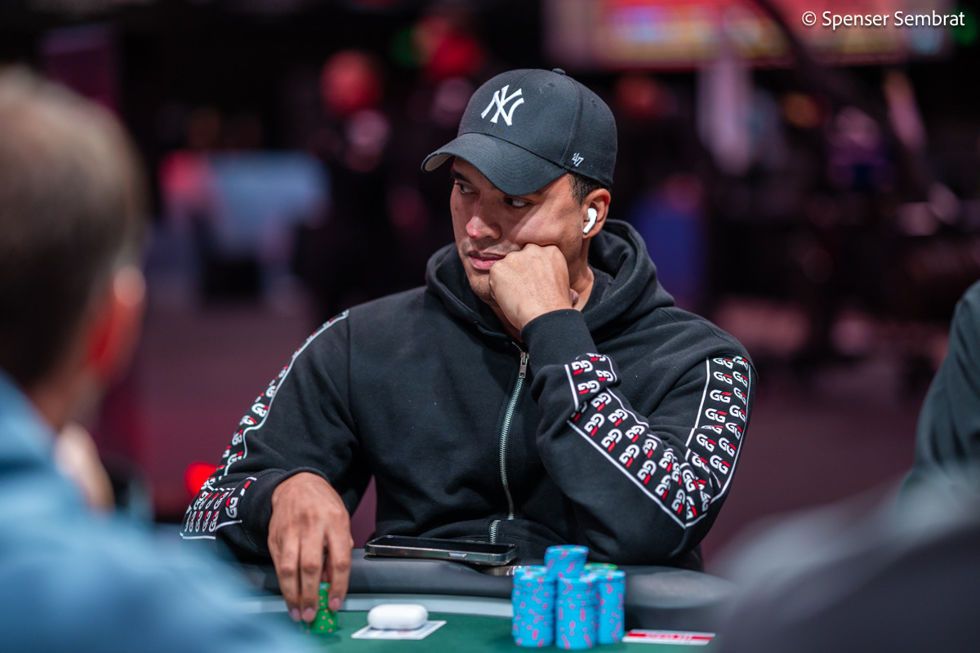 What followed was a heads-up battle for the ages. Over 2.5 hours of grueling tournament-defining pots that saw the lead shift multiple times between Ioli and Ibanez. In the end, Ioli doubled in a crucial hand where his ace-king won a race against the pocket eights of Ibanez, which gave him a five-to-one lead. A few hands later, the remaining chips would get in when Ibanez held ace-ten against Ioli's king-jack. The turn brought Ioli a full house and secured him the bracelet while Ibanez finished his deep run in second place for $345,034.
Thank you all for reading along here at PokerNews. Stay tuned for all updates regarding the 2023 WSOP.

Level 36 : Blinds 400,000/800,000, 800,000 ante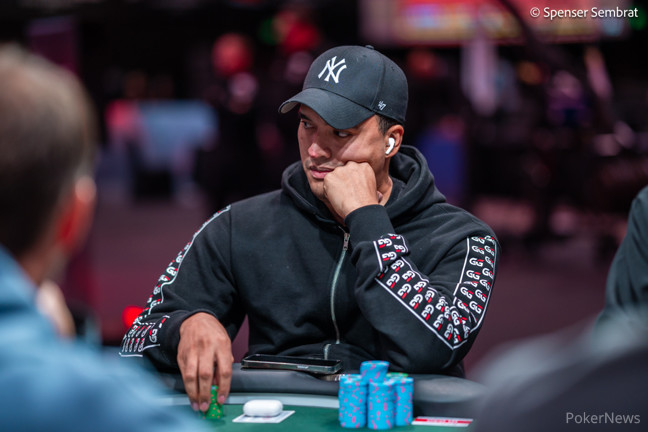 Mark Ioli jammed from the button and Johann Ibanez wasted no time in calling and standing from his chair, ready to watch five cards decide his fate with his tournament life at risk.
Johann Ibanez: A♣10♦
Mark Ioli: K♦J♦
Ibanez had gotten it in good for the third time this heads up match, but when the board ran out 3♠J♠K♠K♣4♣, he lost for the third straight time from ahead and this time, he was sent to the rail in second place for $345,034.

Level 36 : Blinds 400,000/800,000, 800,000 ante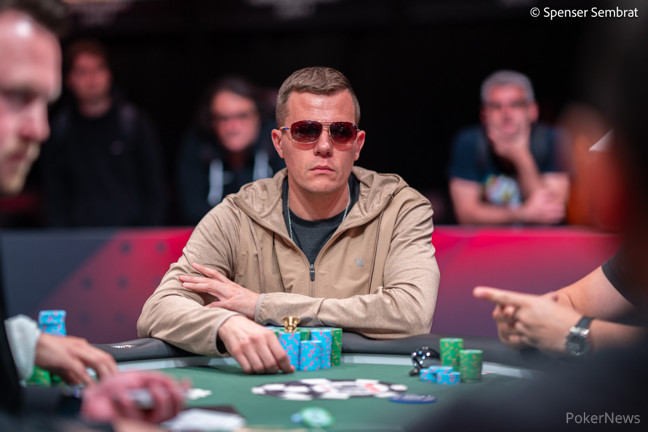 Johann Ibanez raised to 2,000,000 on the button and Mark Ioli moved all in for 20,100,000 which saw Ibanez call.
Mark Ioli: A♥K♠
Johann Ibanez: 8♠8♦
The board ran out A♣4♣2♣5♦Q♠ and Ioli paired his ace to doubled up and take the overwhelming chip lead.

Level 36 : Blinds 400,000/800,000, 800,000 ante
The heads up match between Mark Ioli and Johann Ibanez has continued with a flurry of raise and takes preflop and all ins with no calls.
The two players are deadlocked, neither willing to give an inch, and are almost dead even in chips.
There hasn't been many flops and almost zero turn cards in the last 20 minutes or so and it's become very clear that this title and the bracelet that comes with it means a great deal to both of these competitors.
Level: 36
Blinds: 400,000/800,000
Ante: 800,000

Level 35 : Blinds 300,000/600,000, 600,000 ante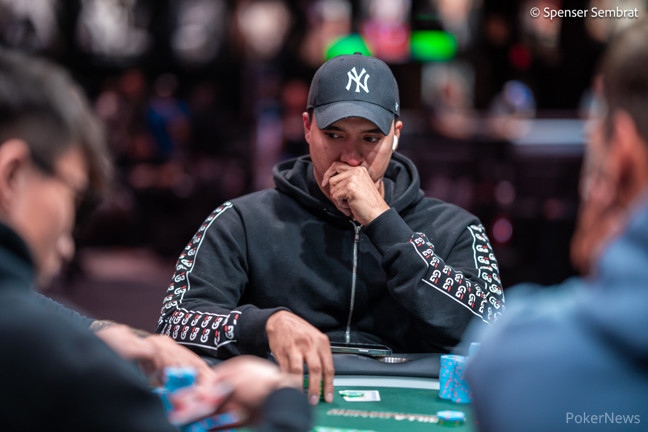 Johann Ibanez raised to 1,500,000 and Mark Ioli called in the big blind.
The flop came out J♥A♣Q♥ and Ioli check-called a bet of 1,000,000 from Ibanez.
On the Q♣ turn, action checked through to the K♣ river where Ioli checked over to Ibanez who bet 4,500,000.
"It would be so sick if you backdoored it," lamented Ioli as he contemplated his decision. After some time he put in the call and Ibanez turned over J♣6♣ for a flush which was good for the pot.

Level 35 : Blinds 300,000/600,000, 600,000 ante
Mark Ioli raised the button to 1,300,000. Johann Ibanez came over the top with a three-bet to 4,200,000. Ioli called and sent the players to a flop of J♥8♣4♠.
Ioli checked and watched as Ibanez cut out a bet of 2,600,000. Ioli thought for a few moments before announcing all in as he slid a stack of 500,000 denomination chips out into the pot.
Ibanez quickly folded and Ioli was awarded a big three-bet pot without seeing a turn.

Level 35 : Blinds 300,000/600,000, 600,000 ante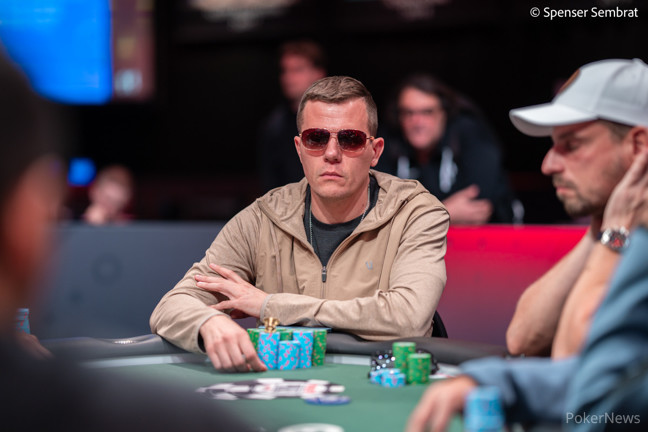 Johann Ibanez raised to 1,200,000 on the button and in the big blind Mark Ioli moved all in for 13,550,000 which Ibanez called.
Mark Ioli: 8♠8♦
Johann Ibanez: A♥10♦
The board ran out K♦J♦6♣4♥9♦ and the eights held up as the best hand for Ioli to double and take the chip lead.

Level 35 : Blinds 300,000/600,000, 600,000 ante
Mark Ioli raised the button to 1,300,000 and Johann Ibanez called to see a flop of 8♣7♦10♦.
Both players checked through to a 6♣ turn card which again prompted both players to check through to the 9♣ river.
Ibanez led into Ioli with a bet of 2,500,000. Ioli struggled with his decision for a couple of minutes while looking at a completed straight on the board.
Eventually, Ioli seemed to be calling hoping for a chop but slid his cards toward the muck and conceded the pot to Ibanez which was much delight to his rail.