Event #35: $10,000 Secret Bounty
Day: 3
Event #35: $10,000 Secret Bounty
Day 3 Completed

Level 34 : Blinds 250,000/500,000, 500,000 ante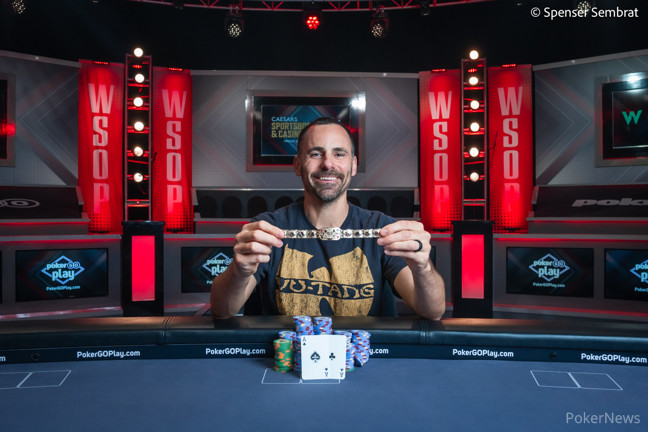 After many ups and downs from chip leader, to short stack, to bracelet glory, Chris Klodnicki emerged victorious in Event #35: $10,000 No Limit Hold'em Secret Bounty at the 2023 World Series of Poker (WSOP) at the Horseshoe Las Vegas.
It marked Klodnicki's second bracelet and $733,317 in prize money was added to his already impressive earnings at the WSOP.
Klodnicki navigated his way through a field of 568 runners, including a stacked final table that had three other bracelet winners and multiple players with seven figures in earnings such as Jeremy Ausmus and Barak Wisbrod.
2023 WSOP Event #35 Final Table Results
| Place | Player | Country | Prize |
| --- | --- | --- | --- |
| 1 | Chris Klodnicki | United States | $733,317 |
| 2 | Aram Oganyan | Mexico | $453,226 |
| 3 | Barak Wisbrod | Israel | $323,181 |
| 4 | Jeremy Ausmus | United States | $233,690 |
| 5 | Tracy Nguyen | United States | $171,389 |
| 6 | Angel Guillen | Mexico | $127,515 |
| 7 | Daniel Rezaei | Austria | $96,265 |
| 8 | Eric Yanovsky | United States | $73,756 |
After the win, Klodnicki was asked by PokerGO where he has been over the past few years.
"Really not traveling for poker but playing online. I've been playing a ton of online no-limit hold'em so, you know, I felt really good, and they have the bounty events online too so I felt really comfortable in this format and it was nice to get back to live poker. I've always felt comfortable in live poker. I've worked on my fundamentals a little bit more by playing online"
He was then asked, "This was a bit of a crazy final table, chips flying around. How did it feel?"
"It was very shallow, it was very gambley, not a ton of actual poker being played which is kind of unfortunate for an event this size but, whatever, I'm happy I won. I was down super short, I think I was in last place with eight people left but just hung around. Obviously ran good in the spots I needed to and just happy to be here right now."
So, is this the return of Chris Klodnicki?
"I think gradually. I think I'll play a little more next year," he said. "I don't know if I'll ever get back to playing full schedules, maybe when my kids are off in college but I'll definitely be here more than the past few years, which was not at all."
PokerNews also asked Klodnicki about the bounty aspect of the tournament.
"Yeah, I always like when things change a lot in tournaments. I just feel like I have a bit of an advantage when it comes to inflection points where other people might not be paying quite as much attention. Like when the bounties were in play, I tried to do some calculations to figure how much they were worth. I was fighting hard for the bounties but didn't get any big ones. I was fighting for the $250K."
Final Table Action
Klodnicki's road to the bracelet was filled with swings. He entered as chip leader but quickly lost it to Ausmus, who jumped in the lead after snagging aces on the first hand of the final table. The first elimination would be Eric Yanovsky who was eliminated in eighth place ($73,756) after his jacks couldn't hold up against Ausmus' Ace-Queen.
Daniel Rezaei would fall in seventh place ($96,265) after all the chips got in preflop and his queen-nine could not hold against Ausmus' flopped pair of aces. Angel Guillen was then eliminated in sixth place ($127,515) after his pocket nines were ahead in a three-way all-in hand against Wisbrod and Ausmus, who both found an ace on the river with their respective Big Slicks to chop up Guillen's chips.
Tracy Nguyen had an amazing showing at the final table. She came in as the short stack but would ladder all the way to fifth place ($171,389) after her pocket tens lost to Klodnicki's ace-queen.
Ausmus held the chip lead for the bulk of the final table but would be eliminated in fourth place ($233,690) after a cold deck saw his queens lose to Klodnicki's ace-king for the chip lead, and then his short stack found its way into the middle with king-duece to Klodnicki's aces.
Barak Wisbrod was eliminated in third place ($323,181) after he got it all in preflop with ten-high but was unable to improve against Klodnicki's king-high.
On the wild last hand of play, Aram Oganyan was eliminated in second place ($453,226) after the chips all got in the middle preflop. Oganyan turned a straight with his nine-eight but a miracle ace on the river made a full house for Klodnicki, who once again held pocket aces.
Overall it was an action-packed day that saw Klodnicki's perseverance earn him his second bracelet. He was top stack, shortest stack, and ultimately champion. It was a feat many can only dream of.
That does it for our coverage of this event, but stay tuned to PokerNews for the whole rest of the 2023 WSOP as we bring you more live updates, which you can follow here.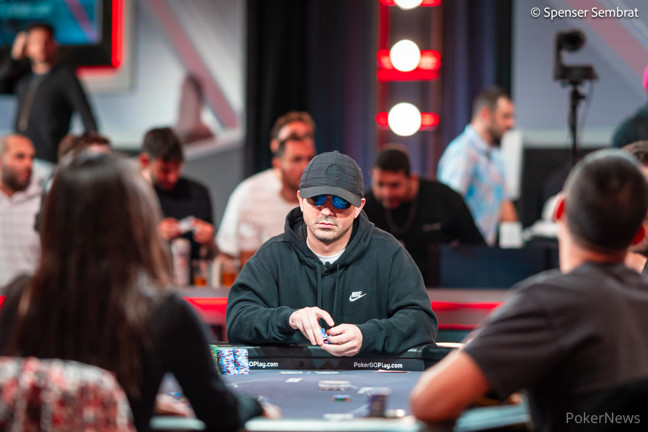 In this heads-up battle, Aram Oganyan was first to act as he shoved all in for his last 6,400,000. Chris Klodnicki, again, looked down at a monster and was able to snap call.
Aram Oganyan: 9♦8♠
Chris Klodnicki: A♠A♣
"Good call," said Oganyan, laughing at the sight of the aces.
The flop came 10♣Q♦10♦ giving a straight draw for Oganyan. This draw materialized as the turn came the J♥.
Unfortunately for Oganyan, the river fell the A♥, upgrading Klodnicki's hand to a full house and promptly ending this heads-up battle. Oganyan exited in 2nd place as Klodnicki claimed his second WSOP gold bracelet.
Stay with PokerNews for a full tournament recap and winner's interview to follow.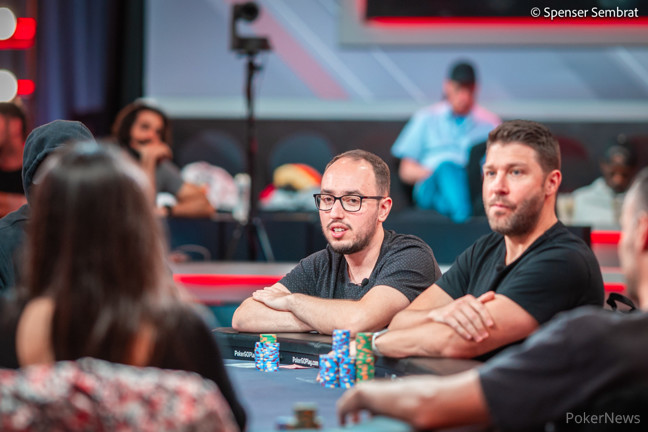 Barak Wisbrod open jammed from the small blind for his last 2,700,000. Chris Klodnicki in the big blind took several minutes on his decision before finally making the call and seeing he was ahead.
Barak Wisbrod: 10♣9♠
Chris Klodnicki: K♣6♦
The full board read 8♠J♦5♥4♦5♦. Klodnicki eliminated Wisbrod and claimed his bounty along the way.
Player
Chips
Progress

Chris Klodnicki

30,375,000

4,750,000

Barak Wisbrod

Busted
Level: 34
Blinds: 250,000/500,000
Ante: 500,000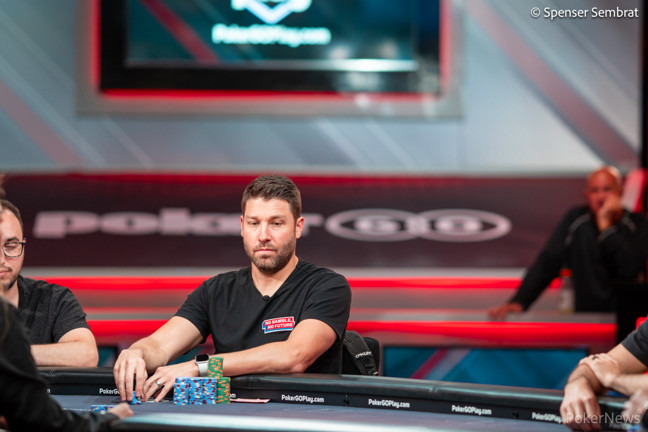 Jeremy Ausmus was short-stacked in the small blind and shoved all in for his last 4,000,000. Chris Klodnicki woke up with a monster and snap called.
Jeremy Ausmus: K♦2♦
Chris Klodnicki: A♦A♣
The flop came Q♣Q♠6♦. Ausmus didn't stick around to see the full run out as the 10♠ on the turn sealed his fate, sending him home in 4th place.
Player
Chips
Progress

Chris Klodnicki

25,625,000

3,550,000

Jeremy Ausmus

Busted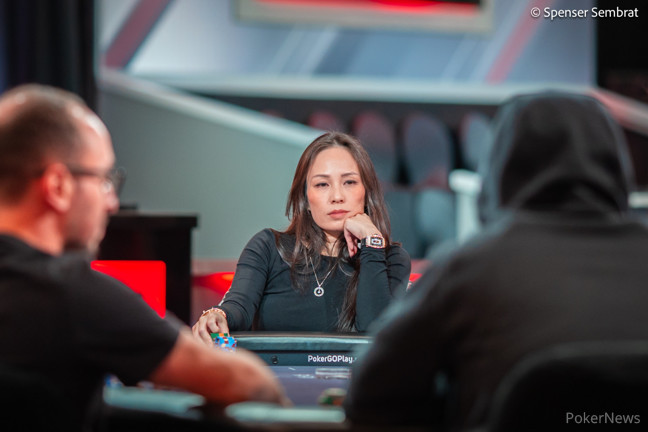 Chris Klodnicki put his big stack to use as he jammed all in from the cutoff, covering all three stacks behind him. Tracy Nguyen woke up with a decision and shoved all in her last 4,675,000 and Klodnicki called.
Tracy Nguyen: 10♥10♦
Chris Klodnicki: A♠Q♦
The flop came 8♦A♥3♦ sending Klodnicki way out ahead. Nguyen couldn't be saved by either the 7♦ turn or the 4♠ river and was sent to the rail.
Klodnicki now sat with over 60% of the chips in play.

Level 33 : Blinds 200,000/400,000, 400,000 ante
Action folded to Jeremy Ausmus in the cutoff who opened to 600,000. Next to act was Chris Klodnicki who began to get a count of his chips but eventually came to the conclusion that they were all going in the middle. Everyone else folded and the cards hit their back.
Chris Klodnicki: A♦K♣
Jeremy Ausmus: Q♣Q♠
The first four cards read 6♠5♥4♠10♦ as Klodnicki put his back pack on and handed his bounty slip to Ausmus. The A♠ on the river saw him place his bag back on the ground and re-take his seat as he found one of his six outs to double up.
Player
Chips
Progress

Chris Klodnicki

15,400,000

10,300,000

Jeremy Ausmus

5,800,000

-7,400,000
Level: 33
Blinds: 200,000/400,000
Ante: 400,000

Level 32 : Blinds 150,000/300,000, 300,000 ante
Players have just started a 15 min break.