Event #6: $5,000 Mixed No-Limit Hold'em/Pot-Limit Omaha
Day: 2
Event #6: $5,000 Mixed No-Limit Hold'em/Pot-Limit Omaha
Day 2 Completed
Out of 568 players that entered Event #6: $5,000 Mixed No-Limit Hold'em/Pot-Limit Omaha yesterday, only one remained when the dust settled after 26 hours of play over two action-packed days.
Obviously, a tremendous start at the 2023 World Series of Poker for Michael Moncek, as he took the lion's share of a prize pool that totaled a whopping $2,612,800. Runner up, Fernando Habegger came into the day with the chip lead and managed to navigate all the way to the final heads up. Habegger received $330,344 for his valiant efforts.
PokerGO interviewed Moncek moments after he rang the victory bell. "It means a lot and now I have a decent shot at going for Player of the Year," Moncek said. "Winning a bracelet in the first week, I'm excited about that."
Michael Moncek is no stranger to winning. He has three WSOP circuit rings and this isn't his first bracelet either, he also won Event #13: $1,500 Limit Hold'em last year at the 2022 World Series of Poker.
Final Table Results
| Place | Player | Country | Payout (USD) |
| --- | --- | --- | --- |
| 1 | Michael Moncek | United States | $534,499 |
| 2 | Fernando Habegger | Switzerland | $330,344 |
| 3 | Alex Livingston | Canada | $235,062 |
| 4 | Michael Banducci | United States | $169,674 |
| 5 | Christian Harder | United States | $124,266 |
| 6 | Tyler Brown | United States | $92,362 |
| 7 | Kristen Foxen | United States | $69,683 |
| 8 | Ferenc Deak | Hungary | $53,377 |
Final Day Action
Plenty of skilled hopefuls made it deep into day one but came up short. Brian Rast bust just three from the money in the 17th level. Daniel Negreanu bust Jeremy Ausmus (86th - $8,000) in level 18. Dylan Weisman (74th - $8,000) cashed after making a big fold deep in the tournament. Negreanu later went on to bust without finding a bag (63rd - $8,750). On day two Martin Zamani exited in 21st place in a pair-over-pair altercation (21st - $17,826). Yuval Bronshtein (9th - $41,521), a two-time bracelet winner, finished in 9th place at the unofficial final table.
Final Table Action
Ferenc Deak is a Hungarian player who has cashes in Las Vegas that go as far back as 2011. On the bubble of the final table, he worked a short stack, stealing blinds in both the PLO and NLH rounds every opportunity he could. Unfortunately, when the cards were on their back, he ended up getting his aces cracked in PLO to finish in 8th place.
Shortly after this, the players went on break and when they returned, they were moved to the PokerGO feature table.
No stranger to the lights and cameras, Kristen Foxen could be counted amongst the chip leaders since early on day 1. Losing a big hand to Livingston, where he limped jacks blind vs blind left her with only 390,000 in chips. She went on to be eliminated in 7th place shortly after.
Tyler Brown got some respect from Shaun Deeb on Day 1 but ultimately was eliminated in 6th place when Moncek rivered a set against him on the river.
Long-time crusher Christian Harder fell in 5th place, when he got his last 2,000,000 in chips in against Livingston preflop. Harder went on to say he's still in search of the hardware and will be back on the grind tomorrow.
Michael Banducci, who won a NLH bracelet in 2008 was searching for a repeat 15 years later but Habegger's big slick bested him in a pot over 6,000,000. Banducci will have to settle for 5th place this time.
Alex Livingston,also vying for a new piece of jewelry, ran into Habeggar's trips to lose a big chunk of his stack . It was Moncek who delivered the last blow, leaving Livingston to settle for the bronze.
Heads up play
Early in the heads up match, Moncek had 20,900,000 to Habegger's 7,480,000. Moncek kept the aggression up and whittled Habegger down to 4,450,000 but when Habegger limped jacks in the small blind he was able to find a double. Habegger was whittled down and doubled again in an Omaha hand when he flopped top pair but he was never able to regain the chip lead.
Finally down to his last 2,100,000 in chips, Habegger got it all-in with a suited ace and a pair in an Omaha hand.
Congratulations again to Moncek who started the World Series of Poker off with a bang, defeating Habegger with kings full of jacks.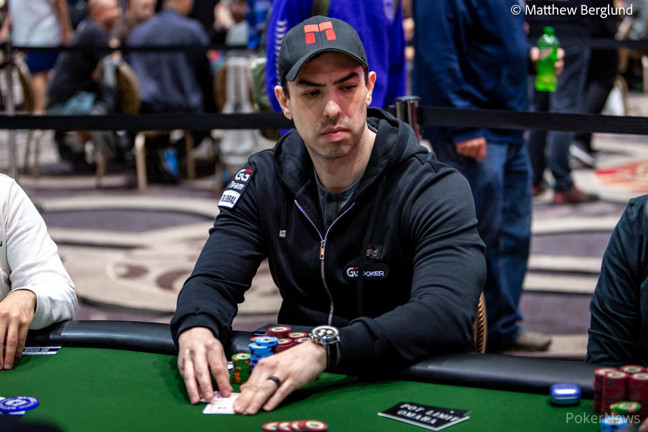 Pot-Limit Omaha
Michael Moncek opened on the button for 1,200,000 and Fernando Habegger moved all in for his last 2,100,000, which Moncek called.
Fernando Habegger: A♣9♥3♣3♦
Michael Moncek: K♦J♣10♠4♦
The equities ran close preflop, but when the board ran out K♣J♠5♠10♦K♥, it was the full house for Moncek that forced Habegger to settle for a runner-up finish.
Pot-Limit Omaha
In a series of raises preflop, Fernando Habegger got his remaining stack in the middle and was called by the bigger stack of Michael Moncek.
Fernando Habegger: A♥K♦8♠7♠
Michael Moncek: A♣J♣J♦7♣
Moncek was slightly in the lead, but when the board ran out A♠5♦4♥Q♠5♥, it was the ace-king for Habegger that scored the pot and full double up to stay alive once again.
Level: 33
Blinds: 200,000/400,000
Ante: 400,000
No-Limit Hold'em
Fernando Habegger limped in on the button and Michael Moncek moved all in from the big blind, covering the remaining 4,450,000 for Habegger, who quickly called.
Fernando Habegger: J♦J♣
Michael Moncek: A♦10♦
The board ran out clean for the jacks on a Q♥5♥3♠7♦10♠ and Habegger scored the double up.
The action has slowed down with many pots going back and forth preflop.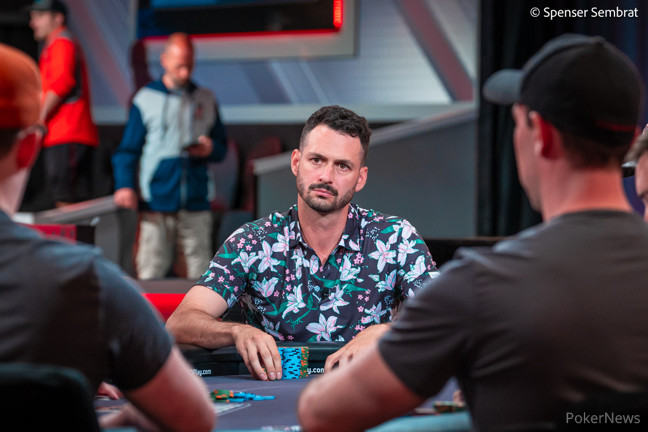 Pot Limit Omaha
Michael Moncek shoved from the small blind and Alex Livingston called in the big blind his final 4,200,000.
Alex Livingston: A♦4♦
Michael Moncek: Q♣7♣
The flop spread a 3♦Q♥9♠, pairing Moncek. The turn was a sweat as the 10♦ peeled, giving Livingston a flush draw to go along with his over card. The 6♠ on the river was a brick and Livingston was met at the sideline for an interview, finishing in 3rd place.
Level: 32
Blinds: 150,000/300,000
Ante: 300,000
The final three players are now on a 15-minute break. The action will resume shortly.